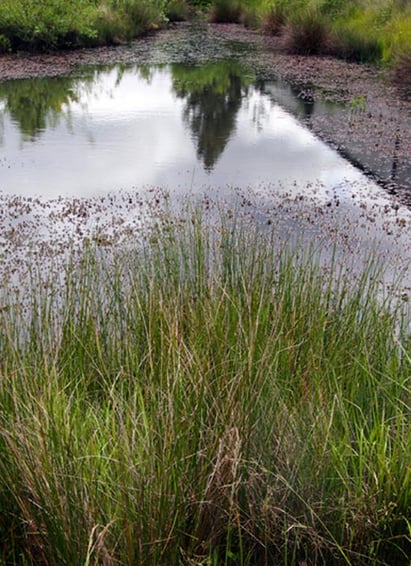 Here at Mountain Rose Herbs, we continuously try to improve both our workplace environment and the natural world. This month, we were able to do both by planting native trees and shrubs!
Our landscaper, Holde Fink with Native and Urban Gardens, works to enhance our bioswale and beautify the backdrop at our facility by planting native trees. He is an Oregon Tilth Accredited Organic Land Care professional who employs no-spray methods and sustainable practices. In the warmer months, employees and furry friends alike enjoy the grassy knoll around the bioswale where they picnic and play.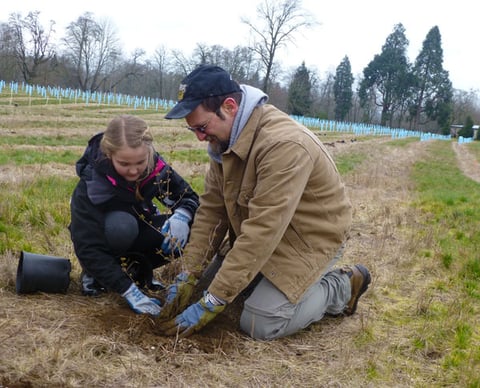 We also participated in two back-to-back tree plantings through the Mountain Rose River Project, an employee-led volunteer group focusing on riparian restoration, stream health, and aquatic habitat protection.
March 8, 2013 – As a member of GreenLane, we linked up with McKenzie River Trust and a jubilant group of volunteers for a planting on Green Island outside of Eugene, OR. By the end of the day, we had established over 250 native plants!
March 9, 2013 – We sponsored a Friends of Trees planting along Amazon Creek close to the wetlands near our facilities. A total of 41 volunteers planted 104 trees, including Oregon White Oaks, Valley Ponderosas, and White Alders!
Learn more about Mountain Rose Herbs' sustainability initiatives!