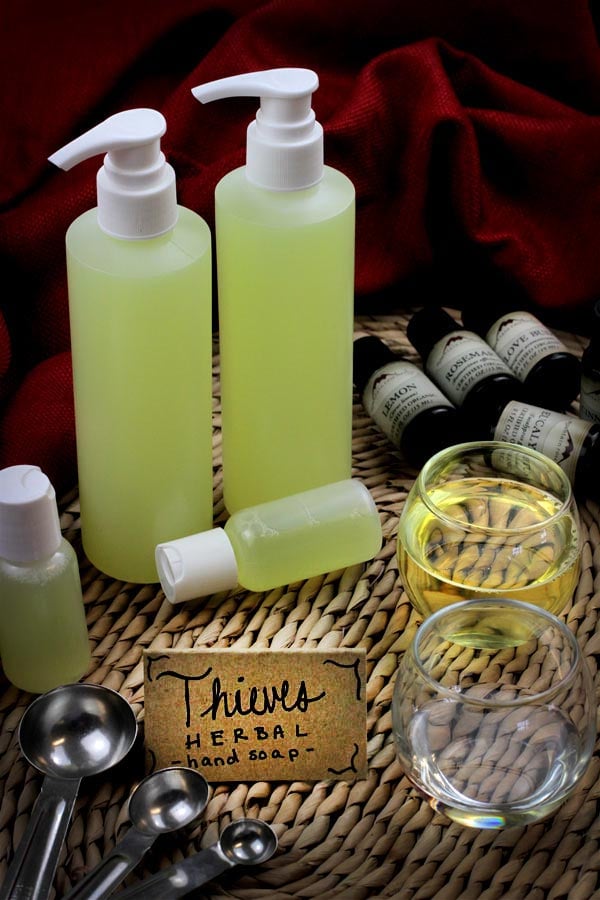 I've been making a lot of liquid soap blends for around the house this week, much more than usual because we just moved! With the move came an extra bathroom which meant, yep, I needed more soap. I love using Castille Soap in as many ways as possible, because it lasts forever and it's an affordable natural product. I've used castille soap as shampoo, dish soap, and as a general house cleanser. I learned that diluting it is the best way to go and adding essential oils allows you to create fun custom scents.
This week while I was playing with castille soap and my favorite blends from our Spring Aroma Sprays blog, it dawned on me just how wonderful another classic herbal blend would be for hand soap! The lingering warm and spicy blend of cinnamon, cloves, and cleansing lemon and eucalyptus are sure to please guests and help keep my home clean. This blend is full of powerful herberal oils that legend tells us held strong even against the plague! For this hand soap blend, I also added a tiny bit of vegetable glycerin, feel free to add more if you like a more moisturizing hand soap. I found just 1 Tablespoon in an 8oz container worked wonders! My hands were smooth, soft, and smelled amazing!
What you'll need:
Essential Oils
This essential oil recipe will bring you to a total of 120 drops, which is enough essential oil blend to make two 8 oz bottles of herbal hand soap, plus two travel size herbal hand soaps to store in your purse or in the glove box of your car.
*If you have cinnamon bark at home, that will work fine for non-sensitive skin - however, cinnamon bark is very strong and may cause irritation if using on the skin, so reduce the amount by half. I went with cinnamon leaf for a more delicate hand soap.
Directions
In a medium pitcher or small bowl mix together distilled water, liquid castille soap, vegetable glycerin if you are using it, and your blend of essential oils.
Stir lightly, don't agitate too much or you could be quickly consumed by bubbles!
Using a funnel, fill your two 8 oz bottles and lastly your two 1 oz travel size bottles!
The castille soap will give you the suds necessary to really scrub off any dirt or grime you may get on your hands, and the wonderful blend of essential oils will leave you feeling that much more refreshed and cleansed.
* Essential oils are highly concentrated, strong, and powerful liquids that can be harmful if not used carefully and properly. This is an especially potent blend of essential oils which could cause irritation when applied to the skin, even in diluted amounts. We advocate caution when using them, and do not recommend using essential oils internally. Please keep essential oils out of reach of children. We do not advocate usage of this recipe on babies, toddlers, or children.