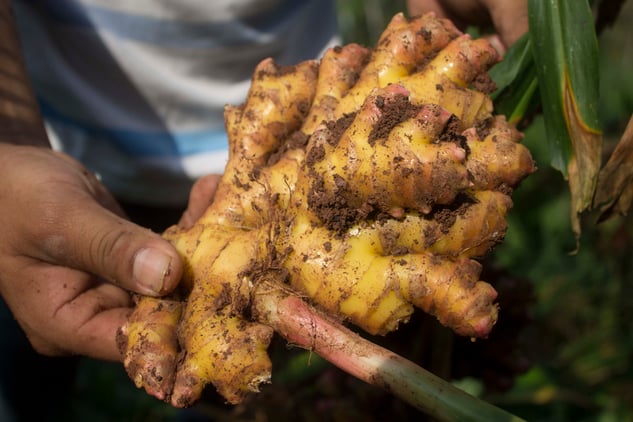 Ginger has been valued as a fresh and zesty spice for centuries as well as a key herb in Traditional Chinese Medicine and many other herbal traditions. Its first recorded uses were discovered in ancient Sanskrit and Chinese texts, and it can now be found in homes across the globe. Not only is ginger renowned for supporting healthy digestion, but it's also known for its unique flavor that adds a spicy kick to a variety of dishes.
At Mountain Rose Herbs, our dried ginger regularly comes from our small farms in Peru. As a procurement officer here, I recently had the pleasure of traveling to some of these farms, where I witnessed the harvest and met the hardworking farmers who lovingly care for this beautiful root before it reaches our customers' homes.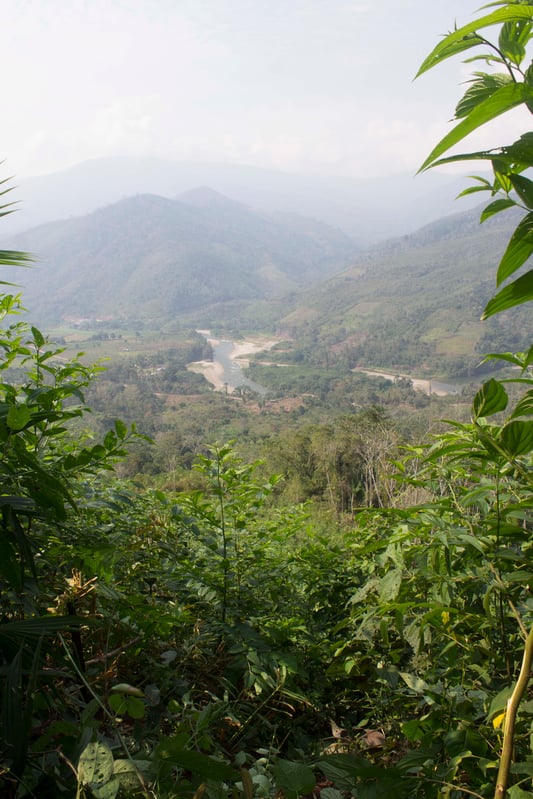 Where it All Begins
Small family farms are scattered among the mountains of Peru, surrounded by wild and thriving jungles. The famers start cultivating the ginger fields in the spring, and from April to harvest (usually in August), the ginger grows undisturbed among the wild forest. It's not hard for these farmers to grow organically, as this is the way they've always done it with great success. Surprisingly, ginger is a very low maintenance plant prior to harvest. The shrubbery and trees grow so quickly that the sheer amount of energy it would take to keep the fields clear is unmanageable. Plus, ginger benefits from its friendly green neighbors: the trees provide much needed shade, which protects the tops of the roots from getting burned by the sun. The small-scale and diverse nature of these high-elevation farms also helps to keep insect populations down.


Harvest Time
Once the ginger roots are ready for harvest, a team of seven or eight people make the trek from the road, down a path, over a creek, and up the steep hillside to greet the ginger. Here they start cutting back the aerial parts of the rhizome before they dig it up, a necessary step so that the roots aren't damaged once they've been pulled from the soil. The ginger rootballs, reminiscent of hands, are then tossed into a pile where women quickly brush off the soil and load them into crates. This small team can knock out 2.5 acres of harvest, all by hand, in a matter of days! Once they fill the crates, they carry them back down the mountain and to the road where a truck loads them up. They then take a four-hour drive to the central washing facility where they are cleaned, graded, cleaned again, and air-dried. Once this process is complete, they are packed into crates.
The ginger then travels from the cleaning facility and out of the jungle. This is about a 10-hour journey on a good day, as it needs to pass through the mountains, over a 15,000-foot pass, and through arid highlands to make its way to the city of Lima. This is where it is sliced, dehydrated, analyzed, and packed up for export.


Building a Community of Farmers
Our folks in Peru who handle the business side (washing, transportation, certification, sales, and export) consistently provide the farmers with support and education. Agricultural engineers frequently visit the farms and make sure that all is running smoothly and that the farmers are happy. They address any issues that arise and provide advice when needed. They even host meetings every two months where they offer training sessions so that the farmers can stay up-to-date with best practices for cultivation and harvest.
We choose to support farms like these because they consistently offer quality, organic botanicals. We value the ethics of working communally in a way that benefits all those involved—from the farmer and his family, all the way to the consumer who gets to enjoy this flavorful and potent spice.
Interested in more stories about organic Farmers?