Wow! I hope you all had a chance to drool over the beautiful recipes shared in our Sweetheart Recipe Exchange. (If not, you can still find them in the comments section here.) Choosing just three winners just about broke our hearts, since we fell in love with each and every one of them.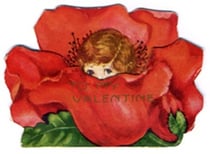 However, petals have been plucked and decisions have been made!
These are the winning recipes of amazing prizes from our Valentines over at Poppy Swap ...
Body Butter "Candy" Trio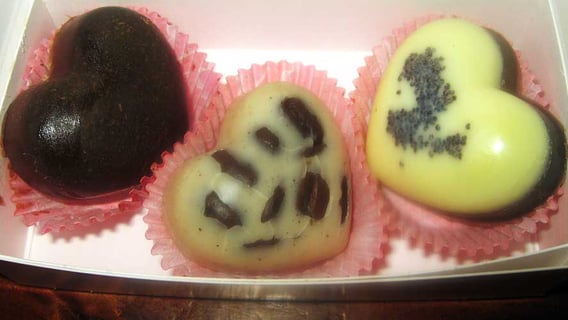 This stunningly lovely and clever idea comes to us from the Woodwife's Journal!
Coffee Bean Toning Butter/Lotion Bar
4 oz coffee infused oils (almond, argan, castor, and jojoba)
4 oz cocoa butter
4 oz beeswax
40 drops cellulite busting essential oils of your choice.
optional whole coffee beans for extra scrubbing power and interest.
(I added a little pumice to mine and my skin is like a baby's bottom but I think it would work better in a body butter/lotion bar without beeswax because it was hard to wash off in the shower)
Chocolate Mint Sea Salt Scrubbie Butter
2 oz cocoa butter
1 oz shea butter
1 oz olive oil
1 Tbsp cocoa butter
1Tbsp powdered peppermint leaves
1 Tbsp pink sea salt
20 drops peppermint essential oil
Orange Chocolate Poppy Seed Scrubbie Butter
4 oz. cocoa butter
1 Tbsp Dark Cocoa Powder
40 drops sweet orange essential oil
1 Tbsp pink sea salt
1tsp citric acid
1 Tbsp poppy seeds
All three of these bars are designed to be used IN the shower/bath on clean skin. Each has mild to more serious exfoliating ingredients that smooth skin. All are luxuriously moisturizing leaving your skin silky smooth after rinsing off the solids.
Use caution on smooth floors and shower/bath surfaces as all contain butters and oils that may make smooth floors dangerous. I like to put an old towel in the bottom of the shower/tub when I'm using oils to provide a nonskid surface.
Herbal Almond Butter Fudge
The second winning recipe is soooo delicious and was shared by lalamurphy!

1 jar raw almond butter
1/2 cup + 2 TBSP Maple Syrup
1/4 cup raw cacao powder
1 TBSP vanilla bean powder
1 heaping TBSP virgin coconut oil
1/2 TBSP Reishi mushroom powder
1/2 TBSP Ashwaganda powder
1/2 TBSP Maca powder

Mix all ingredients together, form into balls or place in a silicone shaping tray, and freeze! Store in the freezer until serving. Take one out and pop it into your mouth!! the perfect dessert, although don't expect them to stick around too long!
Sensual Sweetheart Love Elixir Float
Our final winning recipe is the perfect way to toast your Valentine, sent in by kateclearlight of Plant Folk Herbs Blog!
What a special holiday! A whole day devoted to feeling and spreading the love. Not just for couples~~ this is a blissful excuse to give yourself, your friends, family, and community some extra special loving vibes. We all deserve and NEED to receive some good loving as well.
I am sharing one of my favorite Love Day recipes... you will fall in love with yourself all over again just by working with these aphrodisiac ingredients!
In true plantfolk tradition, this is a "folk" recipe so follow your heart as to how much of everything to add. They are more or less in order of most to least.
Ingredients
Brandy or vodka (80 proof)
strawberries &/or raspberries
cacao nibs or powder
rose petals (dried or fresh if you are lucky enough to have a rose bush in your yard)
maca
ashwagandha
vanilla extract
almond extract
rose water
Combine all of the ingredients in a jar and cover with brandy. Shake every day then strain and add raw cane sugar, raw honey, or maple syrup until it tastes delicious and perfect. Store in a beautiful bottle.
I serve this drink as an absolutely divine Love Elixir Float:
In a wine or champagne glass, mix Love Elixir with sparkling water OR champagne and a scoop of vanilla ice cream, fresh sliced strawberries, and a drizzle of chocolate syrup. You and your loved one(s) will be swooning instantly!
Congratulations to our recipe contest winners!
We will be in touch with you via email to get your Poppy Swap prizes in the mail, and tomorrow we will announce the winner of our Lover's Essential Oil Sampler.
We hope this recipe exchange has inspired you to have a wonderful day filled with LOVE!