Nothing gets me ready for winter quite like a batch of homemade fire cider. But the typically long fermentation duration has kept me from having this tonic when I need it most. For those who are short on time and fresh horseradish, this recipe is for you! I actually discovered that you can make a fire cider that has the same kick as the traditional recipe in half the time and with dried horseradish. In fact, it can still be a power-packed remedy without any fresh ingredients at all!
I tried lots of combinations of herbs from the spice rack in my pantry at home, but I made sure each variation included the fire cider must-haves—horseradish, garlic, onions, ginger, spicy peppers, and citrus. This recipe includes a flavor favorite of mine: anise. For those who don't like its licorice-y taste, feel free to leave it out, but those beautiful seed pods provide a nice mellow note and make this fire cider truly unique.
While there were many tasty and potent combos I tried while developing this recipe, this one was the unanimous favorite in the Mountain Rose Herbs test kitchen!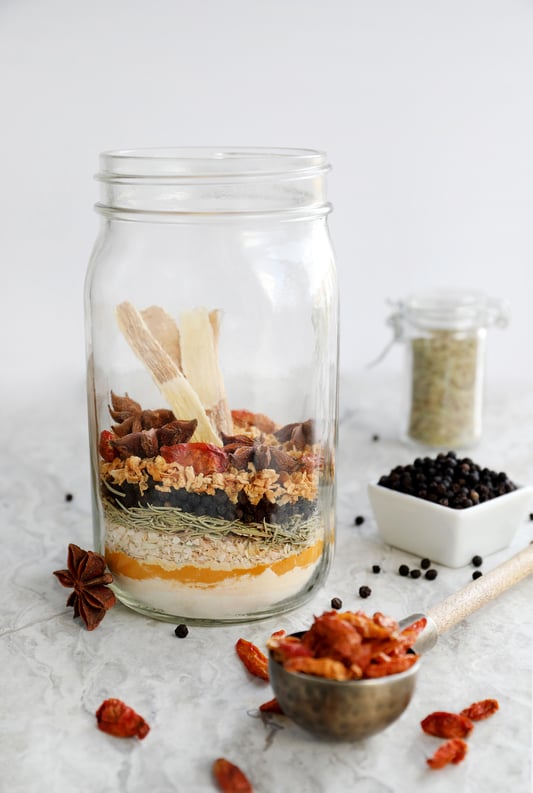 Speedy Fire Cider Recipe with Dry Ingredients
Makes about 1 quart.
Ingredients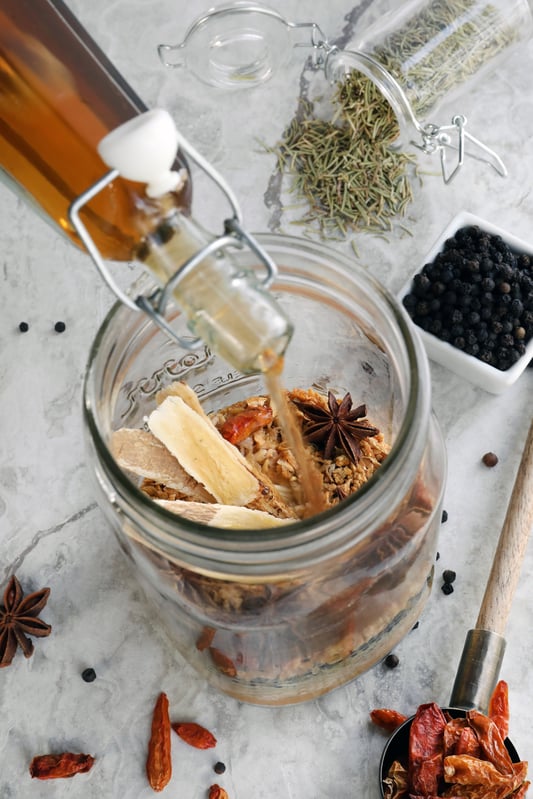 Directions
Place all herbs and spices in a quart-sized glass jar.
Pour apple cider vinegar into jar until all ingredients are covered and the vinegar reaches the jar's top.
If using a plastic lid, place lid on jar. If using a metal lid, place a piece of parchment paper underneath the metal lid to avoid the metal getting corroded, then screw lid on jar.
Shake well.
Store in a cool, dark, dry place for 2 weeks. Remember to shake daily.
If it's got the kick you're seeking after 2 weeks, strain the ingredients through cheesecloth and pour the vinegar into a sterilized glass jar for storage. Squeeze out the cheesecloth to get every last drop of tasty herby goodness.
Store in a cool, dark, dry place (or fridge) until gone … which for me, isn't very long! I like to take a tablespoon each morning to warm up and add to my salad dressings at night.
Pro Tip
I'm partial to honey-less fire ciders. If you like honey, then by all means…add it! Pour as much honey as you'd like into the vinegar (start with 1/4 cup) after step 6.
Typical fire ciders require a month or more time in the jar before use. We found this recipe had plenty of kick after just 2 weeks. If you'd like it a bit stronger, continue to ferment for 2 more weeks.
Want another twist on the traditional fire cider recipe?
You may also be interested in: