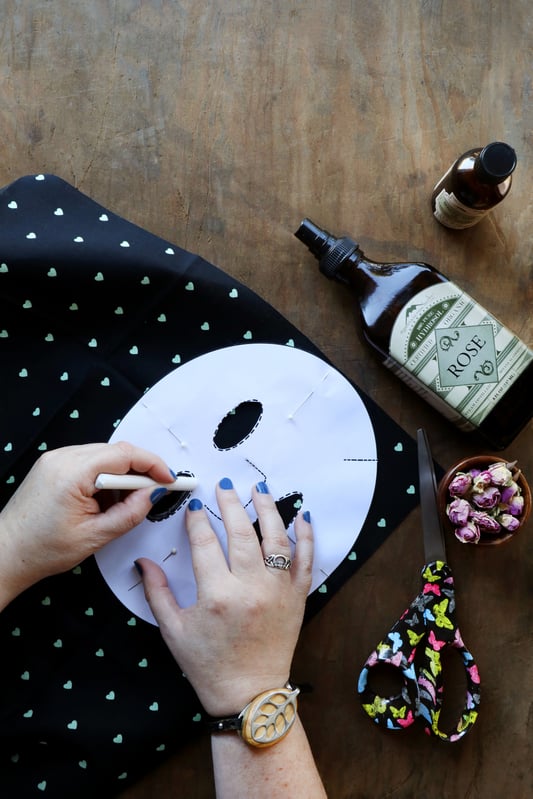 If you enjoy exploring new additions to your home spa routine, you may have already encountered sheet masks. This trending skincare innovation came to prominence with the arrival of K-Beauty in the Western world and has rapidly gained international popularity as a fast and simple way to enjoy some indulgent self care.
While I'm all for pampering in general and herbal face masks in particular, sheet masks didn't excite me—at least, not at first. Many of the commercial varieties I encountered contained an unsettling list of synthetic ingredients, and the price tags weren't particularly comforting, either. Add to that the waste generated by the product and packaging of these single-serving facials, and you're left with an experience that feels the very opposite of cleansing, revitalizing, or natural.
But then, a friend of mine showed me some plain cotton masks she'd found online, and something in my DIY-everything brain went "click!".
DIY Reusable Fabric Sheet Masks with FREE Printable Mask Pattern
Turns out, it's easy to make your own sheet masks, and there are some serious perks to doing so! In addition to saving on money and waste, you can customize the sheet mask formulation to your personal needs, using only ingredients that work with your skin type and preferences.
Simply download, print, and cut out our free sheet mask template, and then trace it onto an absorbent fabric. Cut out the holes and fit slits as directed, and your reusable sheet mask is ready to go! Time to get pampering!
How to Use a Sheet Mask
Mix up a batch of your favorite homemade skin serum formulation (see five of my favorite mask recipes below!). Be sure to choose a formulation thin and liquidy enough to be absorbed into the fabric and rinsed out after (avoid clay masks or other paste-like blends).
Spread mask mixture evenly over a wide plate.
Lay dry fabric mask over mixture. Allow liquid to soak fabric.
While mask is soaking, wash face with a light cleanser.
Remove mask from mixture and lay over face, position as necessary for proper alignment of eye and nose holes.
Smooth mask over face. Relax for 15 to 20 minutes to let liquid sink in.
Remove mask, then gently rub fabric over face and neck to help liquid finish absorbing into skin.

5 Herbal Recipes for Your Reusable Sheet Mask
Aloe Rose Hydrating Sheet Mask (for Dry Skin)
Makes one mask.
Ingredients
Floral Calming Sheet Mask (for Combination Skin)
Makes one mask.
Ingredients

Grounding Astringent Sheet Mask (for Oily Skin)
Makes one mask.
Ingredients
Cucumber Mint Cooling Sheet Mask (for Sensitive Skin)
Makes one mask.
Ingredients
Radiant Green Sunrise Sheet Mask (for Normal Skin)
Makes 12 masks.
Ingredients
Pro Tips
I've found that organic cotton jersey works well as a reusable face mask, since it tends not to fray too easily when washed, allowing you to use it several times. Other lightweight, natural (absorbent) fibers also work well here.
Rinse out and air dry your mask after each use to discourage bacteria growth and reduce residue buildup.
These masks tend to have a little more liquid than commercial sheet masks. If yours is a bit drippy, run your fingers down the mask to remove the excess serum or wrap a towel around your neck and chest.
Don't let the mask dry completely on your face. Leaving it on too long actually dries out your skin, as the drying cloth will pull out moisture.
These recipes easily scale up. If you make several fabric masks, you can pre-soak them in serum in a clean container and store in your fridge for later use. The cooling cucumber mask is especially refreshing when chilled!
Want More Nourishing Facial Recipes?
You might also enjoy: