Meet the family whose commitment to crafting the finest organic jojoba oil in the world transcends trends and spans generations.
In the farthest reaches of the Arizona outback, tidy green rows of jojoba shrubs rise up out of dry, brown dirt. This is a desolate place. A y-shaped stick is propped against one of the plant rows—the makeshift tool fashioned by a field worker to gently move rattlesnakes out of his way.
"Everything out here bites, stings, pokes, or burns," says Chip, owner of the certified organic farm that has cultivated and processed Mountain Rose Herbs' high-quality jojoba oil since 2003.
Jojoba (pronounced: ho-HO-bah) is a large shrub with waxy, green leaves and seeds the size of a grape. When pressed, the seeds create an oil-like substance, technically a liquid wax ester. The chemical composition of this natural, plant-based "oil" makes it incredibly shelf stable. Because it's non-comedogenic and easily absorbed by thirsty skin, jojoba oil has become a favorite of the cosmetic industry and DIY natural body care enthusiasts. It makes an excellent standalone moisturizer for skin or hair. It's also frequently found in skin and hair care products or used as a carrier oil for essential oil blends.
Simmondsia chinensis (a.k.a. jojoba) is native only to the geographical area that stretches from southern Arizona's Sonoran Desert (where Chip's farm lies) to parts of Mexico's Baja California. This desert shrub is naturally drought tolerant. Chip waters his jojoba just a few times a month, using considerably less water than the neighboring alfalfa fields. But just because jojoba is a hardy plant, doesn't mean it's easy to grow.
"It's a constant fight," Chip says. "Thirty minutes of cold temps can undo a whole year's worth of hard work."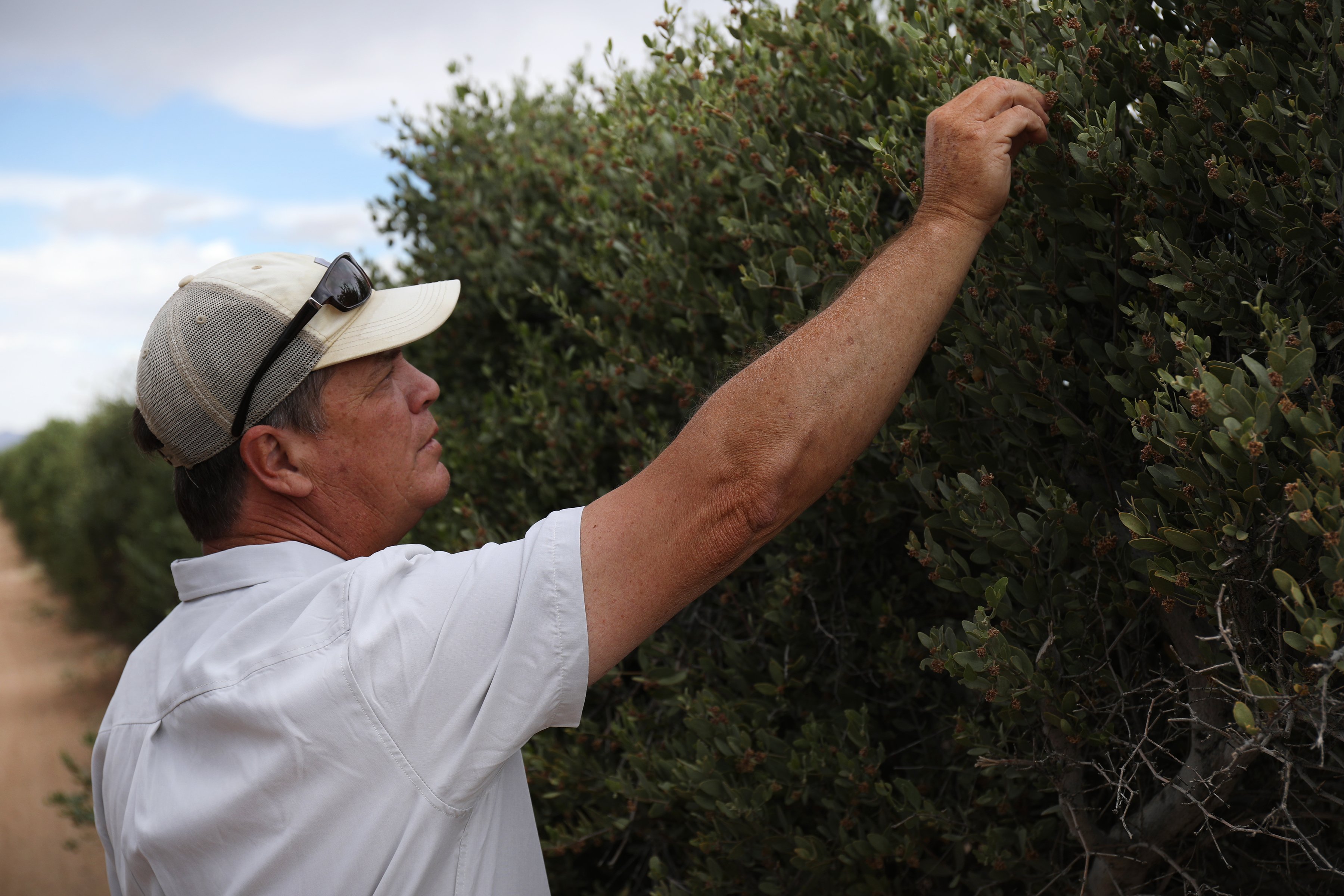 Chip continues the legacy his father started, forging ahead as one of the last remaining commercial jojoba farmers in the U.S.
And Chip would know. He lost 90% of his crop last year to a quick cold spell.
Jojoba's ideal growing conditions span winters just above freezing to 110 degrees Fahrenheit in the summer. This may sound like a forgiving range, but the temperature swings in this desert are extreme. And if a grower is lucky enough to withstand the frost, then comes the heat wave, and then the rain. Just when the seeds begin to drop, and harvest is about to commence, a monsoon will often hit, literally washing away millions of jojoba seeds. The plant has other threats too—from little bugs that inhabit its blooms and extract their liquid, to others that burrow into the seed and munch away until nothing remains. That's why Chip is one of only a couple growers left after the "jojoba fever" of the 1980s abated.
"We got the fever, the jojoba fever," he says.
It was the new age gold rush that's now a distant memory. After the 1970s' "Save the Whales" campaign put pressure on the U.S. military to find a substitute for the sperm whale oil they were using as a lubricant, jojoba oil was discovered as a replacement. People looking for a quick buck set up jojoba farms, promised they'd pocket as much as $20,000 an acre. During the boom, there were 36,000 acres of jojoba in commercial cultivation in the U.S., mostly owned by venture capitalists. Now there are just 2,500 acres, half of which are managed by Chip.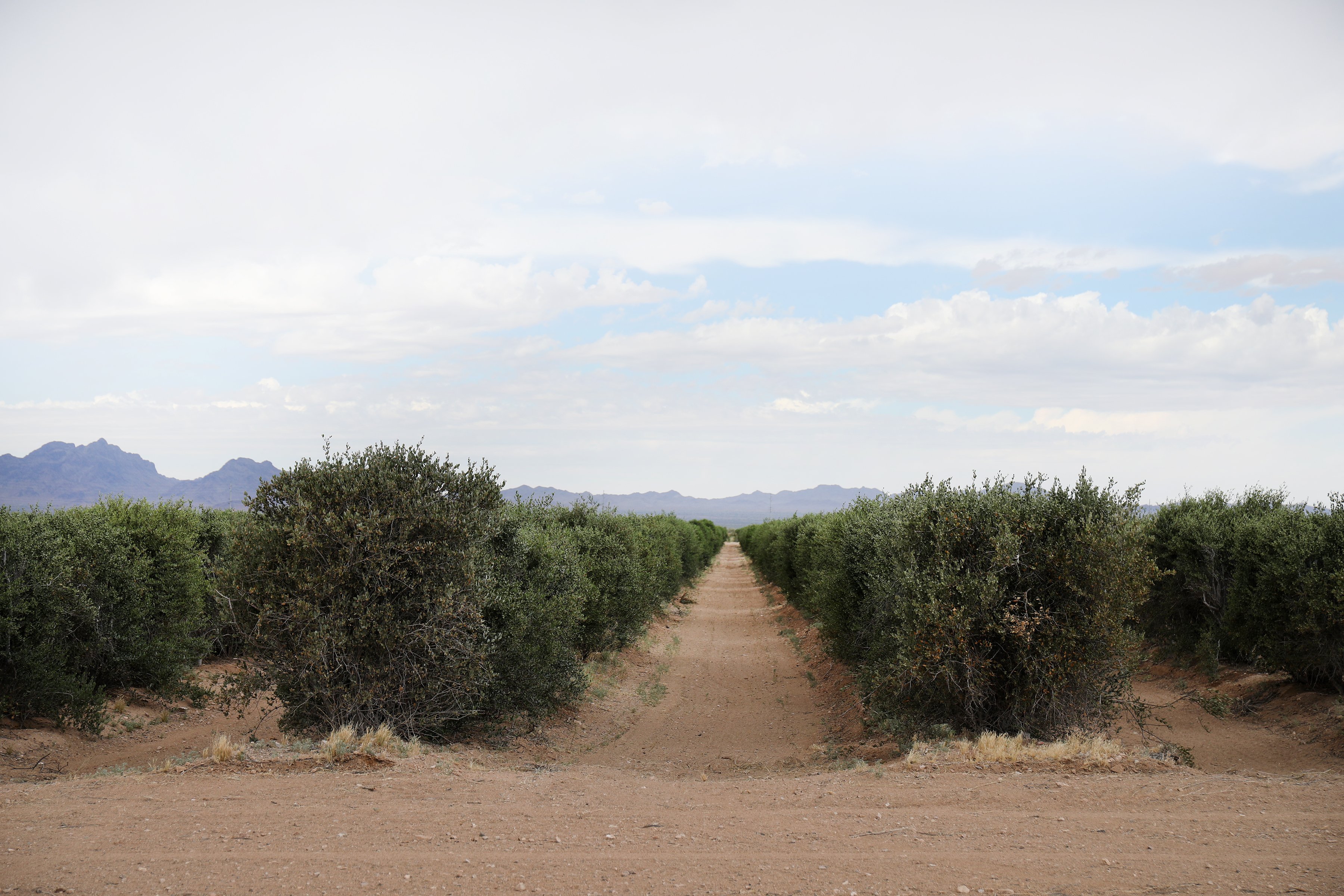 Rows of Chip's orderly jojoba plants growing adjacent to public lands that house wild desert plants, like the cholla cactus and juniper.
In 1979, Chip's dad Hal purchased 18 acres of land where the family farm still lies. He was nearing retirement from a successful practice as an ophthalmologist, and his children were uninterested in following in his physician footsteps, so he sought a legacy he could leave behind—a farm. Hal researched an array of crops to cultivate, from avocados to citrus. The eye doctor settled on jojoba after being intrigued by the similarities between its chemical composition and a substance naturally produced by the human eye.
A year after purchasing the land, and at the dawn of the jojoba craze, he began one of the first commercial cultivations in the world.
"No one knew anything about how to grow jojoba at the time," Chip says. "We were pretty much destined for failure from the get-go."
Chip's father and his family were true pioneers. Hal's professional background, rooted in research, helped him convert this challenging crop into a commercially viable one.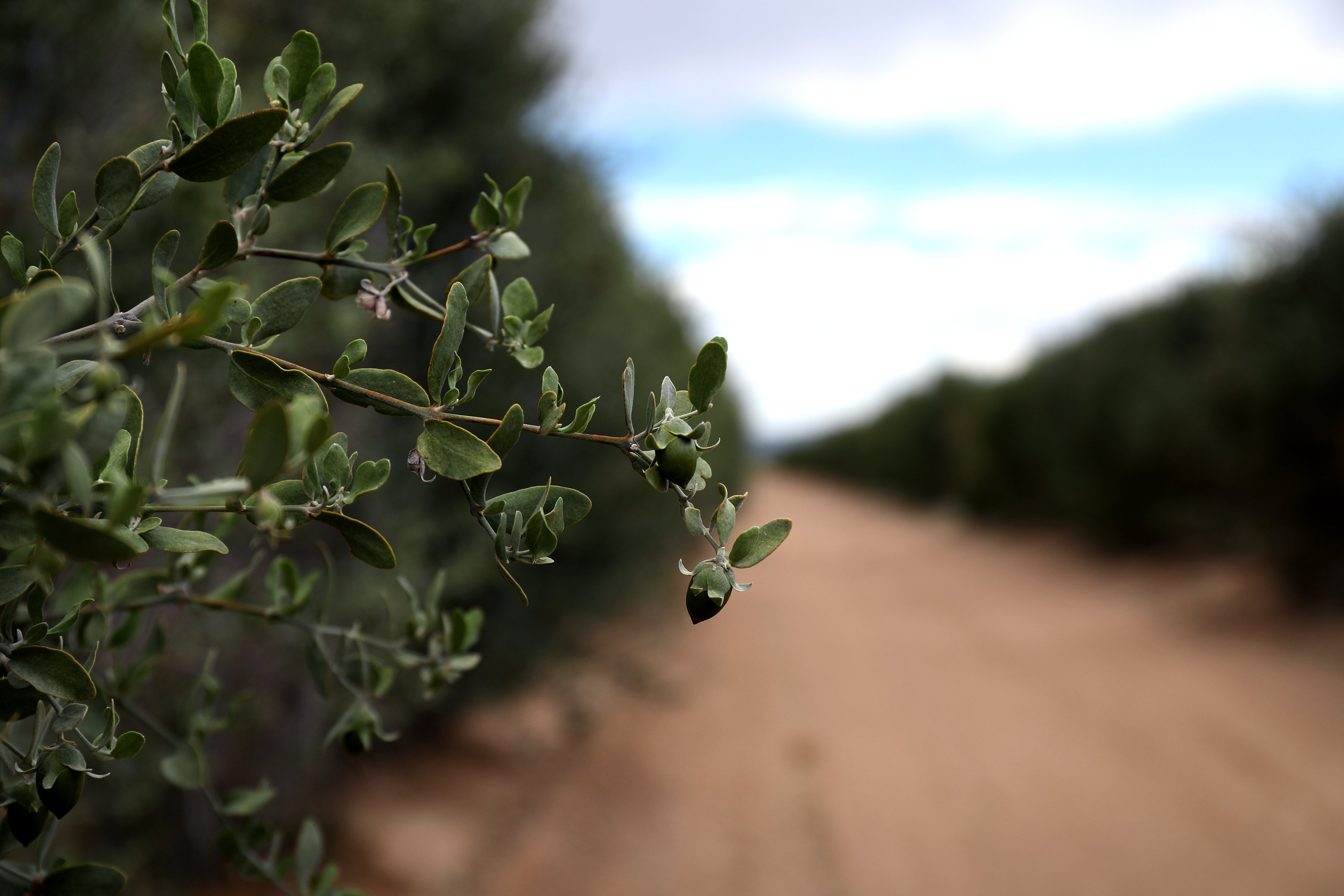 Thanks to decades spent selecting the best cultivars and growing techniques for their land's specific conditions, Chip and his crew now raise thriving jojoba crops in Arizona's Sonoran Desert.
In 1986, at the age of 21, Chip joined his dad on the farm full-time. Jumping into research and development, Chip spent the next 18 years conducting studies on over 1,500 jojoba genotypes. He'd check factors like yields, seed size, bloom times, and prune-ability before narrowing the genotypes down to the top 30 still present on the farm today. His favorite is Keiko, affectionately named after his late stepmother, a varietal with 56% oil content (a much higher percentage than most).
Now deceased, Hal is still considered one of the "fathers" of U.S. jojoba. And the farm that he began, which is still overseen by Chip, produces some of the finest jojoba oil worldwide. While you can now find jojoba grown in Peru, Israel, and Argentina, it's Chip's farm that has served as the model for commercially cultivating jojoba at scale. He relishes the opportunity to host jojoba growers from across the globe, imparting his wisdom gleaned from decades of experimentation.
One reason Chip's oil is of such high quality comes from tending a native plant on its native soil.
"Would you buy tequila from Russia?" Chip says. "No. Of course not. So why get jojoba elsewhere than the Sonoran Desert? It has to be better here."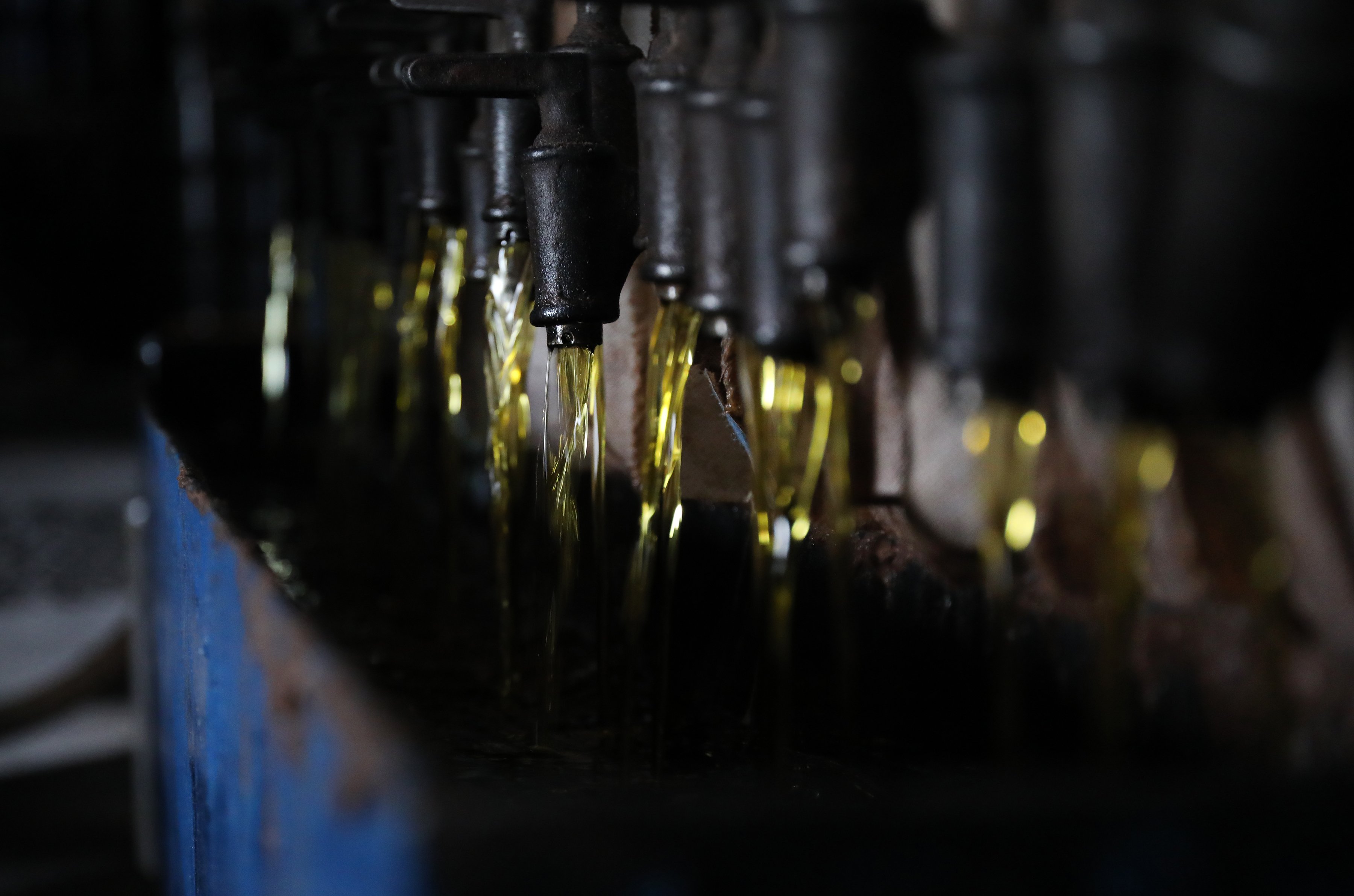 Chip's team presses our certified organic golden jojoba fresh to order. It goes through three stages of filtering before it's ready to be shipped to our headquarters in Eugene, Oregon.
Another reason we choose to source our jojoba oil from Chip's farm is its freshness. While the seeds are harvested just once per year, they are stored and pressed to order at the processing facility adjacent to Chip's fields. His team presses 17 pounds of seed for every gallon of oil, filling Mountain Rose Herbs' order in a single day. To create the certified organic golden jojoba oil we love, Chip filters it three times, leaving behind a luscious liquid. That oil then arrives at our Eugene, Oregon headquarters within two weeks, where it's essentially bottled to order. When we get close to running out, we call Chip, who freshly presses another batch.
The oil offered in our shop is a beautiful, sunny hue with a very slight nutty scent that's reminiscent of freshly baked almond cookies. While there are other ways to process jojoba—deodorized or clear—we prefer the certified organic golden, as it's the least processed option available. And we believe the less human intervention, the better.
"Now that my dad has passed, I see that I need to continue on with his work," Chip says while staring up at the bright, blue Arizona sky. "We have a long way to go and many, many years ahead, but it's the challenge that keeps me excited."
Want to Try Jojoba in Your Body Care Creations?
You might also enjoy: