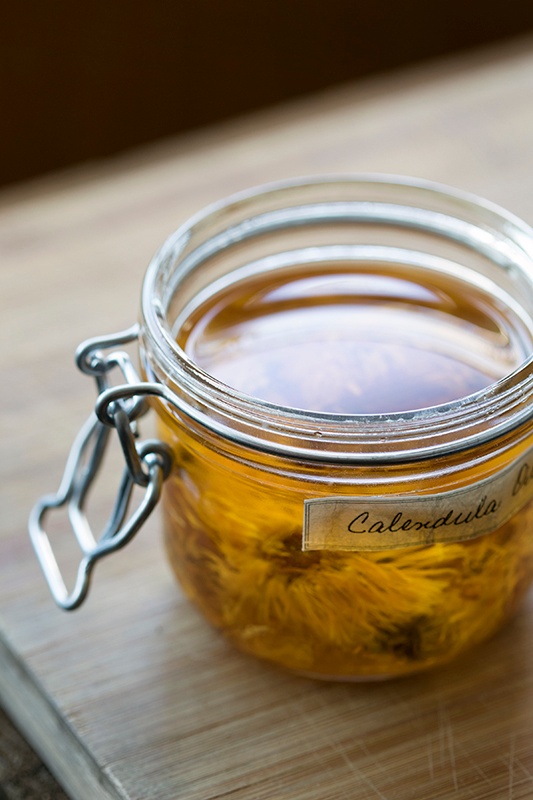 Simply infusing a carrier oil with herbs will transform it into a versatile ingredient. There are several ways to infuse oils, but my favorite is the Folk or Simpler's Method, which relies on the sun to naturally infuse oil with herbal properties. But I've also included a quick method if you're short on time.
Many different organic carrier oils may be used, but jojoba oil and olive oil are wise choices because they have a long shelf life and are suitable for many applications. You can use countless herbs, and listed below are some of the most popular choices. You can use herbal-infused oils to create massage oils, salves, lip balms, facial serums, hair treatments, body creams, soaps, and more!
Folk Method for Solar-Infused Oils
Use the sun to naturally infuse oil with the goodness of herbs!
Directions:
We always recommend using dried herbs. If you desire fresh herbs, wilt them first for 12 hours to remove the moisture (too much water will cause your oil to go rancid), cut into small pieces, and crush with a mortar and pestle before adding to the jar.
Place herbs in a clean, dry quart jar.
Fill remaining space in jar with oil of choice, making sure to cover herbs by at least 1 inch. If your herbs soak up all of the oil, then pour more oil on top to ensure the herbs are well covered.
Stir well and cap jar tightly.
Place jar in a sunny, warm windowsill and shake once or more per day. You can also cover the jar with a brown paper bag if you prefer that to direct sunlight.
After 2-3 weeks, strain the herbs out of the oil using cheesecloth or a mesh strainer. Make sure and squeeze out every precious drop of oil!
Pour into glass bottles and store in a cool dark place. The oil should keep for at least a year. Vitamin E Oil may also be added to prolong shelf life.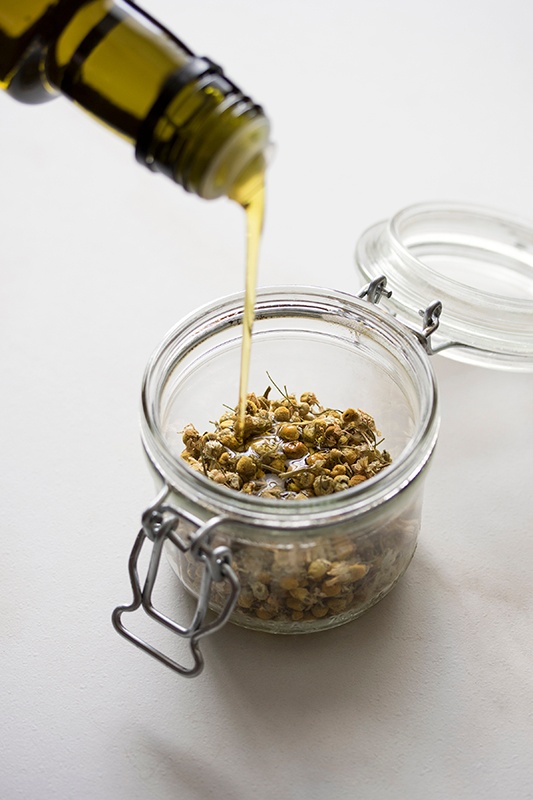 QUICK METHOD FOR HEat-INFUSING OILS
The quick method utilizing heat is sometimes necessary when herbal oils need to be created in a pinch. Much care needs to be taken when crafting herbal oils this way because you don't want to deep-fry your herbs!
Directions:
Place herbs in crock-pot, double boiler, or electric yogurt maker, and cover with

organic extra virgin olive oil

(or

other carrier oil

of choice), leaving at least an inch or two of oil above the herbs.

Gently heat the herbs over very low heat (preferably between 100 to 140 degrees Fahrenheit) for 1-5 hours until the oil takes on the color and scent of the herb. Some texts recommend heating the oil 48-72 hours at a controlled temperature of 100 degrees Fahrenheit.

Turn off heat and allow to cool.

Once oil is cooled, strain using

cheesecloth

, and bottle into dry and sterilized

amber bottles

.

Store in a cool, dark, dry place.

Vitamin E Oil

may also be added to prolong shelf life.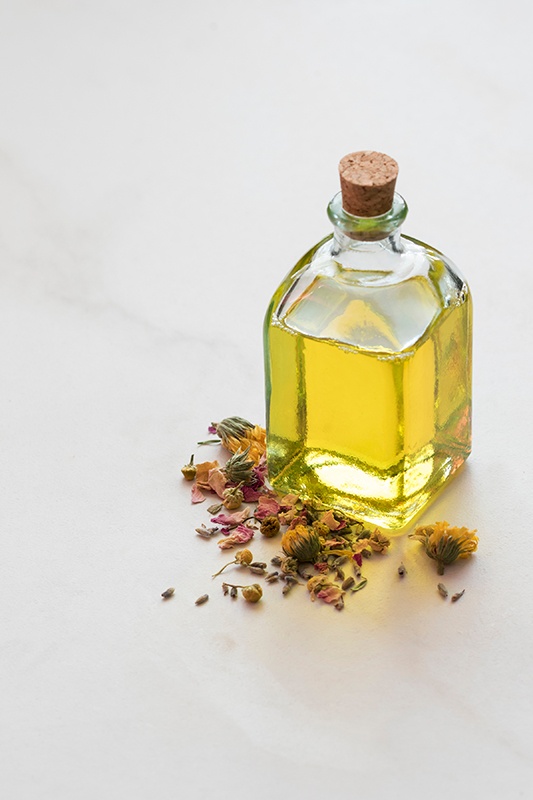 HERBS TO INFUSE
There are many different options for herbs to use in oil infusions, depending upon your needs. We always suggest using organic herbs whenever possible to ensure you are not adding synthetic chemicals to your creations. Here are some of the most commonly used herbs:
CREATE SPECIAL BLENDS WITH HERBAL COMBOS
Floral Oil: An aromatic oil that will lift the spirits and smells divine. Apply to the skin after a shower, bath, or during a massage. The oil is moisturizing, relaxing, and calming. To make, infuse organic rose petals, lavender flowers, and/or chamomile flowers in organic jojoba oil.
Tranquility Oil: A fragrant blend of herbs used after an evening bath or shower to help encourage relaxation, tranquility, and sleep. You can also rub a bit on your temples at night before going to bed. Infuse a mixture of organic hops, chamomile flowers, and lavender flowers in organic olive oil.
do you love infusions as much as we do?
You may also be interested in: