If you're anything like me, you don't like to waste. So when you enjoy herbal preparations as part of your daily routine, you are bound to wind up with a stock pile of perfectly good containers that can still be used. But how can you make sure they are cleaned well enough to reuse, and how can you continue to put them to use time and time again? We've compiled some of our staff tips and tricks to help you keep those bottles in circulation.
How to Clean and Reuse Glass Bottles and Metal Containers
The following method is primarily used to clean:

Prepare Your Containers
We all know about the importance of labeling homemade remedies and ingredients, so when reusing bottles, you'll want to be sure to take the old labels off to eliminate any confusion.
Peel the label off by hand, if possible. If it doesn't come off as one or two pieces, you'll want to soak the bottle in warm water to loosen them up.
Begin by rinsing each bottle out and then filling it with warm water and placing the lid back on. Soaking the bottles with the lids on will prevent bits of paper and glue remnants from making their way into the bottle. Filling them with water will prevent them from bobbing around.
Place them into a pot filled with warm water and let sit for five about minutes. Some may take longer than others.
Rub your thumb and/or fingernail on the label and it will begin to roll off.
If there is some glue left over, no need to re-soak—we have another life hack to share for that! This one from DIY Natural works brilliantly and calls for simple ingredients: baking soda, coconut oil, and sweet orange essential oil (though I also like lemon oil for this purpose!).
Glass & Metal Cleaning Process
Now that your labels and glue are fully removed, you can begin cleaning the inside.
Dismantle all parts of the container. Note that for dropper bottles, you will need to separate glass piping from the dropper lids, and for mister and pump bottles, you will need to pull out the plastic tubing.
Fill a pot or basin with hot, soapy water and place your container pieces inside.
Let soak for 5 to 10 minutes.
Scrub each piece using mini-brushes, when possible.
Rinse well with warm water.
For mister and treatment pump tops, reassemble pieces and pump clean water through the tubing to make sure all of the soapy water is out of the nooks and crannies.
If you wish to further sanitize the bottles, you can put the clean bottles and glass dropper pipettes (without the rubber) in a pot and boil for 10 to 15 minutes. Leave to dry in a clean environment.
How to Clean and Reuse Plastic Containers
While many of us prefer to use glass or metal for our home goods whenever possible, chances are that a few plastic containers will occasionally find their way into our lives. Cleaning and reusing these containers is one of the best ways to keep plastic from turning into plastic waste.
The following method is primarily used to clean:

Prepare Your Containers
Plastic containers can't withstand the level of heat as glass or metal, so it's important to cleanse these even more mindfully.
Plastic containers are also often used to package oily ingredients, so you'll want to start by wiping them out as much as possible with a paper towel or clean washcloth.
Remove any old labels as described above, but keep in mind that labels do tend to adhere more strongly to plastic than glass. This DIY Natural sticker remover recipe works great on plastic, too. I just add a touch more baking soda for the plastic bottles, which helps increase the scrubbing power.
Plastic Cleaning Process
Follow steps 1 through 6 for cleaning glass bottles, above.
Soak container pieces in hydrogen peroxide (3%) for 10 to 15 minutes. Leave to dry in a clean environment.
Now you're ready to reuse those jars and bottles!
If, however, you've got bottles you can't reuse for their original purposes, remember that they can also be enjoyed in more crafty ventures.
Container Cleaning Pro Tips
Having mini-brushes is really important in this process! I recommend getting a variety of sizes; they all seem to come in handy for something. If you're having trouble finding them, check in the water bottle section of your local store. They are often called straw brushes. You can also find them in the baby section with the bottles.
If you can coordinate your bottle cleaning with when you're making a new herbal preparation, you can put the bottles to use right away. However, if it will be a while before you plan to use them again, we recommend giving them a good cleaning again before using.
If you have a dishwasher, this can also be used to sanitize. You'll want to avoid running them at the same time as heavily soiled dishes.
The tops of your bottles will likely fail or get dirty well before your glass bottles stop being usable. You can always swap the types of lids for your bottles, and order new ones so you can reused the base. We carry mister, dropper, and even serum pump tops separately for your convenience.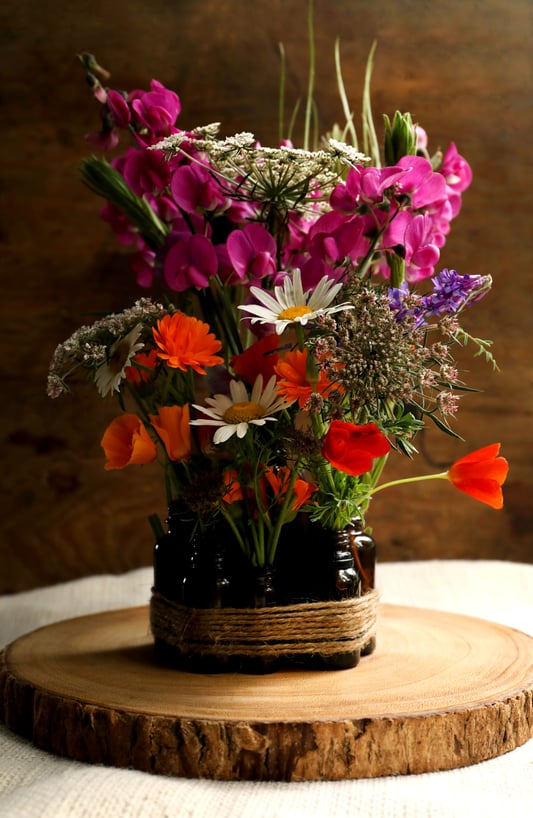 6 Fun & Creative Ways to Reuse Bottles
Make them into mini flower vases. You can use a single bottle for sleek décor in a small space, or you can tie several together and make a centerpiece with them.
Attach them to string lights,

as shown here.

Make an aromatic reed diffuser: Fill your bottle with a light-scented carrier oil and essential oil blend of choice. Then, insert reed sticks or bamboo skewers.
Create travel kit: Bottle your toiletries, carrier oils, or small amounts of essential oils to use on-the-go.
Decorate with eco-friendly ambiance: Stuff your larger reused glass bottles with mini LED lights for some ambiance in the home.
Create herbal powder fairy dust bottles: Fill small bottles with floral powders like rose or lavender for the kiddos to sprinkle around. This is an especially great project for previously enjoyed spice shakers.
While there are about a million ways to use your bottles, we understand that you won't want to keep them all. There are still other sustainable options that you can choose when you are finished with them. You can, of course, recycle them. But one of our favorite ways is to offer them to a local herb clinic, animal rescue, of thrift store that may really appreciate them. Whenever possible, we recommend this as a first option.
Please keep in mind that these techniques are suggested for the use of the home herbalist and are not intended to be used in place of Good Manufacturing Practices (GMP) for selling herbal preparations. If you would like more information on this, you can visit the Oregon Tilth website, which has some great information, or this resource from the University of Florida's FIAS Extension Office. While we aren't able to offer guidance on how to begin your herbal business, we hope that this helps to get you pointed in the right direction.
Want to Reduce Waste in Your Home Care Routine?
You might also enjoy: