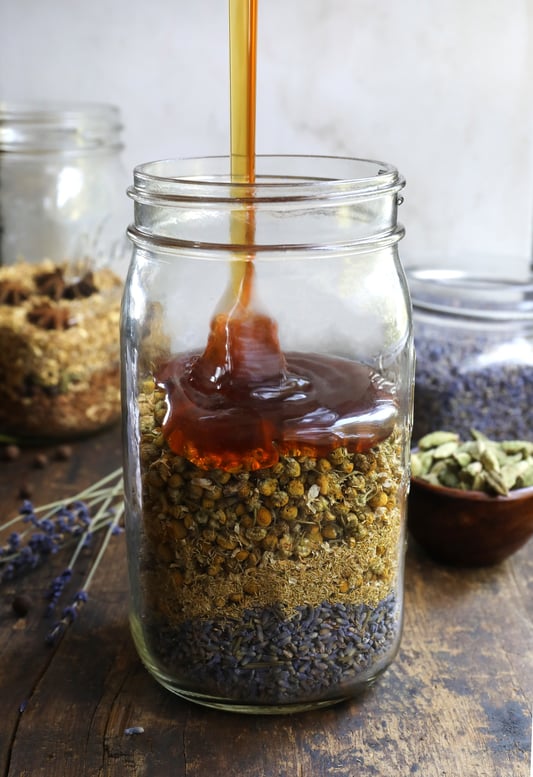 When I moved from my home state of New Jersey to beautiful Oregon, I was exposed to so many new things. Among my favorite discoveries were the abundant, handwritten road signs that advertised fresh local produce, eggs, and honey. Intrigued and excited by these signs, I stopped in to meet my local neighborhood beekeeper, who was thrilled that I knocked on his door to say hello. He brought me over to his hives and taught me a lot about what it means to care for bees. I wanted to support my farm neighbor, so I bought a gallon of honey. What I was going to do with that much honey, I had yet to figure out.
When I got home, I started looking through my cupboards to see if some inspiration would call out to me. Having been an "herbal tinkerer" for some time, I kept coming across herb after herb, and it soon became apparent that I was meant to make some magic with these old plant friends and my sweet new bee bounty. A little afraid to ruin my perfect golden jar of goodness, I decided to start experimenting with my fail-safe herb, lavender.
After three weeks of excitingly waiting for the floral notes to infuse, I was left with the most delicious honey I had ever eaten!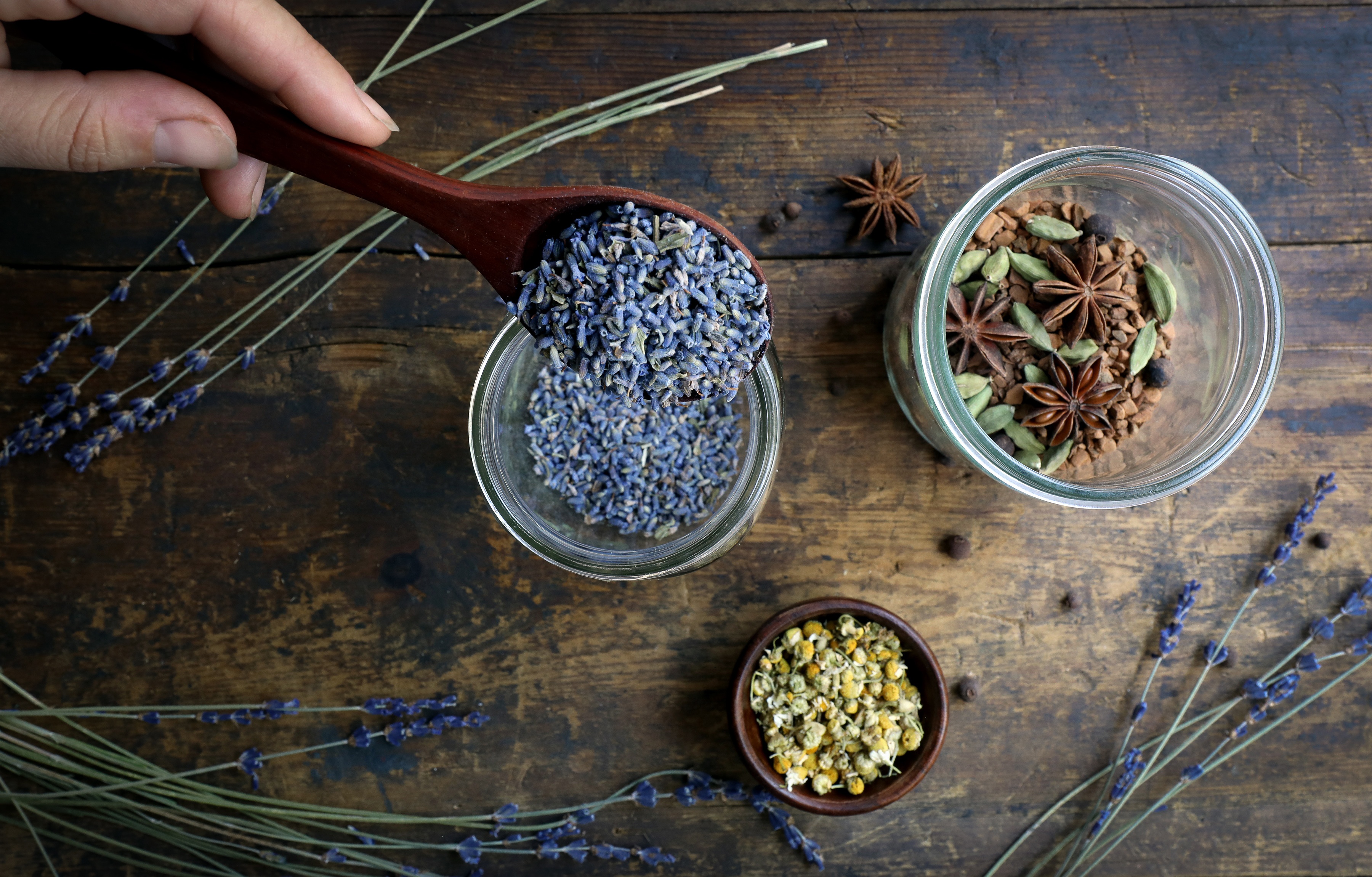 How to Infuse Honey with Herbs
Yields 1 quart (32 oz.)
Ingredients
Directions
Fill a clean quart jar a little less than halfway with dried herbs and spices.
Pour in your honey and watch as it slowly finds its way to the bottom. Be sure that your herbs are fully submerged.
Put a lid on the jar and place in a sunny windowsill. Keeping it warm will allow the herbs to infuse better and also makes the liquid more pourable.
Turn the jar over

at least

once per day.
You will want to allow this mixture to infuse for at least one week, though I prefer to infuse for 3 to 4 weeks. The longer you leave it, the stronger the flavor will be.
When the honey has infused to your taste, strain out the herbs.
Store your herb-infused honey in a cool, dark place to help maintain optimal freshness. Honey is known to have amazing preservative qualities, so as long as you keep your jar tightly sealed and in a dark space, it will last for quite some time.
Pro Tips:
Over time, I have discovered that using a chopstick in the beginning to help push the honey to the bottom is really helpful and speeds up the process a bit.
You will need to keep checking the level of the honey over the next few days as gravity works its magic and the honey fills in all the nooks and crannies. Add more honey as needed.
When you strain out the herbs, don't toss those valuable leftover botanicals away! I save them and add them right into my teas or other warm drinks as a flavor booster.
Excited to get started with blends? Try out my two most reliable herbal honey recipes below!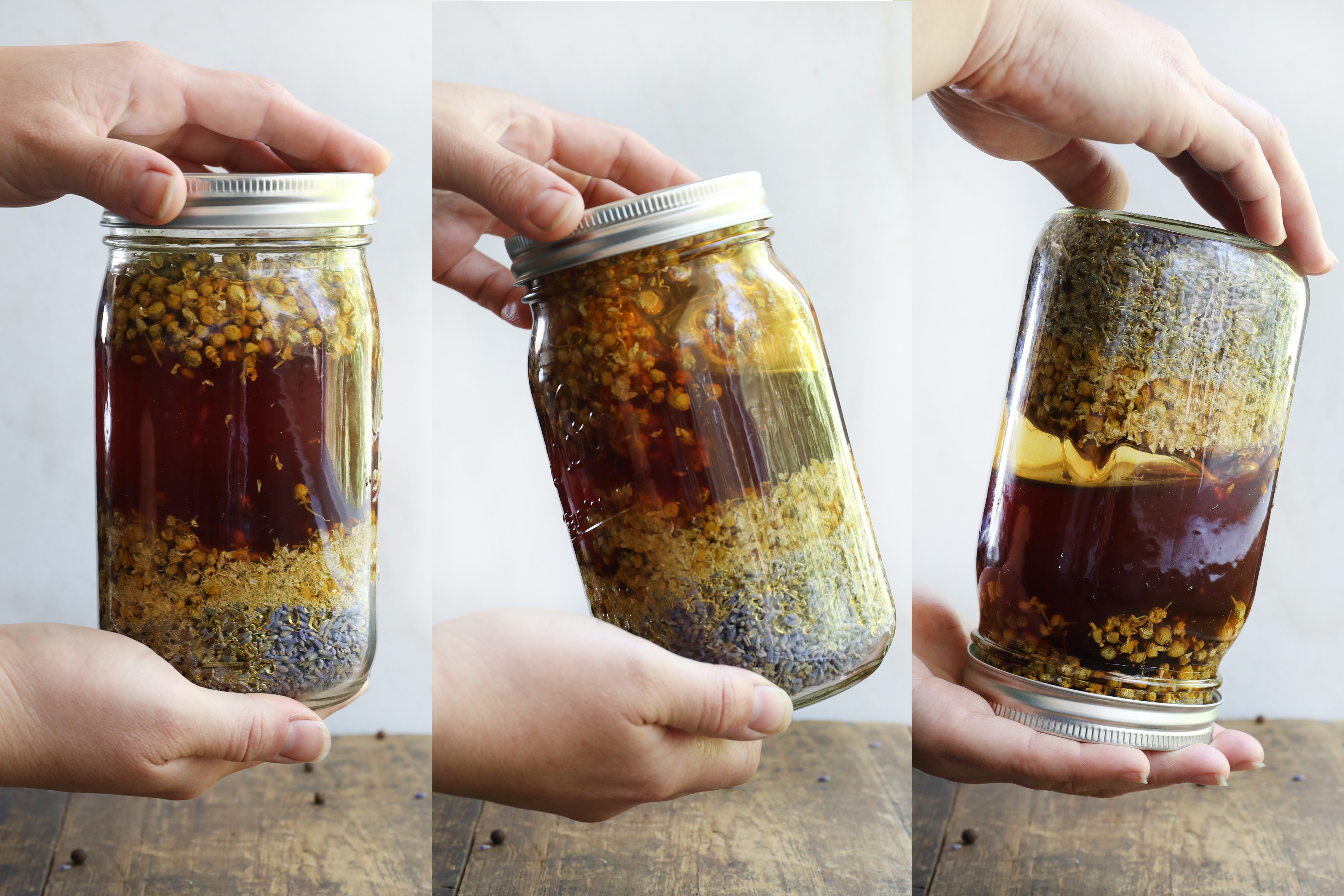 Herbal Honey Recipes
Cinnamon Spice Honey
Yields 1 quart (32 oz.)
Sleepy Time Honey
Yields 1 quart (32 oz.)
While I'm sure you won't have trouble finding uses for this special treat, some of my favorite ways to enjoy it are drizzled on fresh fruit, on ice cream, on toast, and in tea!
The options for creating herb-infused honey are virtually limitless, so feel free to explore! I have shared two of my favorite blends, but you can use my ratios to create your own unique flavors. Some of my other favorite herbs to infuse:
Looking for MORE sweet herbal treats?
You might also enjoy: