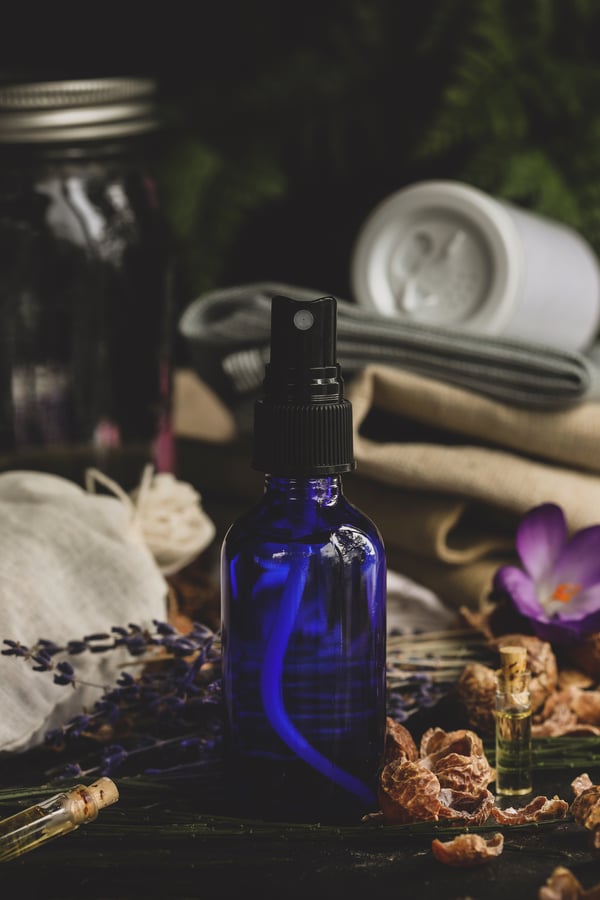 Laundry time is supposed to elicit feelings of cleanliness. However, a few years ago as I began to take a closer look at the ingredients found in my conventional laundry care products, it made me feel far from clean. It became apparent that the "laundry list" of unpronounceable ingredients could not be good for my skin or even going down my drain, for that matter. One thing was sure, my laundry room was a chemical-laden nightmare, and I was in desperate need of an overhaul!
I was now on a mission to give my laundry room a complete makeover—but where to start? I took up my notebook and pen and began making a list of priorities.
First, I needed my clothes to smell fresh and clean. Truth be told, my beloved Grandma Paula did my laundry until I was 21. My clothes always smelled like clean cotton, reminding me of her love and also conditioning me to believe that if it didn't smell nice, it really wasn't clean. While I realized later in life that those fragrances were not natural, the truth is that I really wanted to harness this nostalgic, aromatic element to my natural laundry routine. I knew this would take some extra work and was going to be the largest challenge for me in my new endeavor.
Next, I needed my DIY laundry solutions to be effective. Living on a homestead in the country, I often have my hands in the dirt and my clothes certainly reflect that. I will admit that I have maybe one article of white clothing, so my laundry hacks may not be perfectly suited for those magical beings that can maintain white clothing. I can, however, vouch for the fact that these natural laundry solutions work well to keep stains from my hard-working clothing.
The health of the land and my septic system was also a priority. There is a delicate and natural balance that is necessary to maintain a healthy waste system, and while I am far from a chemist, I know that store-bought chemical detergents are not ideal for maintaining a healthy and natural septic system. Eventually, I will be transitioning to a graywater system, so it was important that my laundry water be "clean" enough to water my fruit trees.
With my list of laundry needs, I began testing, and retesting different recipes. It took months, but here is my start-to-finish laundry swap list so that you can learn from my mistakes and make laundry safe and enjoyable!
DIY Natural Stain Remover
Ingredients
Organic white vinegar
Upcycled toothbrush
Directions
Place the borax in a container with a shaker top.
Mix equal parts water and vinegar in a spray bottle.
To treat stains, shake the borax directly onto the stain, and then spray with the vinegar and water solution.
Use the toothbrush to make a paste with the ingredients, and then scrub the stain.
Allow to sit for 10-20 minutes, then wash as usual.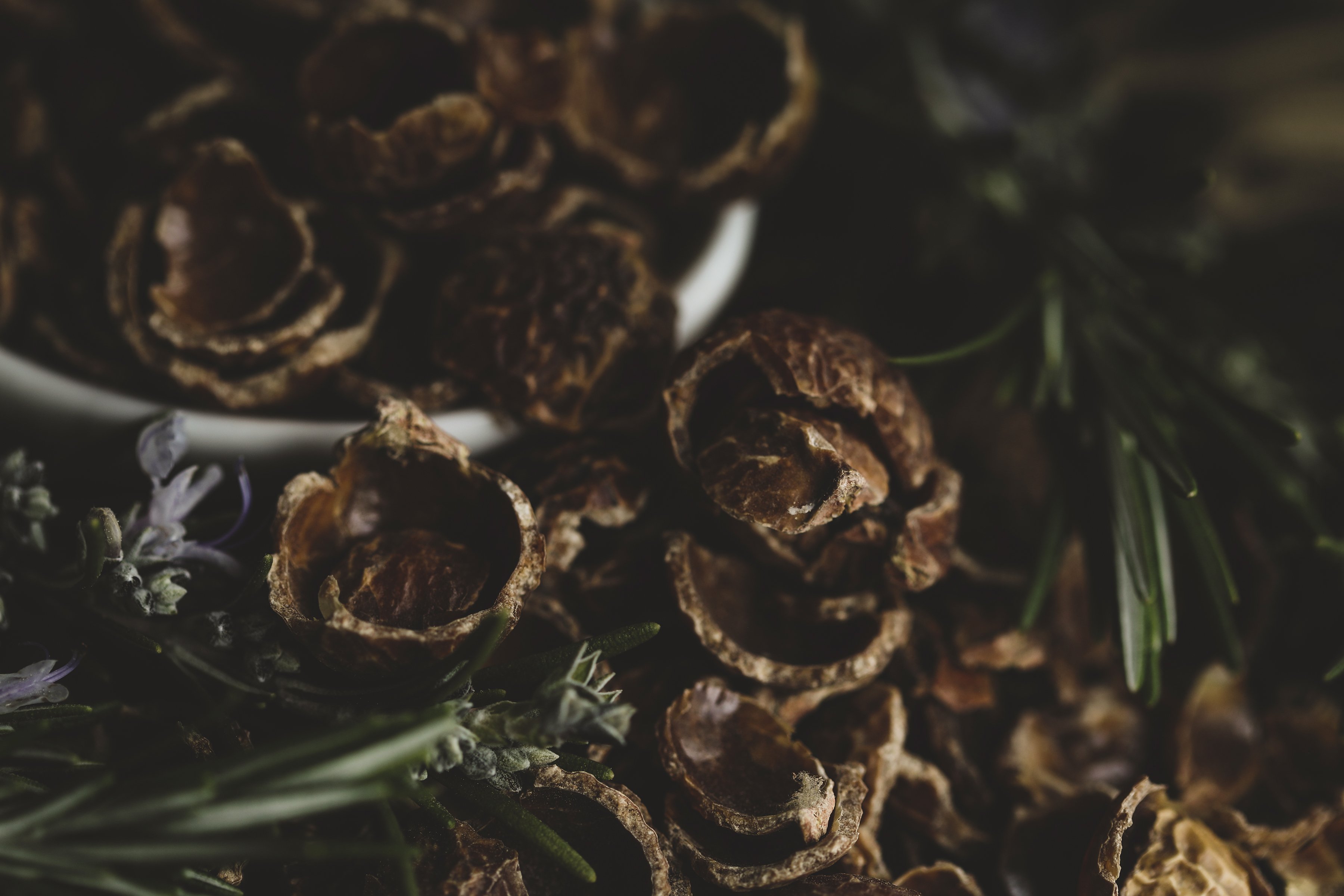 Homemade Soap Nut Laundry Soap
I LOVE SOAP NUTS! There, I said it. These magical seeds are the pinnacle of sustainable cleaning ingredients and they work well. While many simply add soap nuts to a cotton muslin bag and add it to their wash cycle, I really love making it into a liquid soap. I have found that it works better and is easier to manage while doing laundry. Here is my tried and true soap nut liquid laundry soap recipe!
Natural Fabric Softener
Vinegar makes wool and cotton fabrics extra soft and fluffy, removes soap residue, and breaks up oils and grease. It also dissolves uric acid, making it suitable even for baby diapers! You can also add essential oils to harness the aromatics of your choosing.
Ingredients
1 quart organic white vinegar
10-20 drops essential oil(s) of choice. Some favorites are: cedarwood, eucalyptus, geranium, grapefruit, lavender, lemon, lemongrass, lime, mandarin, peppermint, rosemary, sage, spearmint, sweet orange, tangerine, tea tree, or ylang ylang.
Directions
Fill a quart size mason jar with vinegar
Add essential oils to the jar and label.
Shake well before using.
For regular or small loads, add 1/2 cup during the rinse cycle, and for large loads add 1 cup.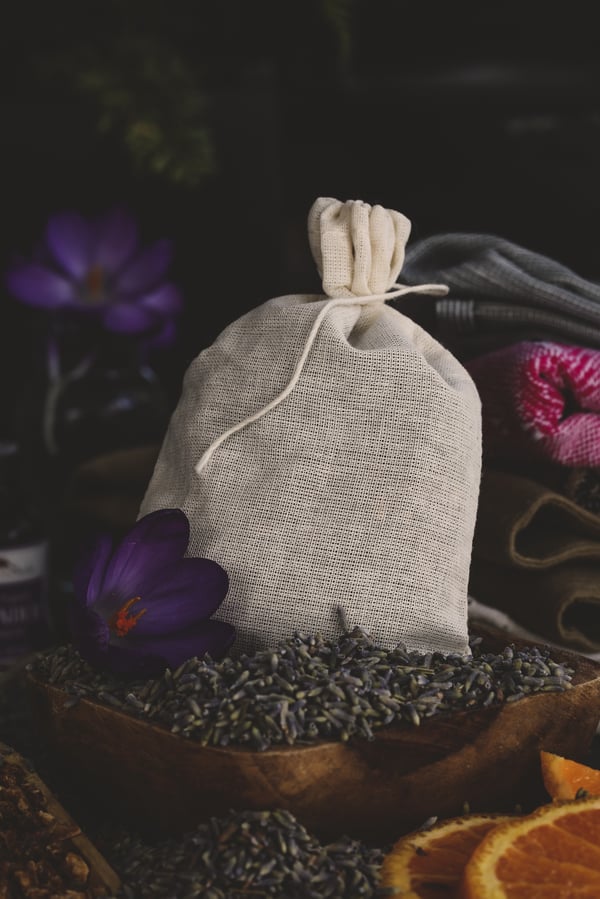 Ditch the Dryer Sheets!
Not only are dryer sheets unnatural, but they are also expensive and contribute to unnecessary waste. Try these three swaps instead!
Herbal Sachets for the Dryer
Homemade herbal dryer sachets can be used in exactly the same manner as commercial varieties, but don't contain the synthetic chemicals or artificial fragrances. Best of all, they are highly customizable, allowing you to add whatever herbs and essential oils you desire.
Ingredients:
Directions:
Begin by filling the muslin bags with the herbs of your choice.
You may add a few drops of essential oils but do so sparingly and cautiously as essential oils are flammable in higher amounts.
Before each use, remove the sachet from the dryer and squeeze it to help release its scent.
Toss into the dryer with your clean clothes.
Pro Tip: Each dryer sachet can be used about 10 times, or until it loses its scent. Once the sachet no longer imparts fragrance, the spent herbs can be composted, and the bag refilled with fresh herbs.
Rags to the Rescue
Rather than using disposable dryer sheets, you can add a washcloth or clean rag with a few drops of essential oils to your dryer. I recommend adding this during the last quarter of your dry cycle.
Wool Dryer Balls
You can also use essential oils on wool dryer balls to fluff up laundry and separate clothes as they tumble dry. As an added bonus they may help to shorten drying times. Dryer balls are available in many retail and online stores, or you can make your own using felted wool.
DIY Linen Sprays:
While aroma was one of my top priorities with my laundry needs, I have to be honest: natural aromas just don't last as long as their chemical-laden counterparts. My favorite laundry trick of the trade: just freshen it up! If you'd like a little aromatic boost, linen sprays are a simple solution. This summer breeze linen spray recipe is one of my all-time favorites!
I hope this list helps to make the seemingly large task of a laundry room overhaul a bit easier, and that you are able to bring more sustainable practices into your home through my experience, trials, and errors.
Looking for more sustainability swaps?
You may also be interested in: