We visit the Pennsylvanian forest farmers cultivating a new way forward for their prized local botanicals, allowing us to provide organic North American ginseng that supports the ecology and economy of this unique region.
In Pennsylvania's lush, green Appalachian foothills, our North American ginseng thrives. It's here in these undulating woodlands that Randy has tended our certified organic and forest grown ginseng for more than 30 years.
Randy's eyes light up. "Oh, lookey there," he says. Using the pointy end of his makeshift metal digger—a tool his 'seng hunting business partner Cliff crafted from an old golf club—Randy tenderly pushes aside thorny blackberry brambles to uncover a ginseng plant shooting up against a disintegrating sugar maple log. Randy believes the calcium these two symbiotic botanicals release into the soil helps the ginseng thrive. Other valued woodland botanicals coexist with the ginseng too—black cohosh, Solomon's seal, goldenseal, and poke root grow wild in these woods.
On this overcast autumn day, the ginseng plant's showy red berries hang below its distinctive five-lobed leaves. Randy carefully removes the berries, which he will bury in a bucket of sand for eight months underground so that the seeds can germinate at a consistent 50° Fahrenheit. Whenever he digs, Randy brings the prior season's seeds with him, placing 20 in the ground for each root harvested. Not every seed will be successful, but this methodology ensures at least one new root will take hold. Randy and Cliff have planted literally millions of seeds in the decades they've been forest farming.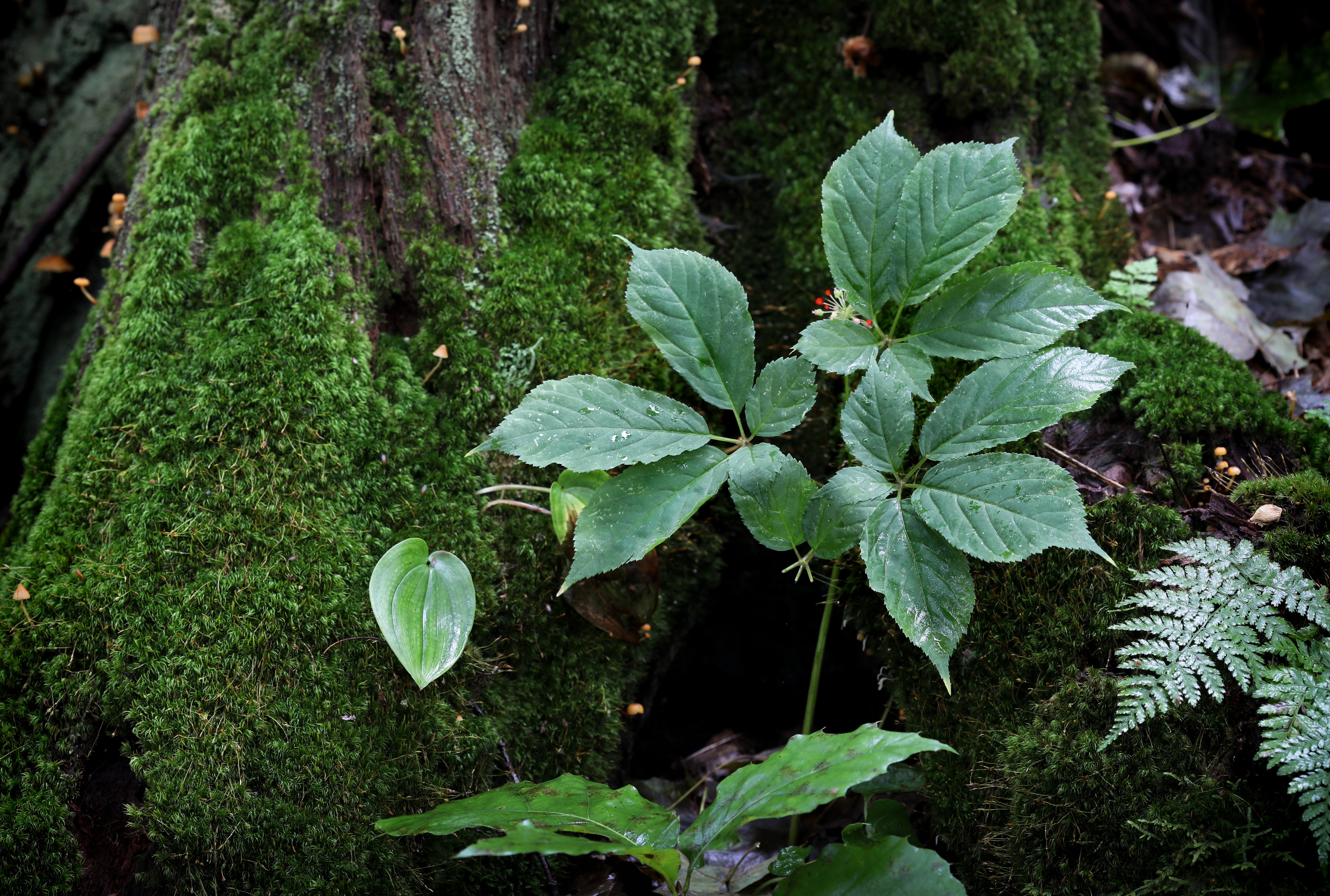 A ginseng plant grows in the shelter of a symbiotic sugar maple tree, patiently enriching its roots and leaves with the soil's nutrients.
The leaves are now past their prime, but in the summertime, Randy and Cliff will snip off three of the five leaves from select plants scattered across the forest floor. The ginseng leaves offer a way to enjoy the herb's beneficial properties without harming the whole plant.
Randy and Cliff wait to collect the roots until after the leaves have begun to yellow. The changing colors (or "senescence") signal that the nutrients are no longer concentrated in the leaf and have moved down into the root. Randy waits at least seven years before pulling up these slow-growing roots. Having tended these lands for decades, Randy knows his property intimately. He tracks the age of his plants based on age-related signs like the number of growth rings that encircle the neck of each root.
After harvest, Randy hand-cleans the harvested ginseng in fresh, local spring water in his home at the base of his ginseng-dotted hills. After cleaning, he lays the roots on a drying screen and slides them into his homemade dryer. The leaves take just six hours to dry, but the root dries for seven to ten days.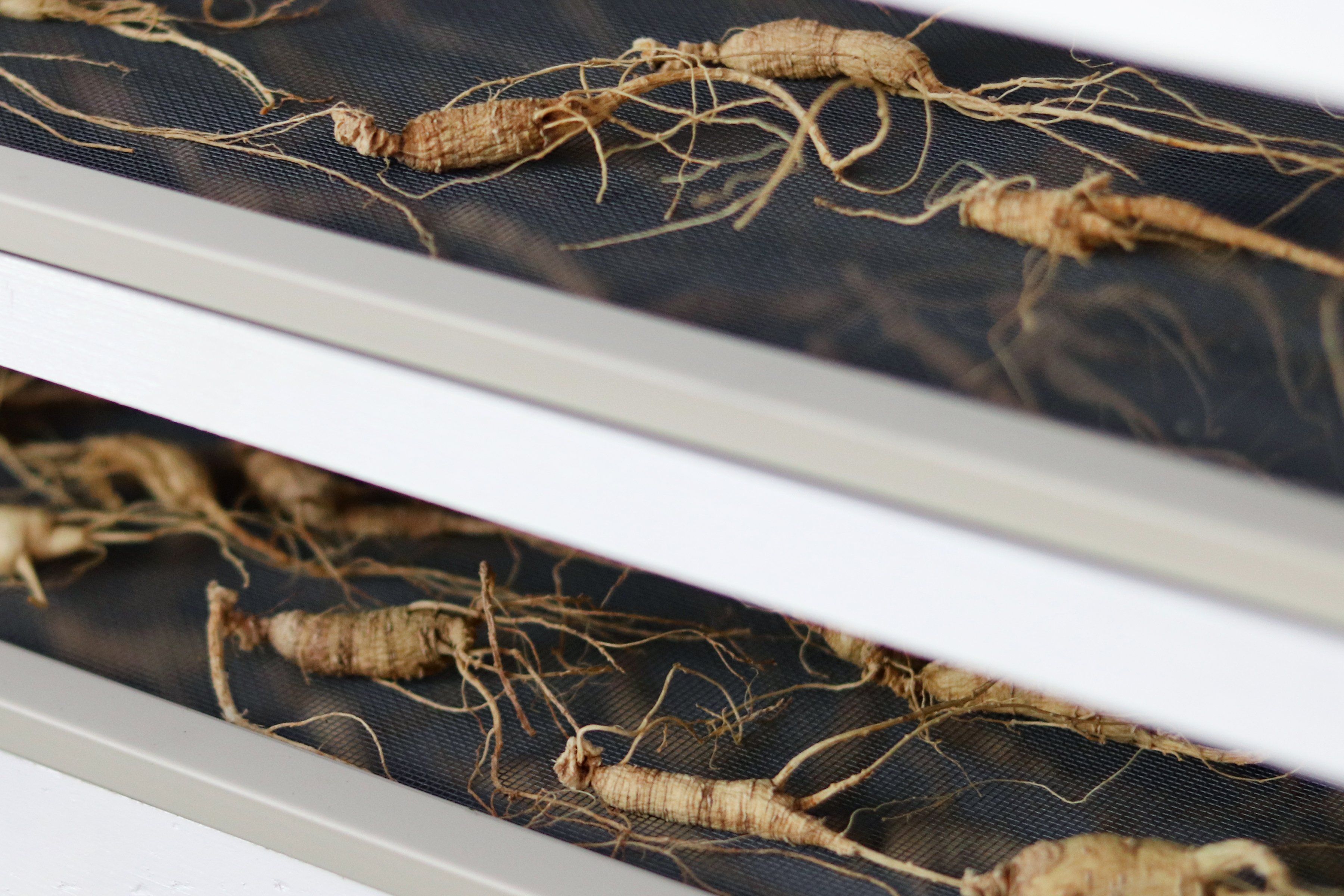 A batch of cleaned ginseng roots air dries on racks. Removing excess moisture helps prevent the growth of undesired bacteria, mold, and other contaminants.
Randy has learned how to grow and find ginseng thanks to a lifetime of experience. Like so many families in this economically depressed region used to do, Randy and Cliff began collecting ginseng as young boys.
"My dad showed me when I was just a kid," Cliff said. "My uncle did it too. Just to make an extra dollar. Just to make ends meet."
When they were younger, 'seng could be gathered on public lands. However, regulations in recent decades, put in place to curb the overharvesting of this valuable root, have made the practice of harvesting ginseng in state parks and other public lands illegal. This change prompted Randy to buy a plot of northwestern Pennsylvania woodlands and begin the practice of forest farming.
"There are very few people who are cultivating the plant in its wild habitat," said Jennifer, Mountain Rose Herbs' Chief Operations Officer. "It's a labor of love that takes literally a lifetime of dedication."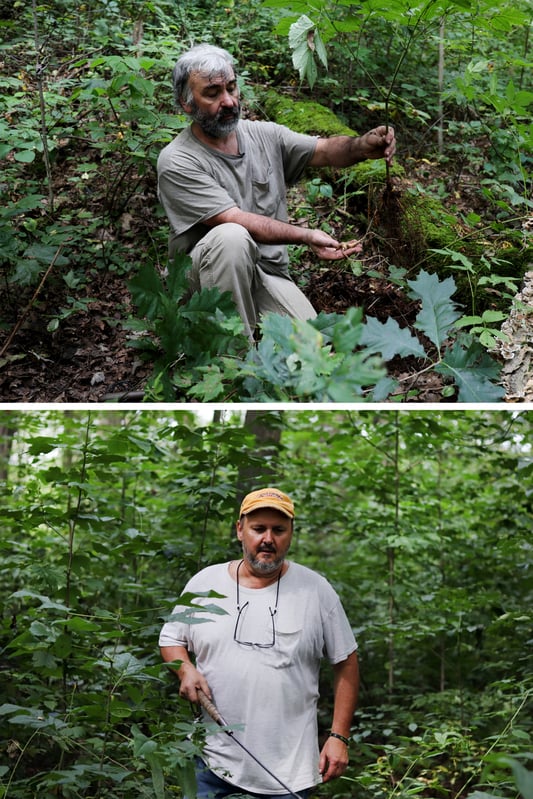 Randy and Cliff probe among the lush growth of this cultivated, yet still very natural forest farming land in search of plants ready for harvest.
Historically, Mountain Rose Herbs avoided carrying wild-harvested North American ginseng due to the pressures put on this plant in the wild—overharvesting, natural resource extraction, and deforestation due to land development, just to name a few. However, Randy and Cliff's forest farming methods bypass these perils to the plant, allowing us to offer ginseng that is of the highest quality and that is harvested in a way that doesn't damage the environment or compromise our wild plant populations. These efforts and specialized farming practices allow us to offer our customers the stress response support of adaptogenic American Ginseng* from a fully traceable and transparent source.
"Mountain Rose Herbs has a commitment to these plants and really cares about the conservation of those botanicals harvested in the wild," said Susan, executive director of the nonprofit United Plant Savers.
Forest farmers are still a rarity, due largely to one unavoidable barrier to entry: time. Since these botanicals mature slowly and cannot be harvested until years after the first planting, getting started requires considerable work and patience before rewards are realized.
"With Mother Nature, there's no way to cut corners," said Cliff.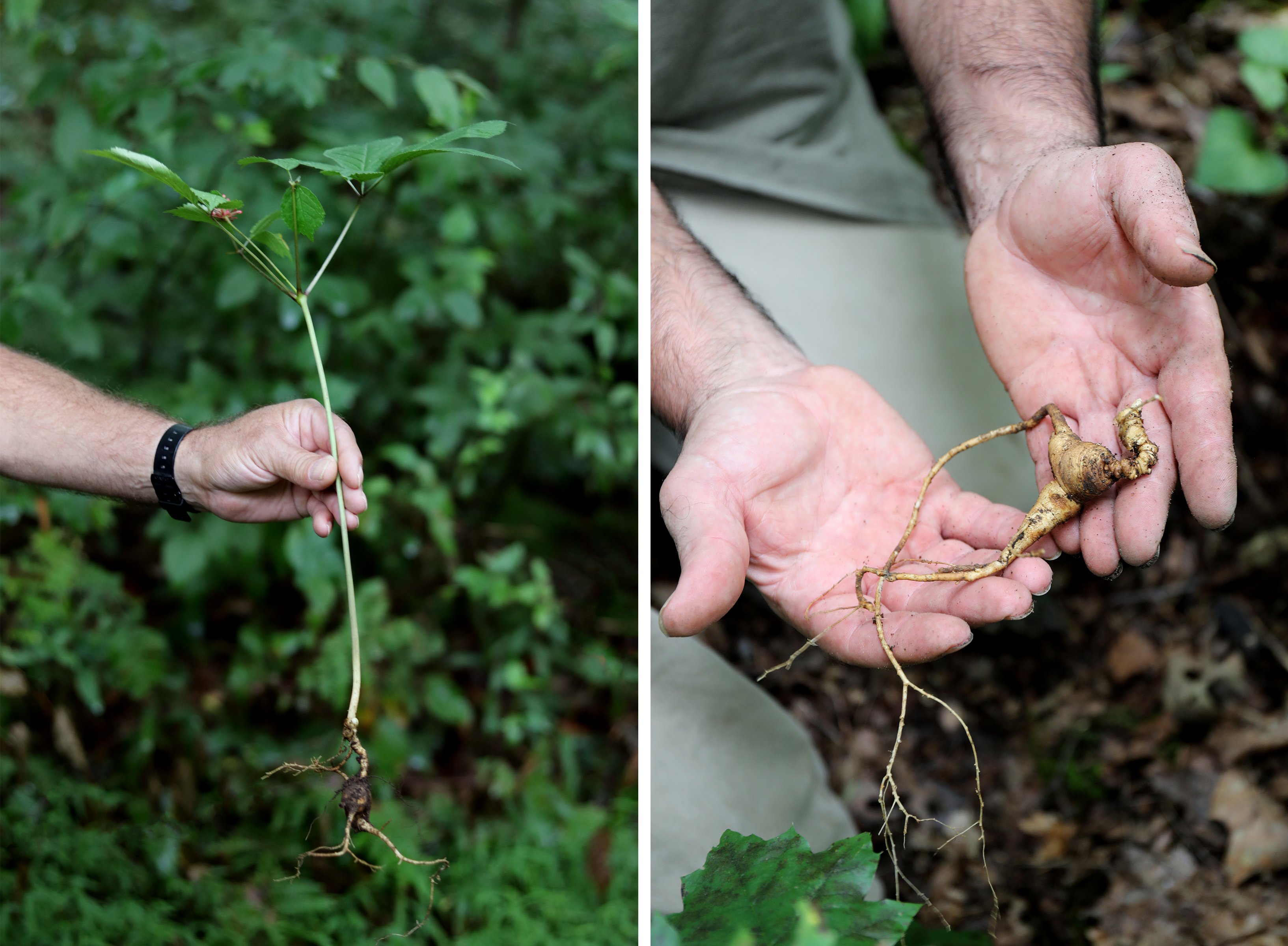 Randy extracts a mature ginseng plant and brushes off the soil to reveal its valuable root.
Now in his late 50s, Randy was a young man when he and his wife bought 80 acres of Appalachian woodlands and started planting their first forest grown ginseng. His wife passed away a few years later, but he has tended the ginseng plants ever since—leaving some from that first year in the ground, a tribute to the love of his life.
He was the first certified organic ginseng grower in Pennsylvania, and, in 1995, Randy was also the first harvester issued a permit to export this valuable herb across state lines. Before it's sent to our headquarters in Eugene, Oregon, each root is weighed on scales certified by the Department of Agriculture, and the entire shipment is then inspected by Pennsylvania's Department of Conservation and Natural Resources. Randy was also a pioneer in providing further supply chain transparency by being one of the first woodland farmers to have his botanicals Verified Forest Grown and Certified Organic through a third-party certification agency accredited with the National Organic Program that audits his Pennsylvania ginseng stands and also our handling of the herb back at our Oregon headquarters.
Randy takes us inside the tall fence he's built around the perimeter of his certified organic woodlands. The fence keeps out deer that would otherwise snack on his prized plants. Other animals, like field mice, are also a threat. Since the fence won't keep out small rodents, Randy has nailed screech owl boxes to many of his trees to attract natural rodent predators. However, according to local lore, some animals may actually support the plants by helping to propagate its seeds. Randy believes that black bears, raccoons, and birds eat the plant's seeds and later disperse them through their scat.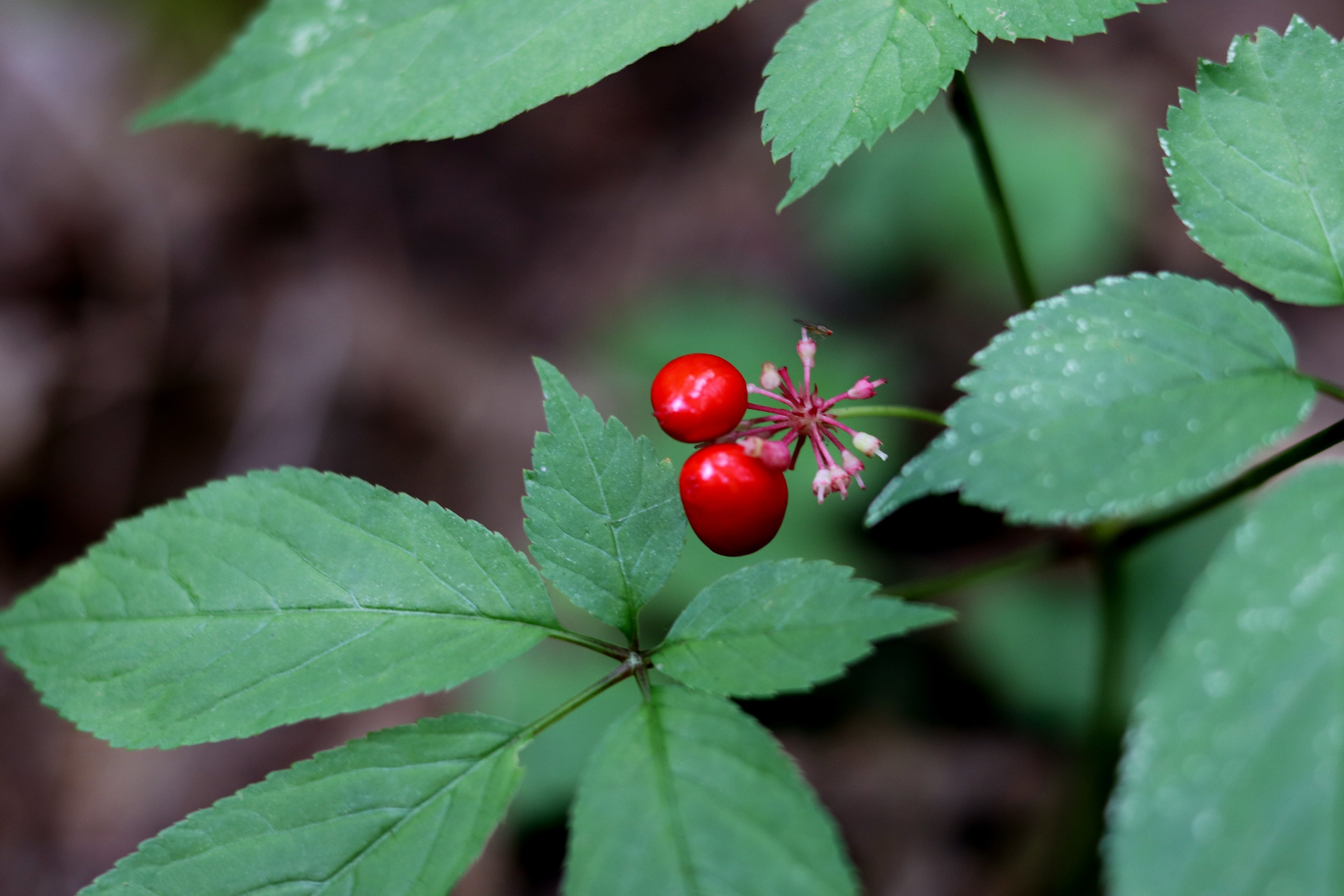 Ginseng's distinctive red berries contain the seeds of the next generation, and forest farming promises time and space that may allow them to one day bear fruit of their own.
We believe strongly in supply chain visibility. Highly valuable, mindfully gathered herbs don't come from an unknown, fly-by-night business entity on the other end of the phone. We only work with those who care deeply about their calling to serve human and plant communities alike, by cultivating, harvesting, and handling these precious plant allies with the care they deserve.
"I like growing ginseng because it's peaceful," Randy said. "Every time I dig a root, I just want to look at it. You raised it for that long, so you appreciate it. But then again, you plant the seeds back, making the population a lot greater. Mountain Rose knows that I have watched the seeds I planted 33 years ago since day one and still watch over them."
Forest farming represents a promising economic and ecological path forward for Pennsylvania's wild areas, and businesses and herb-lovers are essential to supporting it. When customers purchase Forest Grown Verified botanicals from Mountain Rose Herbs, a portion of the proceeds are donated to United Plant Savers to fund growth and development initiatives to help this emerging industry thrive. With their help, the tireless efforts of our growers, and the global herbalism community, these magical plants may enrich our lives and the environment for generations to come.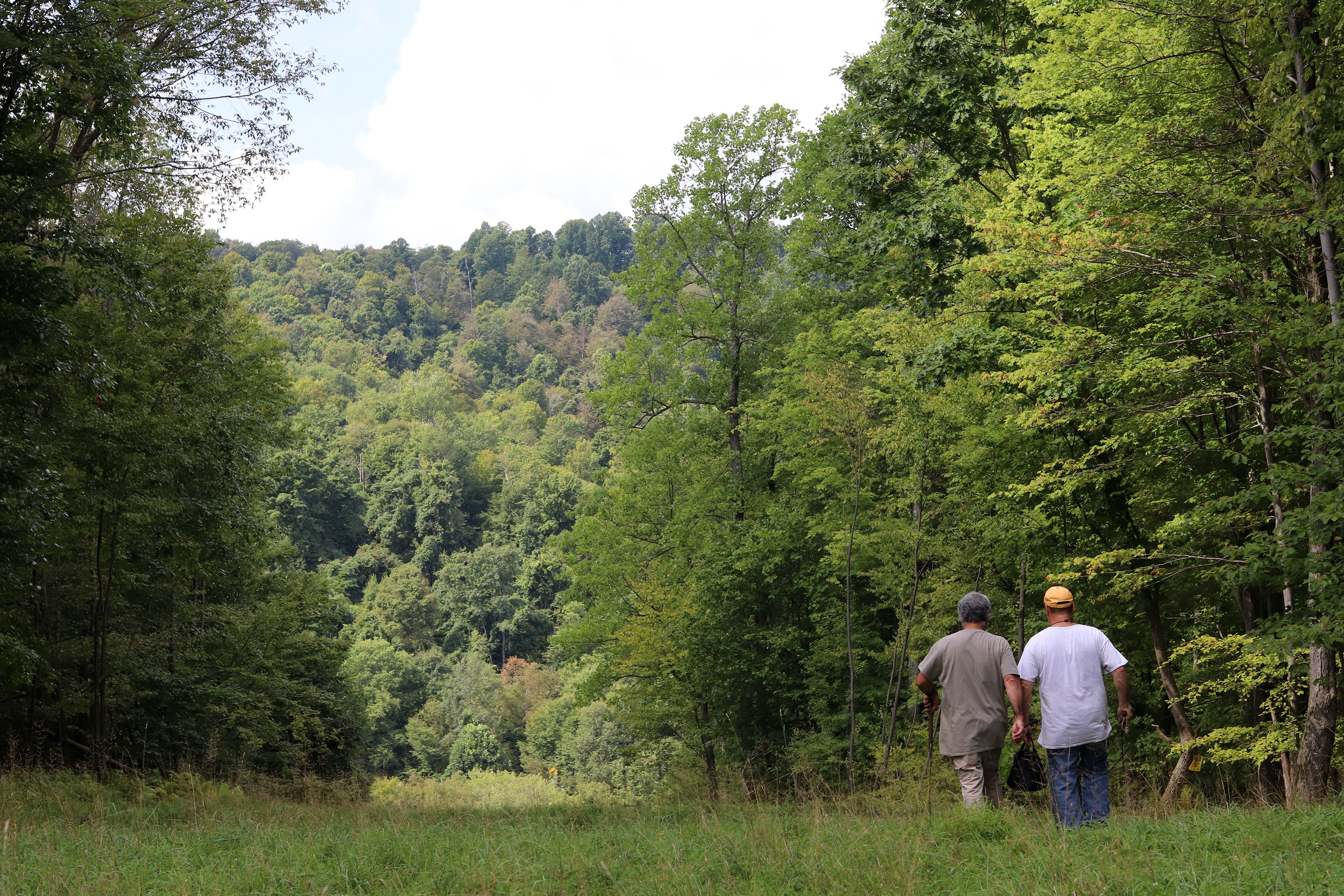 Want to Promote Forest Farming in Appalachia?
You may also enjoy:
*This statement has not been evaluated by the Food and Drug Administration. This product is not intended to diagnose, treat, cure, or prevent any disease. For educational purposes only.