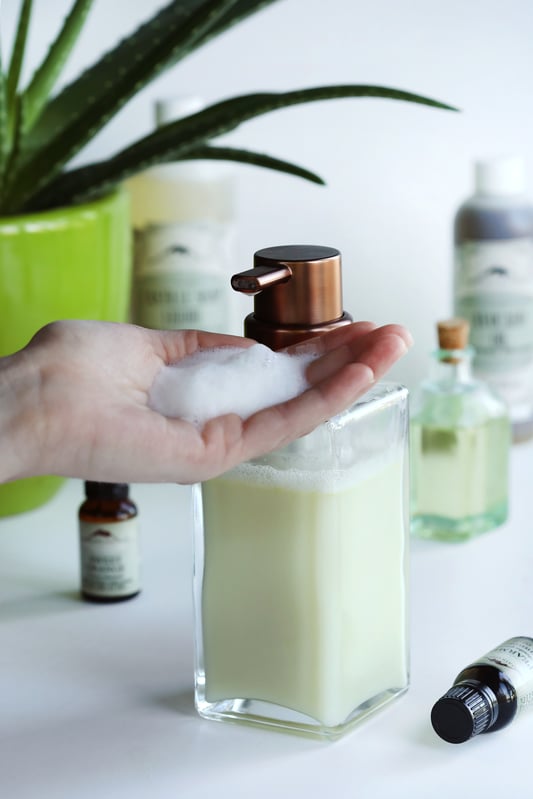 The winter season is often a time for travel, holidays, family gatherings, and sometimes battling the germs that can accompany these festivities. During this season of cozy blankets, hot cocoa, and fireside chats, I try my best to keep my family healthy and happy, but it's not always easy. I live and die by my Grandmother's "golden rule": always wash your hands with soap as often as possible. This single action is proven to help prevent the spread of germs and is an effective way to remove pesky bacteria from your hands. All it takes is 20 seconds of hand washing with soap and clean water. I especially like foaming hand soap because it's easier to use and more fun for the kiddos. You can find a foaming bottle at most stores, or you can repurpose foaming soap bottles that you've purchased in the past.
Delight your guests with fresh scents
It never fails: when we invite guests over to my home, they all come out of the bathroom asking me about the delightful foaming hand soap sitting on the bathroom sink. I love seeing the interest spark in their faces when I tell them just how easy it is to DIY and how much money it saves in the long run. Making your own foaming hand soap allows you to customize it to your own needs. I often change the scents up to match the festivities, and during the harsh winter weather, I like to add avocado oil to help put extra moisture back into my dry hands.
Save the environment with every refill
One of the biggest perks to making your own bath and beauty products is knowing that you aren't putting more plastic trash into the environment. With every refill, you are not only reducing the waste in your local landfills, but you also have the benefit of knowing that you aren't putting any harmful chemicals back into our water systems. By making your own hand soap, you are also avoiding ingredients proven to be harmful, including triclosan, parabens, fragrances, Sodium Laureth Sulfate (SLES), and Sodium Lauryl Sulfate (SLS).
In my new book, The Beginner's Guide to Aromatherapy, I've shared some of my favorite recipes, including this fresh twist on homemade hand soap! There are lots of other ways to make this your own, but this one has proven to be a household favorite.

Citrus Fresh Foaming Hand Soap
Makes about 250ml (about 1 cup)
INGREDIENTS
DIRECTIONS
Add the Castille soap, carrier oil, and essential oils to 250ml (about 1 cup) foaming pump bottle, then add the filtered water to fill.
Seal the lid, and gently shake to combine.
Store on the bathroom or kitchen sink, and use within one month before replacing with a fresh batch.
Looking for more inspiration from The Hippy Homemaker?
You May Also Like
How to Create Your Own Essential Oil Blends
4 Palo Santo Essential Oil Blends for Clarity