To all the aromatherapy lovers who have asked us for ready-to-use essential oils over the years—you have been heard! We are now delighted to offer a collection of safely pre-diluted roll-on essential oils that provide the same premium botanical quality you expect from all your Mountain Rose Herbs favorites, in a convenient and portable form. Pre-mixed with organic fractionated coconut oil, these handy little bottles are especially suited for those who like to get their fragrant herbal fix on on-the-go.
We've launched the line with 13 of our most widely enjoyed oils, offering a variety of aromatic experiences created with accessibility in mind. These moderately priced blends provide aromatherapy explorers with the chance to sample some of our especially precious oils, like Bulgarian rose and jasmine, without having to decide whether or not to invest in a bottle of the pure plant essence scent un-sniffed!
How to Choose Your Ideal Aroma
Since there are many oils you may wish to add to your aromatherapy toolkit, we've designed some categories to help you home in on the best varieties for your needs. You can also take this fun quiz to find your aromatic match!

Oils for Everyday Inspiration
These oils are standard aromatherapy staples and are suitable for everyday use. With these fragrant favorites in hand, you will be well equipped to face whatever life throws at you, from the occasional physical discomfort to the need for a quick attitude adjustment.

Oils for Floral Enchantment
These roll-ons are perfect for the field frolicker who loves the aromatic and uplifting escape of flowers.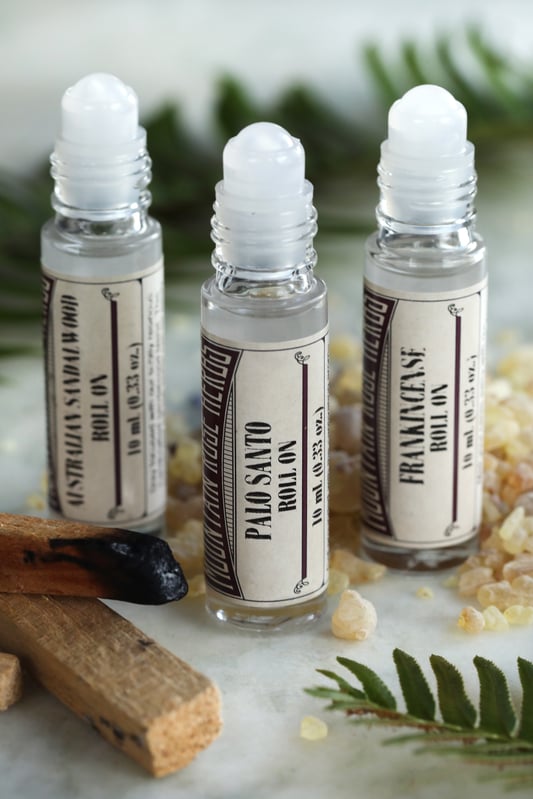 Essential Oils for Grounding Support
For high-strung workaholics who need some assistance bringing themselves back into balance, these blissful aromas help channel the grounding influence of our tree allies.
Australian Sandalwood: Sandalwood oil has been used for thousands of years as a spiritual tool and equally as long in topical applications. In some traditions, sandalwood is applied to the center of the forehead, also known as the third eye. There is no other scent quite like sandalwood's warm, resinous, sweet, and utterly intoxicating aroma.
Frankincense: This pleasing aroma is soothing and uplifting for the mood and is also popular for meditation and spiritual practices. Rub a small amount of our blend between your palms or apply under your nostrils during breathing exercises.
Palo Santo: This oil is known to help with self-reflection and reconnecting with the things that matter most to you. It is also associated with energetically clearing practices. Our palo santo oil comes from a sustainable farm partner in Ecuador.
Want help finding your perfect match?
You might also enjoy: