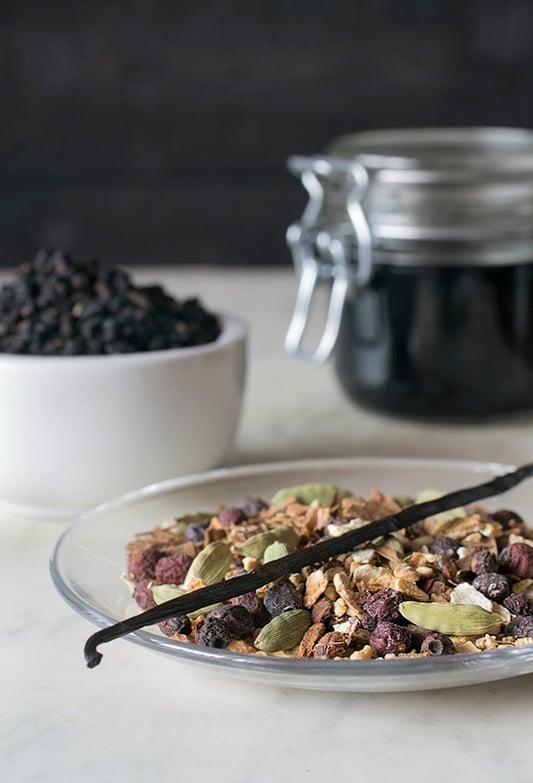 I love cookbooks! Cooking and creating in the kitchen is my bliss. My approach to herbal recipe-making tends to be inspired by decades of kitchen experiments. While a simple elderberry syrup is quite functional and elderberries are delicious on their own, I couldn't help but fiddle around until I'd crafted my own version of a classic elderberry syrup—full of extra herbal goodness and spicy flavor.
Elderberries are used this time of year to support immune health.* This syrup is wonderful when sipped for herbal purposes, but it is also amazing as a pancake or waffle syrup or used in place of a simple syrup in a delicious cocktail. I like to pour about ¼ cup in a tall glass or pantry jar and fill with ginger ale or club soda for a refreshing beverage!
This recipe is easy to multiply if you'd like to make a big batch to store or give as gifts. These glass pantry jars and amber bottles are great choices.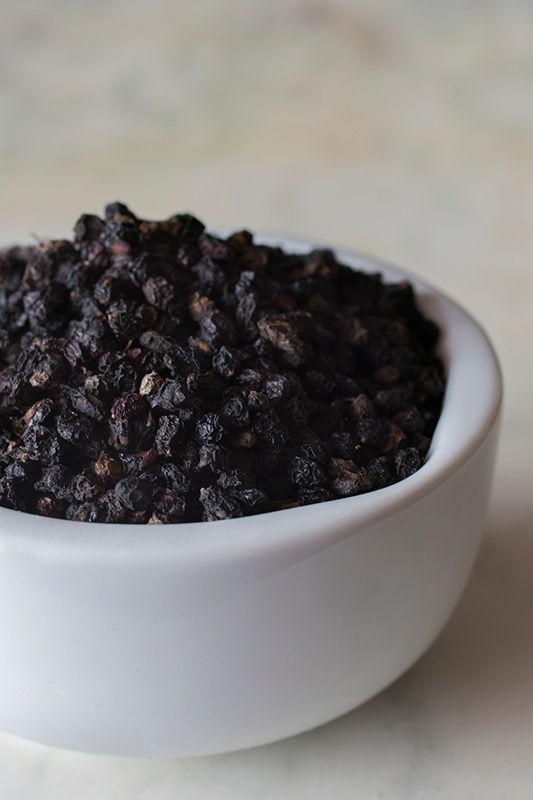 Classic Elderberry Syrup Recipe
Ingredients:
Directions:
Combine the berries and herbs with cold water in a pot and bring to a boil.
Reduce heat and allow herbs to simmer for 30 to 40 minutes.
Remove from heat and mash the berries in the pot.
Strain the berries and herbs through cheesecloth and squeeze out liquid.
Add honey and gently heat mixture for a few minutes. Do not boil!
Turn off heat and let cool slightly.
If using, add alcohol and stir until well combined.
Bottle in sterilized glass.
Elderberry Syrup Cockaigne Recipe
The name of this recipe is homage to one of my go-to cookbooks, The Joy of Cooking, where the extra-special recipes have the moniker "Cockaigne" added. The word comes from a middle-English fable meaning "luxurious and idle paradise;" or abundance! Feel free to add other delicious herbs to the recipe such as organic Vanilla Beans, Hibiscus, Allspice, Star Anise, and more!
Ingredients:
Directions:
Put all these ingredients into a large sauce pan and heat on medium-high heat to boiling.
Once the mixture boils, turn the heat down and simmer for 20-30 minutes.
Pour the mixture through a sieve into a large Pyrex pitcher or glass bowl.
The sieve will catch all the berries and bits of unground herbs.
Press down with the back of a wooden spoon on the berries just to make sure you get all the juice out of them.
Now add 2 cups local, raw, organic honey and stir into the juice mixture while it is still warm, but not too hot.
You can now pour this into a jar and keep it in the fridge, or even can it in a hot water bath (see your local extension service or visit the USDA's website for home food preservation for canning guidelines).
This makes about 5 cups of syrup, enough to fill a quart jar and have a little left to use fresh and warm on morning pancakes! It should keep well for several months in the fridge (if it lasts that long!)




Looking for another Delicious Wellness syrup?

You may also be interested in: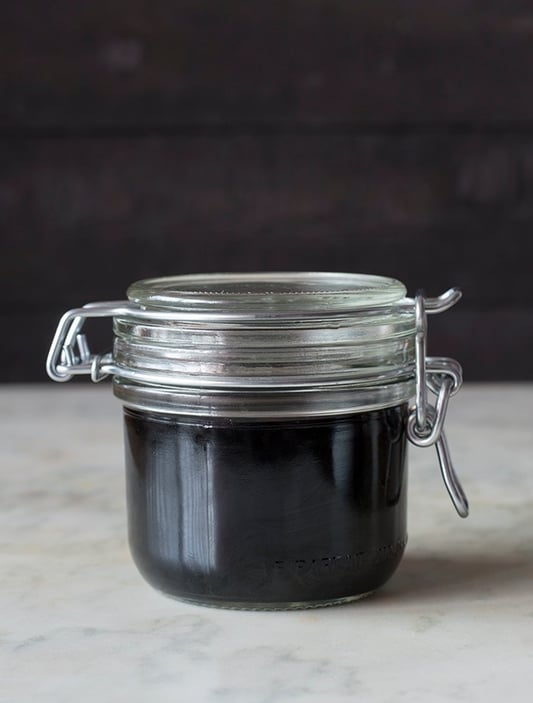 DISCLAIMER: For educational purposes only. This information has not been evaluated by the Food and Drug Administration. This information is not intended to diagnose, treat, cure, or prevent any disease.


This blog was originally published in 2015. Because it's so popular, we decided to update it for you. Enjoy!