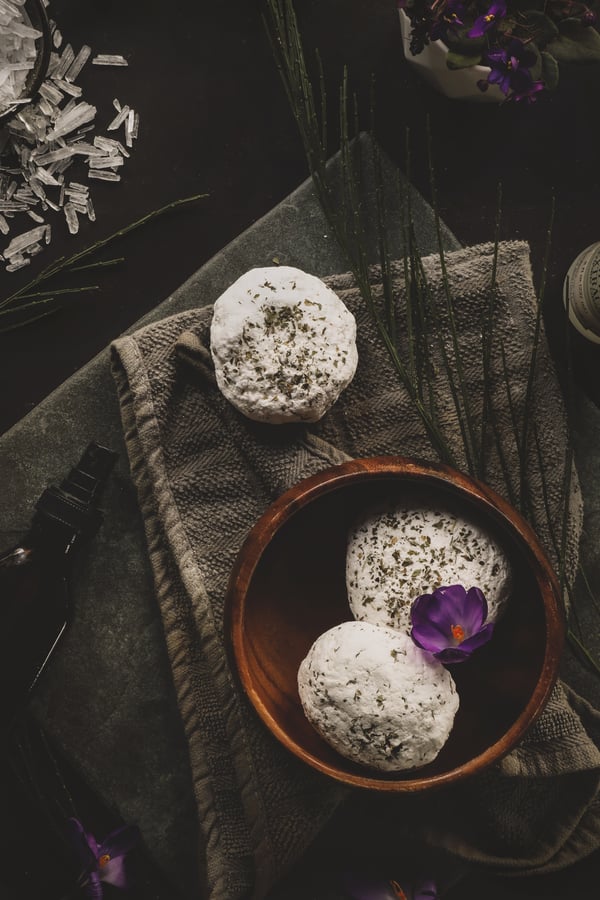 Bath Bombs can be a soothing addition to the bathing experience, and I've always wondered how left out people without tubs must feel. As the empathetic person I am, I started to ponder ways in which everyone could enjoy the wonders of a fizzy, aromatic bathing experience. That's when I dreamed up the idea of shower bombs. As it turns out, however, there were many others who'd had this dream before I did. In the past year, I've seen "shower bombs" begin to make their way on the shelves of my local grocery and natural food stores. Yet, my passion for DIY was too strong to simply buy one. I was on a quest to create the perfect shower bomb!
I love that shower bombs require less ingredients than their bath-fizzy counterpart, and because the focus is on the aromatherapy aspects rather than the skin conditioning elements, you can prioritize the perfect aroma. Shower bombs also allow you to use ingredients that may not be wise to use in the bathtub, such as menthol crystals or other strong mints. These types of ingredients can be irritating and can cause skin discomfort when added to hot tub-water or if used incorrectly. Since there are so many other ways that they can be enjoyed—like in the shower—I opt to stay away from minty things in the tub.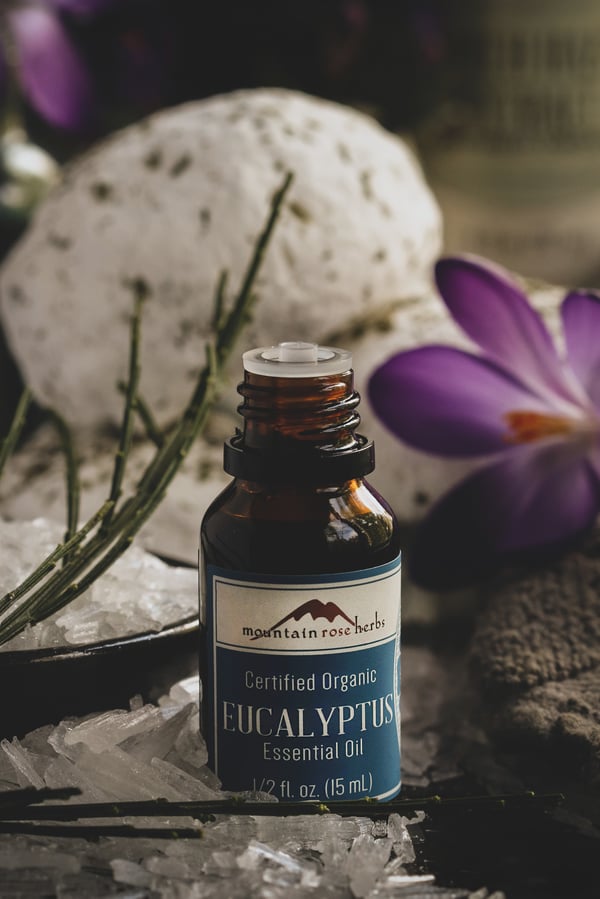 With this in mind, I headed to my DIY lair (AKA my kitchen) to craft up a homemade shower bomb recipe so I'd be prepared for any sniffles or pollen thrown my way during what I call the "sinus seasons" (generally winter and spring in my life). Menthol and eucalyptus are among the best supports for sinus discomforts; their ability to open us up is unparalleled. When used in a hot shower, we also get the added benefit of the steam helping to deliver the botanical gifts in these bombs.
Easy DIY Shower Bomb Recipe with Menthol
Makes about 5-6 bombs
Directions
Add baking soda and citric acid to a bowl and mix, being sure to break up any clumps. Set aside.
Measure out menthol crystals into top of double boiler and heat until menthol crystals have turned to liquid. Remove from heat.
Allow to cool slightly, then stir in essential oils.
Slowly pour melted mixture into dry ingredients while stirring.
Use a fork to thoroughly incorporate all ingredients and break up any clumps.
Fill an upcycled spray bottle with about 1/8 cup witch hazel and spray while continuing to mix with the fork.
Add a little at a time and stop just when the mixture clumps up for you.
Once it holds together on its own, scoop out a big handful and make it into a ball-like shape.
Pack it well so that it will not crumble as it dries.
Sprinkle a little of the optional garnish on the top and gently push in so the herbs stick.
Place on parchment paper to dry for 24 hours.
Store in a cool, dry space.
To use:
Heat up shower water
Once desired temperature is reached and you are ready to get into the shower, add shower bomb. I enjoy keeping it slightly outside of the water stream so that it lasts longer, but that is a personal preference.


Pro Tips:
These are not suitable for the bathtub. Using menthol crystals in this quantity in a bathtub is not recommended as it can cause skin irritation when mixed with hot water.
We all have different sensitivities. If you feel that the oils in this are too strong, you can adjust them to your preference.
Although you are making these into balls, the bottom will flatten out a bit, which will help it stay in place when you use it in the shower.
Some people make their shower bombs in smaller sizes, but I don't find they last long enough. If you prefer to make small ones, you can certainly form them into smaller balls.
Shower bombs make great gifts!
Prefer Balms over Bombs?
You may also enjoy:
Herbal Lozenges with Linden
Soothing Marshmallow Rose Tea Recipe
DIY Echinacea and Roots Tea Blend