Herbal foot soaks are one of my favorite herbal treatment modalities! In my house, we do foot soaks in the evening about once a week, and this habit has become a real treat for my family. It is truly amazing to watch how we all get a little calmer and nicer as we sit there chatting with our feet tucked into little buckets full of herbal tea. My son and I like to play cards—rummy is our card game of choice—and do foot soaks before going to bed and we find it to be a perfect winding-down evening ritual. (Parenting pro tip: herbal foot soaks are a great way to get the kids slopping around in herbs when they are young!) I am known for creating herbal foot soak experiences for family gatherings, birthday parties, holiday celebrations, and whenever we find ourselves just hanging out with friends. Eat, drink, foot soak, and be merry is the motto around here…
An "herbal foot soak" is simply a fancy term for soaking your feet in tea. I like to think of herbal foot soaks as a feast for the feet! Make a cup of tea to drink and, while you are at it, prepare some tea for soaking! Sit down, immerse the multitude of all those nerve endings in a soothing herbal infusion, take a few deep breaths, and enjoy this gentle and luxurious way of bringing the healing qualities of the herbs into your life. You can do this sitting inside or, as the weather gets warmer, it is really nice to do foot soaks sitting outside.
This cooling foot soak is a popular recipe from my book, The Herbal Kitchen. This is a wonderful, relaxing experience for any time, but it is an especially nourishing way to transition from one part of a day to another, particularly after a period of work or stress that has left you feeling physically or emotionally overheated. After a full workday, refresh yourself in this revitalizing botanical blend formulated to help you let go of worries and reset your frame of mind for what lies ahead.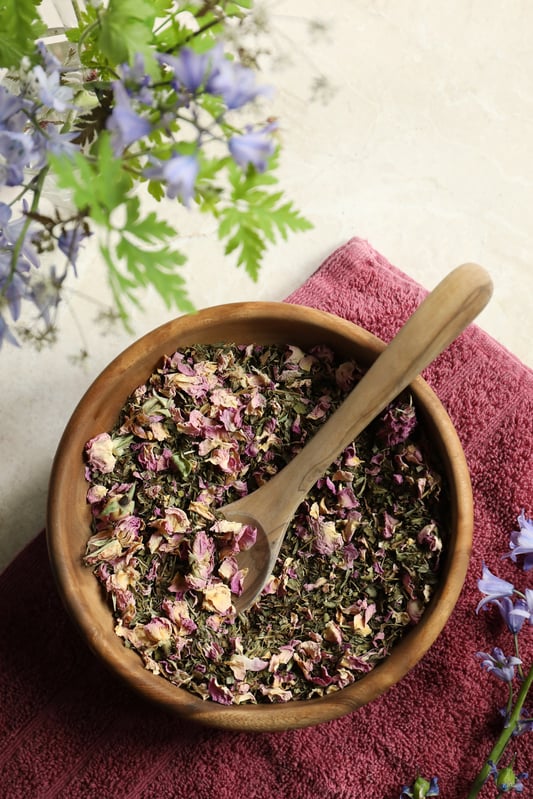 If you haven't developed your foot soak addiction yet, I really encourage you to give this recipe a try. It may seem a little awkward at first, but once you experience the herbs entering your body through your feet, there is no going back. If we go a couple of weeks without a foot soak, I can actually feel my feet craving the treatment. So go ahead, dip your toe in!
Cooling Peppermint Rose Foot Soak
Makes about 4 pouches, or 2 foot soaks.
Ingredients
Directions
Combine herbs in a bowl and mix well.
Divide mixture evenly between 4 muslin pouches (a little less than 2 tablespoons in each.
Add 2 muslin pouches to 1 gallon of hot water.
Let pouches steep in water until water cools down to temperature that is comfortable for immersing your feet.
Soak your feet for 5 to 15 minutes.
Want More Ways to Stay Cool & Fresh?
You might also enjoy: