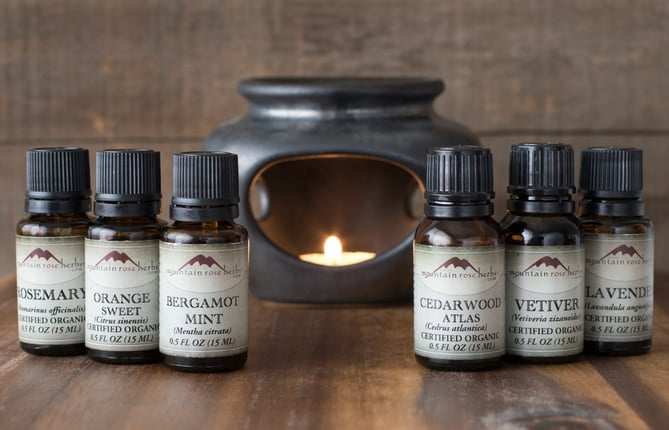 My favorite summertime activities are not what one would consider fancy: reading and napping in the backyard hammock under the apple trees on a warm, sunny day, sitting up late under a clear sky and chatting around a fire of crackling wood and burning sage, sipping home brew on the front porch at dusk with the neighbors and watching for bats. I'm sure you can see where I'm going here! There are so many wonderful opportunities this time of year and we all have our idea of what little moments make summer heavenly.
For many of us, scents are tied to experiences and the right smells drifting on the air can enhance and support the beautiful moments in life. I created this combination of some of my favorite essential oils, as well as a few earthy surprises. This is a blend to evoke some of the slow-moving, nature-loving elements of my favorite season of the year. This would be equally lovely at home or the office since it's not at all overwhelming and has a warm, soothing scent…
Midsummer Rapture Aromatherapy Blend Recipe
Combine all the oils and add to ¼ - ½ cup water in a diffuser (or half the recipe and add directly into a nebulizer.)
Diffuse into the air for the rapturous scent of a warm summer night!

This can also be added to a spritz bottle of water for a room or linen spray. You could even put a bit on a patch of cotton or a cotton ball to use in a closet or drawer to scent some lucky textiles!