This blog was originally published in 2014. Because it's so popular, we decided to update it for you. Enjoy!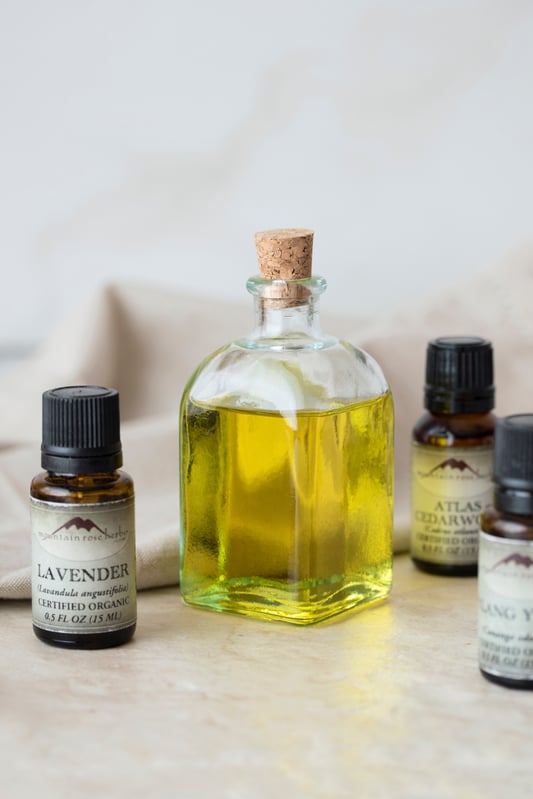 One of our favorite ways to enjoy the benefits of aromatherapy is to craft our own massage oils. Whether you're enjoying a relaxing evening with your partner, blending for your professional practice, or doing some self-care massage after a long day on your feet, a good massage blend is a must-have! The best part about making your own massage oil is that you get to craft something truly unique and just right for you or your loved ones!
This basic massage oil recipe is simple and easy to make. All you need to do is pick your favorite carrier oils and enjoy the process of blending your own luxurious creation!
Basic Massage Oil Recipe
Ingredients:
Directions:
Drip all essential oils into a plastic or glass bottle.
Add carrier oil of your choice.
Secure lid and roll bottle between palms to blend oils.
Decorate with a nice label. Roll bottle between palms to reblend oils before each use.

Carrier Oils for Massage
We love using Jojoba oil, sunflower oil, olive oil, fractionated MCT coconut oil, and sweet almond oil.
Feel like adding a touch of herbal goodness to your blend? Our organic calendula oil and organic rosemary oil make great carriers ... or try making your own herbal-infused oils!

Essential Oils for Massage
Want to learn more about blending with essential oils?