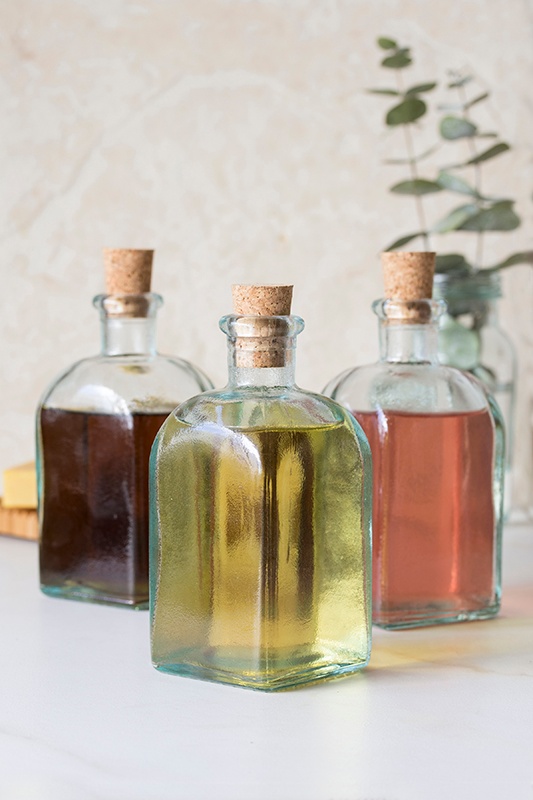 Have you heard of the "no 'poo" movement? It's definitely not my favorite term, but the philosophy behind it is worth exploring. It refers to the droves of people turning away from using expensive commercial shampoos and conditioners. These products often contain harsh synthetic fragrances, sodium laureth sulfate, propylene glycol, and other creepy ingredients that come from mystery labs around the world. We trust that these products will make our hair gorgeous and drench ourselves in weird chemicals without knowing how they affect our overall health. Plus, think of the millions of plastic bottles that end up in the recycling bin, or worse, from all of the hair products we use.
But...you HAVE to use shampoo, right?
Nope!
We've been told to "lather, rinse, and repeat" for decades now - and with dreams of healthy, shiny, flowy, bouncy perfection, we have complied. But what happens? The first day after a wash, your hair is kinda frizzy and dried out. On the second day it's looking pretty good. By the third day it's a crazy greasy mess again and time to shampoo. This cycle happens as your scalp desperately tries to maintain balance. Most shampoo strips your hair of sebum, which is the natural oil produced by sebaceous glands to help condition and protect each strand. When it's completely washed away, your glands sound the alarm bells and produce even more sebum to compensate for the sudden loss of protection. Using gentle cleansers and washing less often allows your body to function the way it was meant to...
Going "no 'poo" is a different experience for everyone, depending on your natural hair and scalp condition. I have very fine, curly hair with a normal to dry scalp, so the transition was super easy for me. I started using the Chamomile Rose rinse recipe below just once a week. My hair immediately looked so much healthier and had more body and shine. Suddenly, instead of one good hair day a week, my hair was consistently awesome with less frizz and no scalp irritation at all. I know other people with thicker or oily hair go through a not so fun "balancing" phase where the sebaceous glands continue to produce more and more sebum in anticipation of that regular shampooing. If you can stick it out, the process will eventually find balance and revert back to a normal sebum production rate. This usually only takes a few weeks and is well worth the wait. Just think of all those neglected hats waiting in your closet!
Ready to try it out? These herbal hair rinses are amazing. They are so easy to make and will leave your hair feeling soft and your scalp clean and revitalized, but not stripped or dried out. Use once a week to replace your shampoo for good and allow your natural oils to condition each strand from root to tip.

Chamomile Rose Rinse
The deep golden yellow produced by the chamomile flowers makes this a wonderful choice for light colored hair or to enhance natural highlights in darker hair. My hair is dirty blond and I really notice a lightening effect like a sunny glow to my hair when I let it soak in for at least 5 minutes before rinsing out.

Rosemary Cacao Rinse
Rosemary is a classic herb for hair health, it helps stimulates scalp circulation and supports healthy follicles. The naturally conditioning cocoa butter fats found in cacao nibs will leave your hair feeling soft, and the chocolate colored infusion is perfect for all shades of brown hair. Peppermint oil adds an invigoratingly clean scent, and is great for oily or sensitive scalps.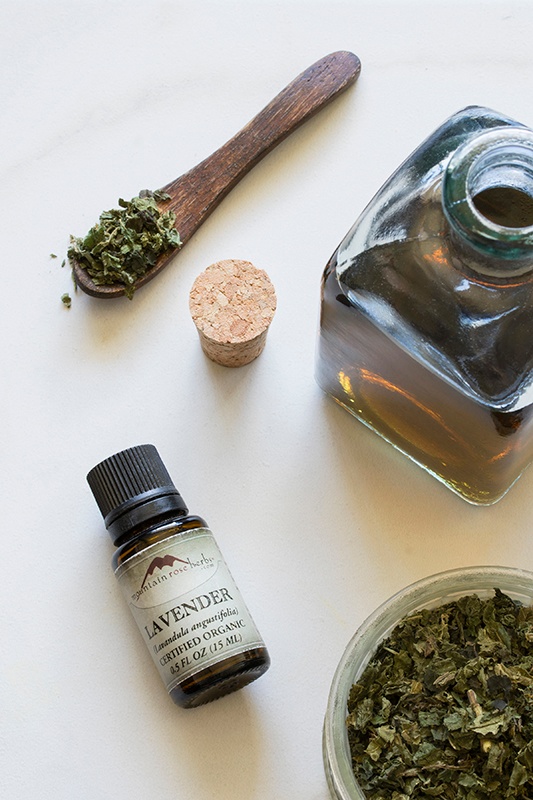 Nettle Lavender Rinse
Native American's have long used nettle to grow long and silky hair. Lavender essential oil helps normalize both dry and oily scalp conditions, and its soothing nature makes it a nice choice for sensitive scalps too. Making this formula perfect for all hair colors and types.
Rinse Directions
Using a covered pot, decoct your herbs for 10-15 minutes. I generally use 1/4 cup of herbs per cup of water.
Strain out the herbs and combine your herbal infusion, essential oils, and baking soda together in a glass jar. You want the baking soda to be completely dissolved and well mixed.
Allow to cool to body temperature.
Pour over dry hair or soak hair in the mixture for at least 5 minutes. Massage the scalp gently using a circular motion.
Rinse out with clean running water.
You can follow the herbal rinse with an apple cider vinegar rinse if you'd like, which is a really popular method, but I usually skip it.
OPTIONAL: If your hair feels dry and you want a little conditioning, I like to add a small amount of organic coconut oil or jojoba oil to moisturize. I usually go with 1/4 tsp per quart of rinse.
Feel free to experiment with other herb and essential oil combinations. For more information and guidance about what herbs are good for hair care, check out Naturally Healthy Hair by Mary Beth Janssen.
WANT MORE NATURAL AND LOW-MAINTENANCE HAIR CARE?

You may also enjoy: