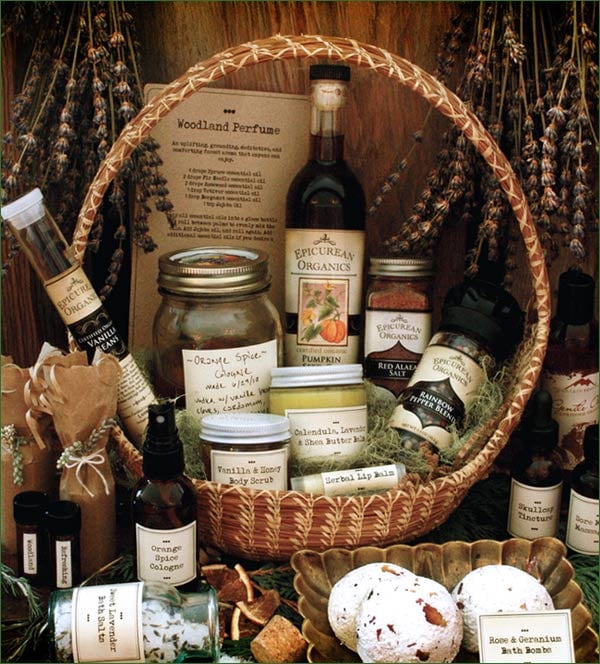 Making your own gifts this year? Need a little last-minute inspiration?
We've collected some of our favorite recipes for all sorts of homemade goodies from sweet treats to natural bodycare formulas and botanical staples to help you share the herbal love with friends and family. Most of these recipes can be made in just one day and none of them take longer than a week. There's still time to craft all of these delights!
Botanical Perfumes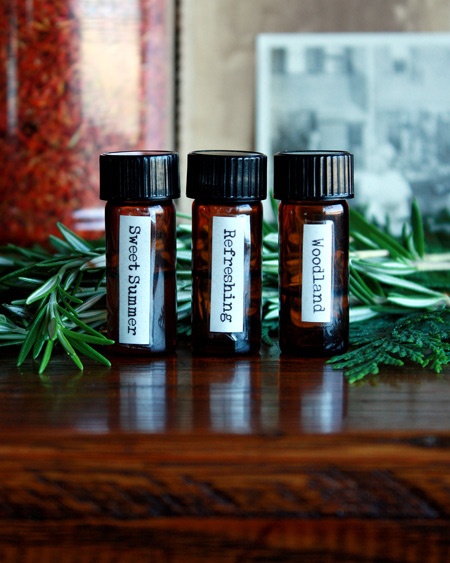 Did you know that most perfumes are manufactured using synthetic chemicals, even petroleum? Many of these ingredients don't have to be listed on the labels but are known allergens and irritants. The majority have never even been studied for cosmetic use! This is pretty scary, but the good news is that we can easily create our own perfumes using natural ingredients. Here are three of our favorites.
Woodland Perfume
This blend truly smells like the forest. Uplifting, grounding, meditative, and comforting.
4 drops Spruce essential oil
2 drops organic Fir Needle essential oil
2 drops organic Cedarwood essential oil
1 drop organic Vetiver essential oil
1 drop organic Bergamot essential oil
1 tsp organic Jojoba Oil
Drip all essential oils into a glass bottle and roll between palms to evenly mix the oils. Add Jojoba oil, and roll again. Add additional essential oils if you desire a stronger perfume.
Sweet Summer Perfume
A relaxing and warming blend reminiscent of summer, with a lightly floral aroma complemented by hints of spice and cedar. Especially useful during times of day to day stress and irritability. A great lift-me-up during the cold and dark winter months!
10 drops organic Lavender essential oil
5 drops organic Chamomile essential oil
4 drops organic Cardamom essential oil
1 drop organic Cedarwood essential oil
1 drop organic Geranium (Rose) essential oil
1 tsp organic Jojoba Oil
Drip all essential oils into a glass bottle, and roll between palms to evenly mix the oils. Add Jojoba oil and roll again. Add additional essential oils if you desire a stronger perfume.
Refreshing Perfume
Rejuvenating, uplifting, energizing, and stimulating. This blend is good for mental clarity and is uplifting.
13 drops organic Peppermint essential oil
13 drops organic Rosemary essential oil
5 drops organic Lemon essential oil
5 drops organic Sage essential oil
5 drops organic Juniper Berry essential oil
1 tsp organic Jojoba Oil
Drip all essential oils into a glass bottle and roll between palms to evenly mix the oils. Add Jojoba oil and roll again. Add additional essential oils if you desire a stronger perfume.
Cocoa Calm Lip Balm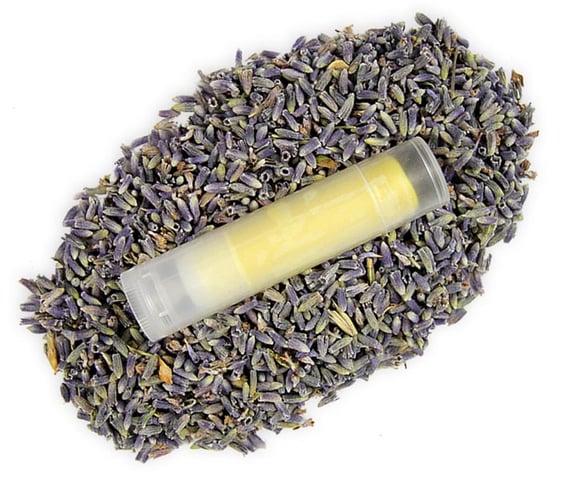 Taking some cues from aromatherapy for this silky lip balm recipe, we decided to try a relaxing combination of lavender and clary sage. Both of these sweet and floral essential oils are associated with calming properties that also uplift one's mood. It turned out to be a wonderful blend! Of course, you can always experiment with your favorite essential oils to create a custom fragrance, or leave them out completely and allow the cocoa butter and coconut oil scents to shine through. This is a great basic formula that is easily transformable!
Ingredients
1 Tbsp organic unrefined Coconut Oil
1 Tbsp organic Cocoa Butter or 4 organic Cocoa Butter Wafers
2 Tbsp organic Sunflower Oil
1 Tbsp plus 1 teaspoon grated Beeswax or Beeswax Pastilles
10 drops organic Lavender Essential Oil
5 drops organic Clary Sage Essential Oil
a few drops of Vitamin E Oil (optional, but recommended)
Directions
Place chopped beeswax and oils in a small pot or glass Pyrex measuring cup and gently heat in the top of a double boiler until the beeswax has melted. Once melted, remove from the stove top and stir in the essential oils and Vitamin E oil. Immediately pour the mixture into lip balm containers. Allow your balm to cool completely before capping the containers. Makes enough to fill 10 lip balm tubes or three 1/2 oz tins. Enjoy!
Rose & Geranium Bath Bombs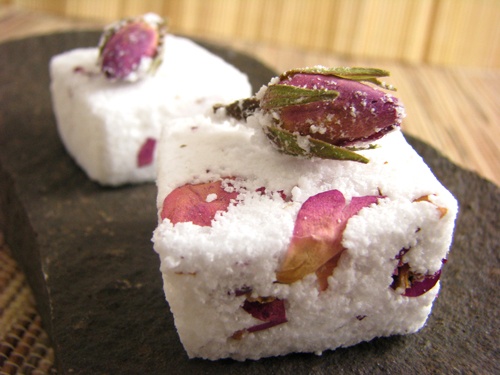 This is such a fun project! These wonderfully rosy smelling bath bombs are fizzy and all-natural.
Ingredients
1 cup Baking Soda
1/2 cup Citric Acid
1/2 cup Epsom Salt
1 TBSP organic Rose Hydrosol or water
1 tsp organic Olive oil
Dried organic Rose petals
20 drops organic Geranium essential oil
Instructions
Combine dry ingredients together in a large bowl. Slowly drizzle in Olive Oil and essential oil while stirring to prevent fizzing. Slowly spritz with hydrosol while stirring constantly until the mixture begins to clump together. The blend should be just moist enough to hold when pressed together with your hands, be careful not to add too much moisture. Add rose petals, press into molds, and allow to dry 2-3 hours before unmolding. Let bath bombs cure for one week before using them, then store in an airtight container. You can shape your bath bombs by using a melon baller, ice, candy or soap molds, clear plastic two-sided Christmas ornaments, egg cartons, or anything else you have on hand.
Chai Spice Oatmeal Cookies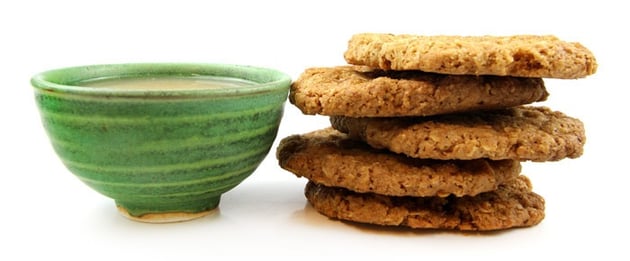 On the hunt for the perfect seasonal cookie, we spiced up oatmeal cookies with some very special homemade chai powder. These cookies are crunchy, sweet, salty, warming, spicy, aromatic deliciousness. Go ahead and make a double batch if you plan to share these at a gathering – they go fast!
Ingredients
1 cup organic all-purpose flour
3/4 teaspoon baking powder
1/2 teaspoon baking soda
1/3 teaspoon sea salt
1 3/4 sticks softened organic butter
1 cup organic sugar
1/4 cup packed organic light brown sugar
1 large organic free-range egg
1 teaspoon organic vanilla extract
2 1/2 cups organic old-fashioned rolled oats
Powdered Chai Spice Mix
3/4 tsp organic cinnamon powder, 1/2 tsp organic cardamom powder, 1/4 tsp organic ginger powder, 1/8 tsp organic clove powder, 1/8 tsp organic nutmeg powder
Directions
1. Preheat oven to 350 degrees.
2. Whisk flour, baking powder, baking soda, powdered spice mix, and sea salt together.
3. In another bowl, beat butter and sugars until fluffy and creamy. Add egg and vanilla to the butter and sugar mixture and beat until combined. Scrape bowl with spatula.
4. Gradually add flour mixture to the butter mixture and stir until it just becomes smooth.
5. Gradually add oats and mix until well combined.
6. Roll 2 tablespoons of dough into balls with your hands. Place on parchment lined baking sheets about 2 1/2 inches apart. Gently press down each ball to about 3/4-inch thickness using fingertips.
7. Bake until cookies are golden brown, about 13 to 16 minutes, rotating baking sheet halfway through. Transfer baking sheet to wire rack to cool. Makes 22-24 amazingly delicious chai cookies!
Homemade Mustards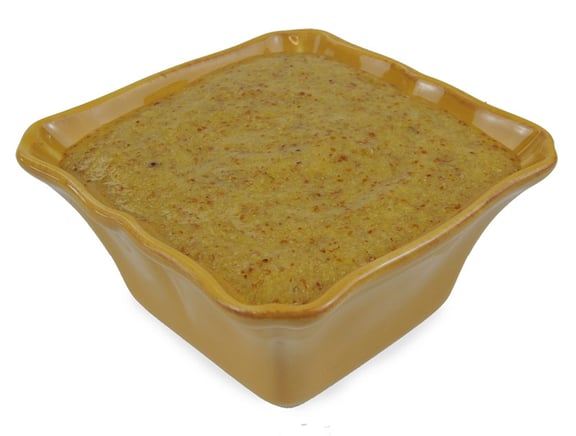 Making mustard from scratch is so easy! It's also wonderfully versatile since you can spice it up, experiment with different vinegars, or mix it into all sorts of other recipes. They look lovely as a set in glass jars with pretty labels and twine.
Brandied Honey Mustard Recipe
6 tablespoons organic yellow mustard seeds
2 tablespoons organic brown mustard seeds
3 tablespoons brandy
2/3 cup organic apple cider vinegar
1/2 cup local honey
1.5 teaspoons fine sea salt
Directions
Combine mustard seeds, 1/3 cup water, brandy, and vinegar in a bowl and stir well to completely submerge the seeds. Cover and allow to soak at room temperature for 3 days. I like to swirl the bowl around a little each day to see the transformation. After 3 days, pour the mixture into a blender, add honey and salt, and blend until smooth. Store in a sealed jar and refrigerate. I recommend using a plastic lid or using some kind of barrier to keep the vinegar from corroding the metal.
For variations, follow these tips:
- Add 1 tsp to 1 tbsp of aromatic seeds during the soaking process.
- Dried fruit should be added during the soaking process.
- Add dried herbs, seasoning powders, or fresh fruit just before blending.
- For less sweet mustards, cut the sweetener by half.
Hoppy Ginger Brew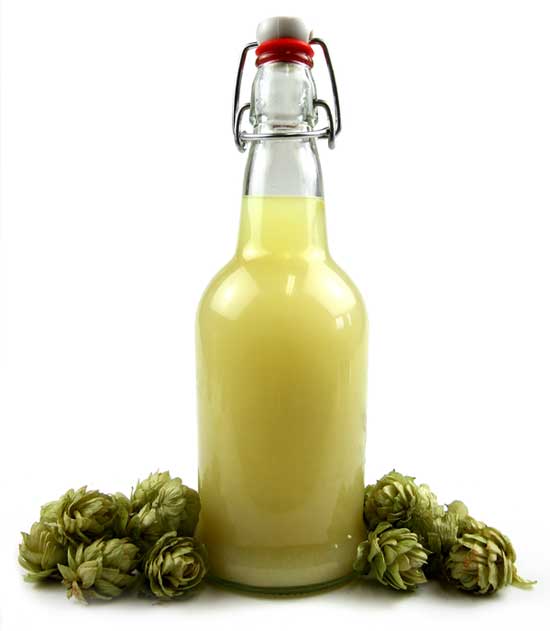 This homemade sparkling soda is a delightful non-alcoholic option for hop lovers! Refreshingly gingery and floral, this pop makes a wonderful treat when served ice cold. Feel free to experiment with this concoction as a mixer for cocktails too. It goes beautifully with bourbon or rum. The recipe below makes one 16oz bottle of soda, but you can quadruple it (at least) to make a larger batch. You can also swap out the hops for another herb that you enjoy or even chai!
Ingredients
1 ounce fresh organic ginger juice
2 ounces fresh organic lemon juice, finely strained
1.5 ounces organic hop flower simple syrup
1.5 ounces unflavored simple syrup
10 ounces warm water
25 granules of dry champagne yeast
Directions
You can use bottled ginger juice or grate and squeeze the juice from fresh ginger root pulp using cheesecloth. I always fresh squeeze my ginger and the result is definitely worth the extra labor. Pour the ingredients into a 16oz bottle, cap tightly, and shake well to mix. Store the mixture in a warm, dark place for exactly 48 hours. After 48 hours, refrigerate immediately to stop the fermentation process and enjoy chilled.
To make Hop Simple Syrup, bring 1 cup of organic white sugar, 2 cups water, and 2 cups of dried organic hops just to a boil and stir. Remove from heat, allow to cool, strain into a jar and store in the refrigerator. To make unflavored simple syrup, follow the same directions but leave out the hops.
Berry Rooty Syrup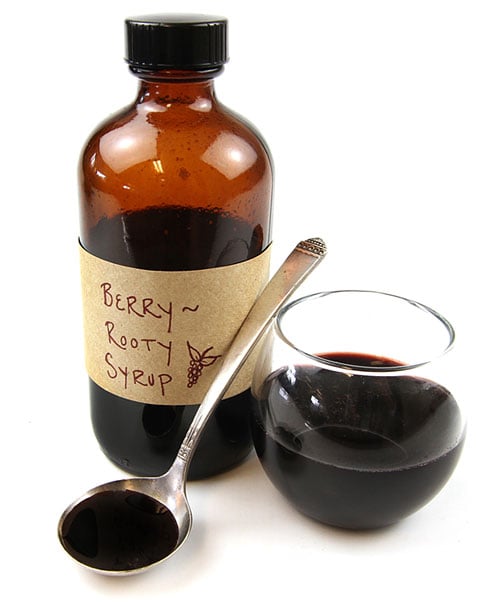 Keep your loved ones well this year! Our good old friend elderberry syrup is a definite go-to when we feel our immune systems weaken, but with the addition of adaptogenic schisandra berries and eleuthero root, along with more support from echinacea, this formula packs a big punch. You can also modify the recipe a bit by leaving out the echinacea for a delicious pancake, waffle, ice cream drizzling syrup!
Ingredients
3 cups cold water
¾ cup organic elderberries
¼ cup organic schisandra berries
¼ cup organic eleuthero root
¼ cup organic echinacea root
1 organic cinnamon stick
¾ to 1 cup raw local honey
1.5 ounces brandy (optional)
1 tsp fresh grated ginger root (optional)
Directions
Combine herbs with cold water in a pot and bring to a boil. Reduce heat and allow herbs to simmer for 30 to 40 minutes. Remove from heat and mash the berries in the liquid mixture. Strain the herbs through cheesecloth and squeeze out the juice. Measure the liquid and add an equal amount of honey. Gently heat the honey and juice for a few minutes until well combined. Do not boil! Stir in brandy and bottle in sterilized glass. Label and keep refrigerated for up to 6 months.
Mama and Baby's Massage Oil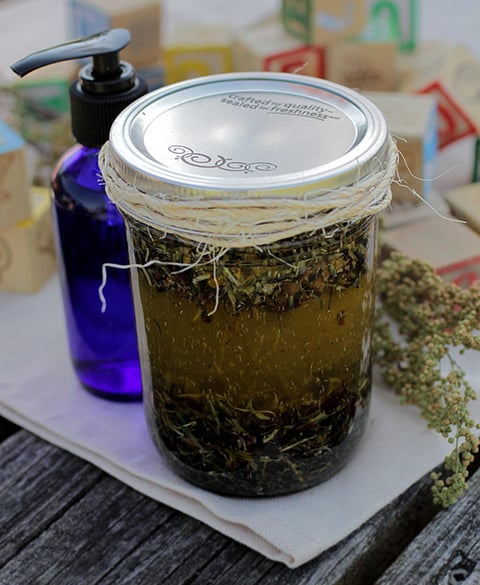 Any new mamas or babies in your life? Selecting the best products and ingredients for skincare can be daunting, and baby's skin is even more delicate and sensitive. Many commercial baby care products even include toxic ingredients that have been linked to allergies, cancer, developmental problems, and organ dysfunction, in addition to many other harmful side effects. No thanks! This soothing and gentle massage oil is perfect for nurturing mama's and baby's sensitive skin. Apply after bathing for massages or anytime that skin feels dry. You can also pour a small amount into bathwater for a luxurious pampering bath.
Ingredients
Organic Sunflower or Sweet Almond Oil
2 parts Organic Lavender flowers
2 parts Organic Calendula flowers
1 part Organic Rose petals or buds
1 part Organic Chamomile flowers
1 part Organic Comfrey leaf
Vitamin E Oil
Directions
Fill a glass jar ¼ – ½ full with the herb mixture, then fill to the top with Sunflower or Sweet Almond oil. Pour into a crock-pot, double boiler, or electric yogurt maker, and make sure there is at least an inch or two of oil above the herbs. Gently heat the herbs over very low heat (preferably between 100 to 140 degrees Fahrenheit) for 1-5 hours until the oil takes on the color and scent of the herbs. Some texts recommend heating the oil 48-72 hours at a controlled temperature of 100 degrees Fahrenheit. Turn off heat and allow to cool. Once the oil is ready, strain using cheesecloth, and bottle into dry and sterilized amber bottles for storage. Store in a dark and cool place. Vitamin E Oil may also be added to prolong the shelf life.
Happy Holiday Crafting!