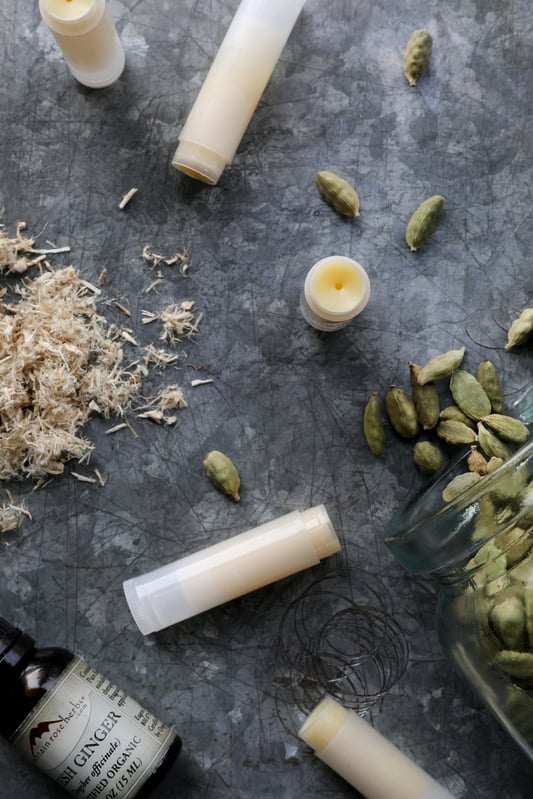 Lip balm is about as much of a staple in my life as water. While some might say that I'm addicted to it, I like to think I'm a connoisseur. Whatever you want to call my love for happy, hydrated lips, I simply cannot go without my beloved stick of soft, smooth goodness. And with a habit like mine, it's far more cost effective and fun to make my own lip balm than to stock up at the store. Tinkering with different recipes is one of my favorite pastimes; after all, a person can never have too many flavors of lip lusciousness!I was looking to create a fun and festive lip balm that I could also share as gifts this year. I tend to use peppermint a lot and was looking to get away from that this season. I decided, instead, to come up with a gingerbread lip balm! I liked the idea of having a bright and uplifting fresh ginger aroma. I also started to realize that I had never made a batch of balm that had a kind of flavor to it, and I wanted to incorporate a little sweetness into this creation.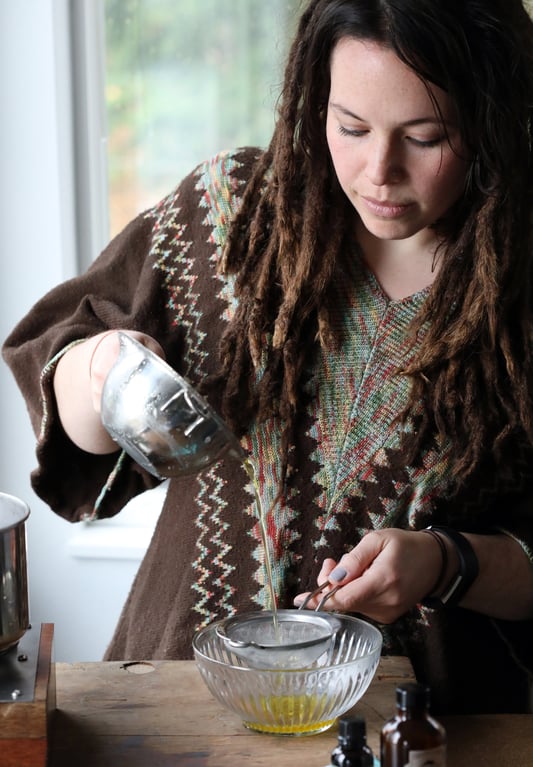 I began tinkering in my little workshop, also known as my kitchen. I learned a few lessons the hard way, which I will share here to save you time. When trying to add sweetness, don't add actual sugar or honey. Sugar and honey are both water soluble and will not blend into the oil, even if it is warm! I tried a stevia leaf infusion, which would work for certain flavor compositions, but the taste wasn't quite what I was hoping for in this specific recipe. So, I finally decided to infuse marshmallow root and cardamom pods, and while it wasn't quite the effect I initially had in mind, it added its own special texture and a subtle flavor. The mucilaginous effects of the marshmallow created an extra smooth lip balm and offered just a gentle touch of flavor. The end result was even better than I had imagined, and I hope you enjoy it as much as I do!
Ultra-Hydrating Ginger Cookie Lip Balm Recipe
Makes about 12 tubes.
Active prep time: 40 minutes
Ingredients
Directions
Add both carrier oils, cocoa butter, and beeswax to your double boiler. Leave over medium heat until all ingredients are completely melted.
Lower the heat to the lowest setting and add marshmallow root and cardamom pods. Infuse for about 20 to 25 minutes.
Strain the oil using fine mesh strainer

or

cotton tea net.
Add essential oils and vitamin E oil, and stir well.
Carefully pour the warm mixture into lip balm tubes.
Let completely cool before capping.
Pro Tips:
For more aromatic cardamom notes, be sure to break open the pods.
If your lip balm is too soft, re-melt it and add more beeswax. If it is too hard, re-melt and add more oil.
Be sure to pour the mixture into the tubes slowly and carefully. If you go too fast, you will cause air pockets to form in the lip balm.
If your tubes develop air pockets, you can still fix it! Wave a hair dryer around the tube to melt the lip balm and fill the pocket. Be sure to keep your heat source moving so that you don't melt the tube!
Looking for More delicious lip recipes?
You may also enjoy: