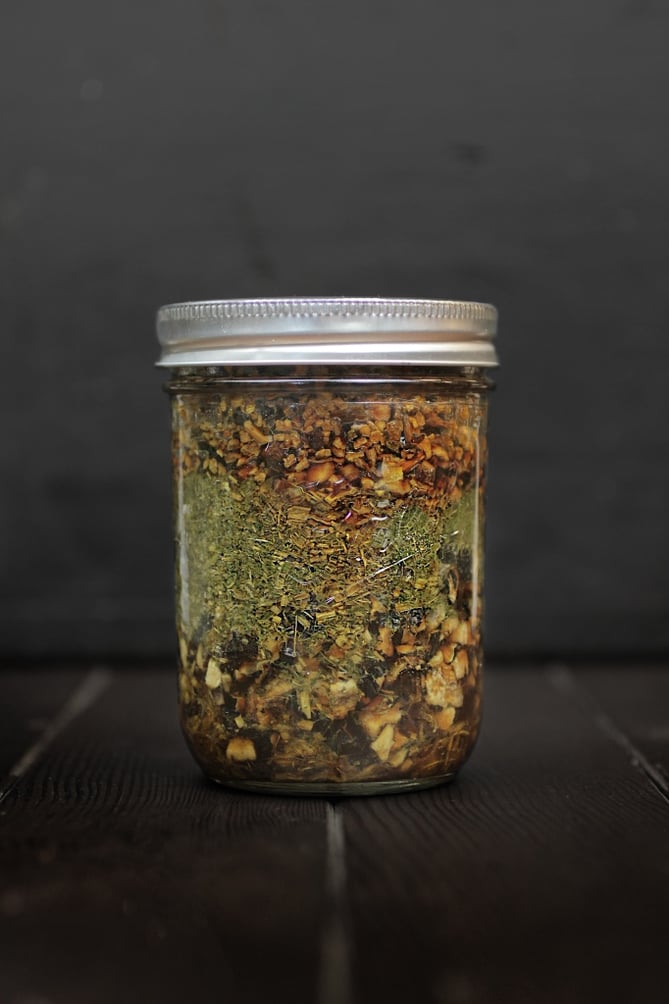 Liniments are one of the easiest preparations for the home herbalist to make. Using a basic recipe to get started, you can change up the herbs and essential oils to create various types.
To make this spray, herbs are soaked in a solvent. Liniments can be sprayed and rubbed into the skin. Traditionally, basic rubbing alcohol has been used as the base for topical liniments, but witch hazel, vinegar, and vodka can also be used with good results.

Basic Liniment
Ingredients
1 part organic comfrey root
1 part organic arnica flowers
1 part organic St. John's wort
1 part organic peppermint leaf
organic witch hazel extract
organic rosemary essential oil
organic hydrosol of choice: Calendula, Eucalyptus, Lavender, Peppermint, Rosemary
Directions
Fill a clean pint jar 3/4 full with your herb mixture. Cover completely with equal parts rubbing alcohol and witch hazel extract. Shake and then top off with more of the solvent. Cap with a lid so there's no exposure to air. Check after 48 hours to see if more solvent is needed as the herbs absorb and swell. Allow to infuse for 3-4 weeks, shaking regularly.
Strain the infusion into a clean jar, pressing the herbs to get as much of the liquid out as possible. Compost the herbs. To this infused liquid (you will likely have about 1 cup), add ¼ cup organic hydrosol and 25 drops of organic rosemary essential oil.
Store in an airtight container or bottle with a spray top for easy application. Your liniment can also be stored in the refrigerator for an extra cooling sensation. Shake well before applying topically.
To learn more about making liniments, check out these articles:
Essential Recipes for Late Summer
You can also find Herbal Liniment in our online shop!