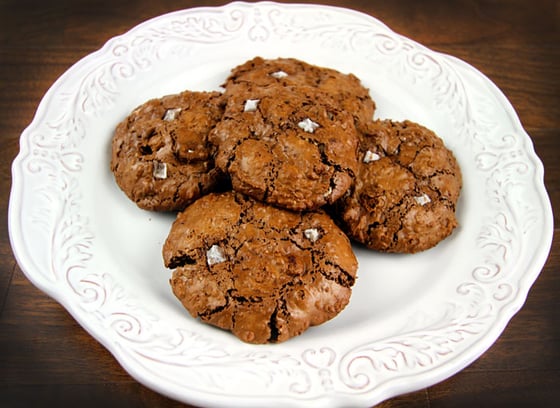 While I like to call these "Flourless Salted Chocolate Chocolate Chip Coconut Hemp Seed Brownie Cake Cookies" in my mind, I went with the short moniker Salted Chococonut Chip Cookies even though it doesn't quite express just how out of this world they taste.
Deliciously rich, crunchy, salty, sweet, and gooey all at the same time, these cookies are also gluten-free and packed with amino acids, essential fatty acids, antioxidants, B-vitamins, flavonoids, fiber, and oh, yeah…some sugar too.
The original dough recipe is the perfect blank canvas for any chocolate-based cookie creation you can dream up, like Ginger & Cinnamon, Almond Butter Cup, Dried Cherries & Walnut, or maybe Cardamom & Rose? Yum! The flavor possibilities are endless. Here's my favorite version of the recipe which brings cacao, coconut, hemp seeds, and a touch of salt into harmony.
Salted Chococonut Chip Cookies
Ingredients:
- 3 cups organic powdered sugar
- 2/3 cup organic raw cacao powder or baker's cocoa powder
- 1/4 teaspoon fine sea salt
- 3.5 organic free-range egg whites, at room temperature
- 1 Tablespoon organic vanilla bean extract
- 1 3/4 cups mixed organic chocolate chips, organic unsweetened shredded coconut flakes, and organic hemp seeds (at your preferred ratio)
- 2 Cypress Salt flakes per cookie
Directions:
Preheat oven to 350 degrees. Line two baking sheets with parchment paper and lightly grease with organic butter.
Using a large glass bowl, sift powdered sugar with cacao powder and salt.
Add egg whites, vanilla extract, and beat with a wooden spoon until the batter is moist. You're looking for a fudgy brownie batter texture, so if it seems too thick add another ½ of an egg white. If the batter is too loose however, the cookies will spread across the pan while baking.
Gently fold in the mixture of chocolate chips, coconut flakes, and hemp seeds until evenly incorporated throughout the dough.
Spoon a heaping tablespoon of batter in 12 evenly spaced mounds onto each baking sheet.
Place two Cypress salt flakes on the top of each dough mound.
Bake for 14 minutes or until the tops are glossy and lightly cracked, like brownies.
Remove from the oven and carefully slide the parchment paper with the cookies off of the pan and onto a cooling rack. They will be slightly gooey inside and delicate at this point. Let your cookies cool completely.
Store in an airtight container for up to 3 days.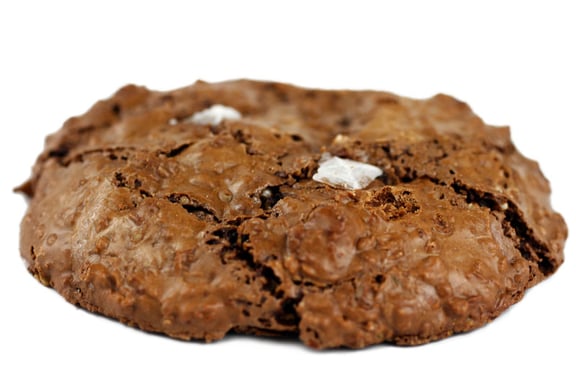 Enjoy!