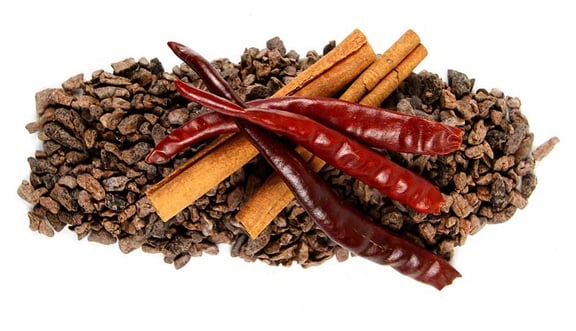 Okay, who's ready for grilling season?
This tasty recipe has a wonderful balance of spicy, sweet, sour, bitter, salty, and umami flavors that come together in a heavenly way. Paint this glaze on tempeh steaks or any other protein of your liking. I bet it would be amazing on grilled shiitake mushroom skewers or veggie kabobs. Feel free to experiment with the level of spiciness by adding more or less chili powder. Throw in some smoked red chili flakes if you really want to add heat!
Chipotle Cacao Grilling Glaze
Ingredients
3/4 cup organic brown sugar
3/4 cup organic rice wine vinegar
1/2 cup water
1/2 cup organic tomato paste
1/4 cup organic orange juice
2 tablespoons organic cacao powder
1 tablespoon Worcestershire sauce
1/2 teaspoon organic vanilla extract
1/4 teaspoon Smoked Sea Salt
1/8 to 1/2 teaspoon organic Chipotle Chile powder
1/8 teaspoon organic Cinnamon powder
Directions
Simmer the sugar and water together until completely dissolved. Add the other ingredients and gently simmer over low heat for about 30 minutes. Use a basting brush to paint the sauce on your pre-grilled protein of choice. This is a flavorful glaze, so one or two layers will do. Throw the glazed protein back on the grill over high heat for a few minutes until it caramelizes nicely, but be careful not to let the sauce burn. Remove from the grill and dig in!
Happy Barbecuing!