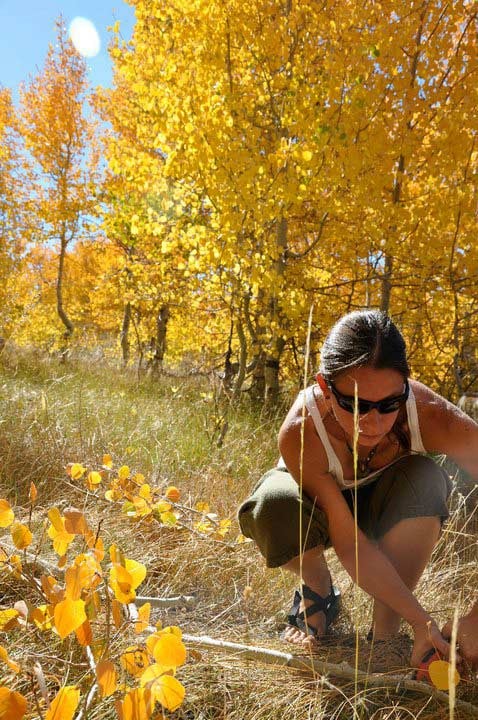 Guest post! Laurele Fulkerson is the Director of NCAP's Healthy Wildlife and Water Program. She leads NCAP's work to protect pollinators, salmon, and other wildlife and their habitat from harmful pesticides. She has over a decade of experience working on conservation policy issues for non-profits, most recently for Wild Salmon Center in Portland, OR. She holds a J.D. and certificate in Environmental and Natural Resources Law from Lewis & Clark Law School, and a B.A. in Political Science from U.C. Santa Barbara. In addition to her conservation background, Laurele is an avid organic gardener and budding herbalist.
Every day this time of year brings a new joy to my heart as I watch my plant friends bloom and grow. Seeing the lemon yellow flowers of evening primrose bursting forth, motherwort growing tall and exhibiting her delicate pink blooms, California poppies glowing in the sun – and a diverse array of pollinators flocking in droves to feed.
With our gardens in full swing, June feels like a keenly appropriate time to pay tribute to pollinators for the critical role they play in our gardens, farms, and food. The U.S. Senate unanimously approved and designated the third week in June as "National Pollinator Week" eight years ago. It has grown to be an international celebration of the valuable ecosystem services provided by bees, birds, butterflies, bats, and other pollinators.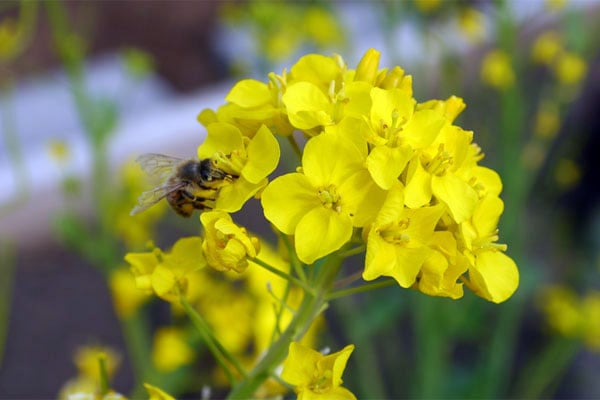 As we approach June 16th, the first day of National Pollinator Week, I want to share with you some of the things that Northwest Center for Alternatives to Pesticides (NCAP) is currently doing to protect pollinators, and how you can help!
At the federal level, NCAP is promoting safeguards for pollinators against harmful pesticides via legislation. Saving America's Pollinators Act (H.R. 2692) would ban the use of a class of neurotoxic insecticides called neonicotinoids ("neonics") as seed, soil, and foliar treatments on pollinator-attractive plants. The suspension would remain in place until the Environmental Protection Agency can conclusively demonstrate that neonics will not harm pollinators. More and more scientific evidence points to neonics as one of the main contributors to bee die-offs in recent years, so passage of this legislation would be a big win. Introduced by Representatives John Conyers (D-MI) and Earl Blumenauer (D-OR), H.R. 2692 has strong support with more than 60 cosponsors. However, more support is necessary for the bill to advance. Please take a moment to ask your representative to cosponsor this bill. Check here for more information: http://www.pesticide.org/tell-us-about-your-call#bill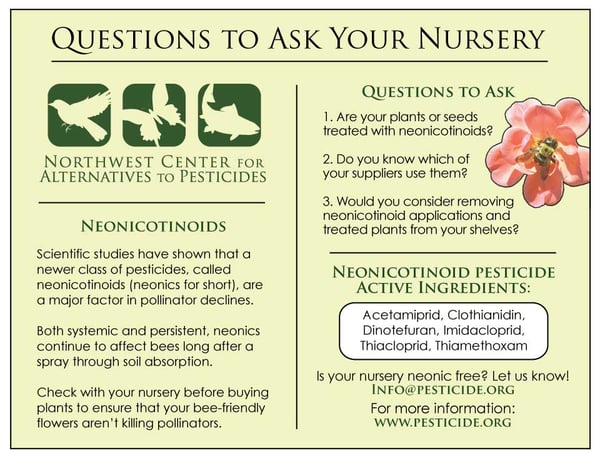 NCAP is also working on a marketplace campaign to remove harmful neonics from the nursery retailer supply chain. Many people are not aware that a vast number of products used to keep pests off of plants contain neonics. Neonics are both systemic and persistent, so they can harm pollinators long after a spray due to soil absorption. In addition, conventional seeds and plants may be treated with neonics in a nursery and then, when transplanted to your yard, hurt the very pollinators your flowers are attracting. This info card is a good reference for questions to ask your nursery before buying plants to ensure that you aren't killing your neighborhood pollinators. If they are not already, please ask your local nursery or plant supplier to go neonic-free.
I encourage you to take some time this summer to plant pollinator-attractive herbs, make sure the plants and other garden products you buy are either organic or neonic-free, and give thanks for the pollinators who make many of our herbs and foods possible.
Happy gardening!