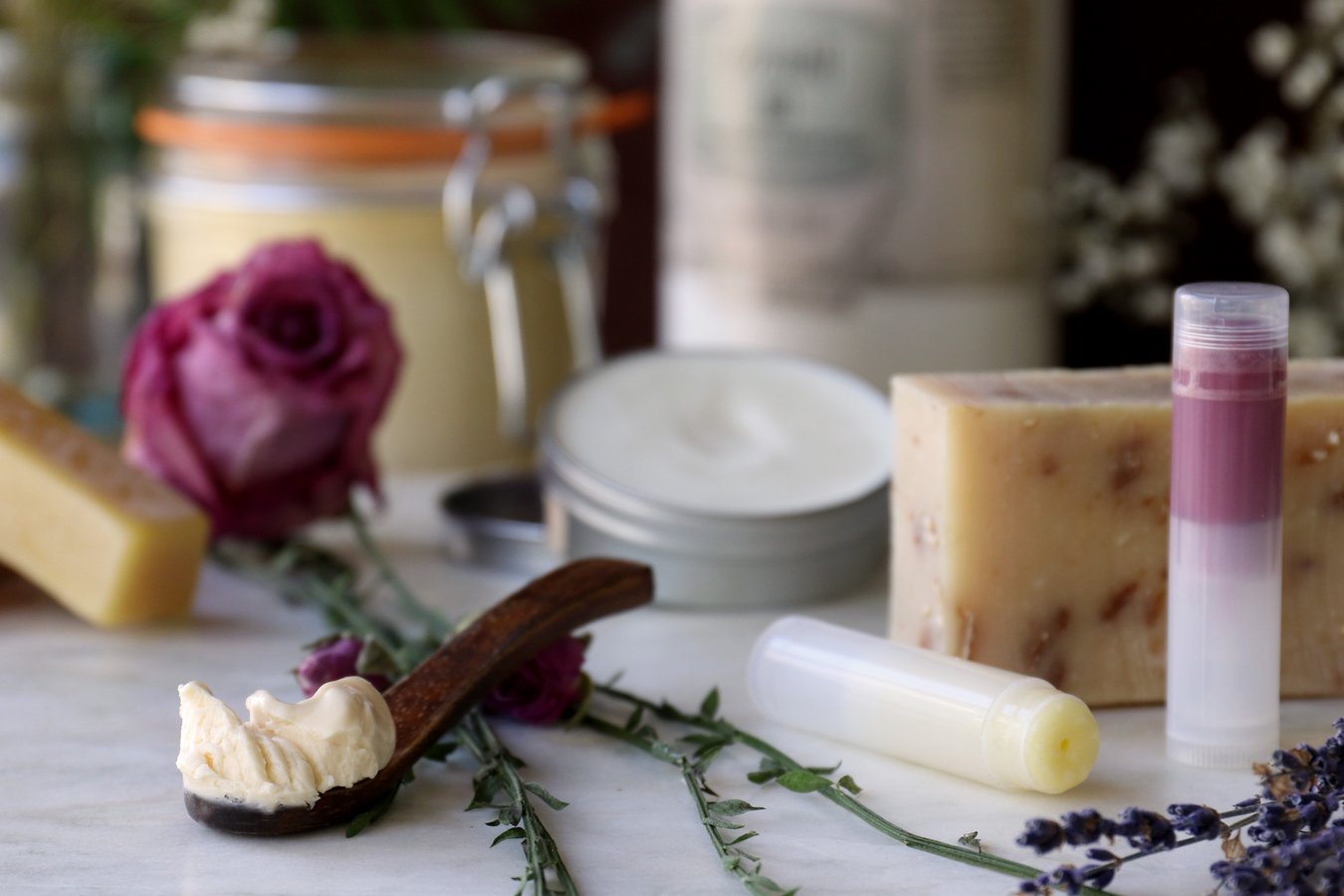 You may have noticed that many DIY skincare recipes include coconut oil. While the moisturizing benefits of coconut oil are a great option for many, it is problematic for those who are allergic to coconut*. In addition to coconut allergies, some find coconut oil to exacerbate acne. In this case, a suitable substitute is necessary.
Because of its unique texture and structure, finding a substitute for coconut oil in
skincare recipes
is not always an easy task. When it comes to finding an oil that is solid at room temperature, moisturizing to the skin, and melts to liquid at approximately 76

°F
, our options are limited! Most butters are too firm or don't have the right texture and action, while many carrier oils are way too thin and don't function similarly enough to work in place of coconut oil.
Thankfully, there is an easy solution: Babassu Oil
Babassu oil is similar to coconut oil in that it is solid at room temperature. It also has a similar texture and appearance, which makes it an excellent substitute for coconut oil in most recipes. We will talk more about how to use it below, but first, let's take a deeper look at this amazing oil.
What is Babassu Oil?
Babassu oil (Orbignya oleifera) is extracted from the kernels of the Babassu palm which is native to Brazil and found throughout the Amazon region. Solid at room temperature, babassu oil is similar in appearance and application to coconut oil. It has a light consistency, absorbs readily into the skin, and is moisturizing and firming in nature. Babassu is related to coconut, so those who are allergic to coconut may still be allergic to this replacement.
This emollient oil can be used alone or included in a variety of cosmetic preparations such as balms, salves, lotions, creams, body butters, scrubs, and soaps.
Why Use Babassu as a Substitute for Coconut Oil?
As mentioned above, Babassu oil is very similar to coconut oil in structure and function. Both are stable vegetable oils with a semi-solid consistency. They are high in Lauric acid and excellent for dry skin. Babassu and coconut oil absorb into the skin at about the same rate. These similarities make babassu oil an ideal ingredient for swapping coconut oil in most skin care recipes. It's also a wonderful substitute for palm oil.

The fact that babassu oil is solid at room temperature, yet melts on contact with the skin, is one of its greatest selling points (since coconut oil does the same thing). That said, the melting point of babassu oil is slightly lower than that of coconut oil: approximately 22°C or 71°F, compared to coconut oil's melting point of approximately 25°C or 78°F.

According to Modern Cosmetics*, the fatty acid compositions of coconut and babassu oils are as follows: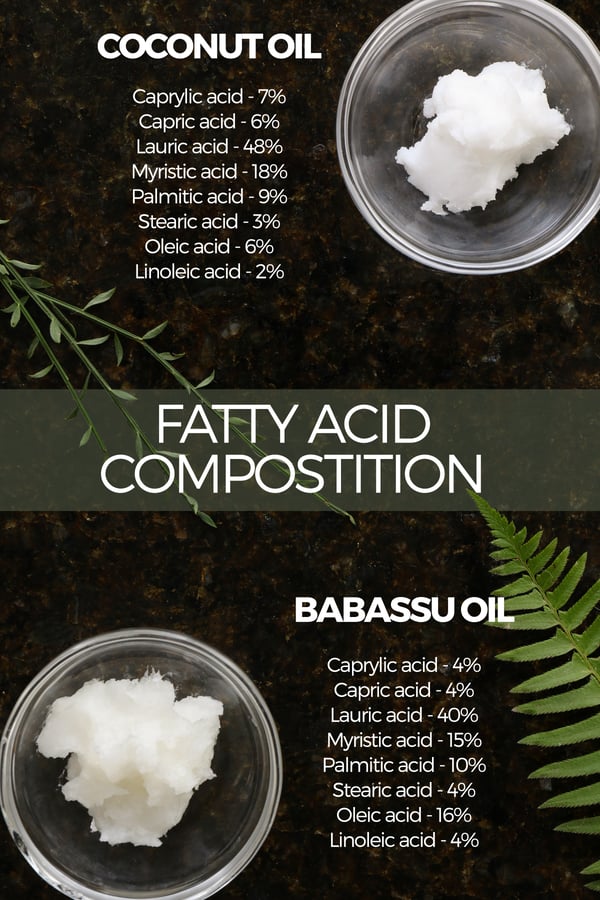 As you can see, they are moderately different, but have enough similarities to work well as substitutes for one another. The most notable difference is that babassu oil contains slightly less lauric acid and 10% more oleic acid.
Besides being similar in texture, composition, and function, the appearance of babassu oil is not unlike coconut oil, as it is light in color. Although it can be slightly more yellow than coconut oil, the light hue means it won't greatly alter the appearance of skin care preparations.
Babassu oil has a slightly nutty, almost coconut-like, scent which means it won't drastically change the fragrance of your homemade products. That said, its odor is mild compared to unrefined coconut oil, so it could make a difference if you desire a strong coconut aroma.
One last reason to use babassu oil is simply to mix things up! It is fun to incorporate a variety of ingredients into homemade skin care preparations. In fact, experimenting with new additions can be a great way to discover ingredients you love! Plus, substituting coconut oil for babassu oil is one of the simplest methods for giving a unique twist to your homemade products. Handing a friend, the gift of a "babassu lotion bar" sounds much more fancy than a "coconut oil lotion bar," don't you think?
How to Use Babassu as a Substitute for Coconut Oil
In many cases a 1:1 substitute is effective. However, since the melting point of Babassu oil is slightly lower than coconut oil, it can be helpful to increase solidifying waxes when making products to be used in extreme heat. These may include items such as lip balms that will be carried in your pocket, or salves and lotion bars that may be stored in a backpack on a warm summer day. Adding a little more wax (such as beeswax or carnauba wax) prevents products from becoming too soft (or melting).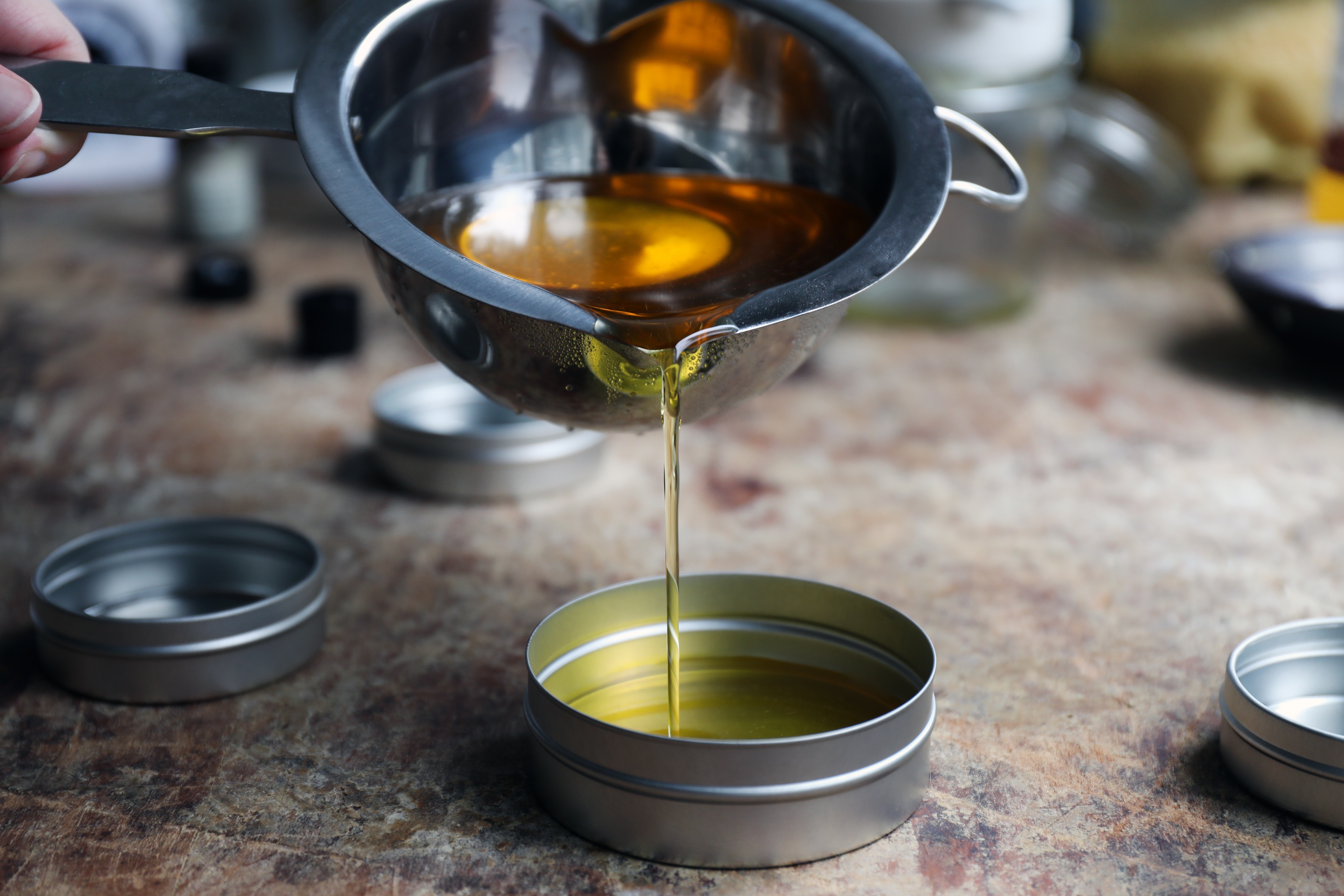 How to substitute babassu oil for coconut oil in different homemade skincare products and herbal preparations


Lip Balm
Much like coconut oil, babassu oil imparts emollient benefits to lip balm and provides a gloss and shine. In most cases a 1:1 substitution will work well, however, as mentioned above, if lip balm is stored or used in warmer temperatures, it may be prudent to increase the amount of beeswax (or other solidifying wax) slightly.
I tested babassu oil in place of coconut oil in this Lime Coconut lip balm recipe and found it worked beautifully.
You may find it helpful to make a small amount of lip balm and test the consistency to assess if it is to your liking before creating larger batches. This is always a good idea, even when not making substitutions. To test the consistency, pour a teaspoon of your melted ingredients onto a cold plate and allow to harden. Check consistency by rubbing a little of the cooled mixture onto your skin. This testing process is useful when making lotion bars and salves, too, as they can be remelted and more oil or wax can be added to achieve the desired outcome.
Lotion bars
Much like lip balm, lotion bars often include a solid oil, such as coconut oil. Babassu oil works well for lotion bars since it melts on contact with the skin and imparts many nourishing benefits (especially for dry skin). I substituted coconut oil for babassu oil in my favorite lotion bar recipe and noticed little to no difference in consistency or performance. My only concern was the possibility of the bar getting too soft in warm temperatures (I have this same concern with coconut oil, to be honest. But felt it could be more of an issue with babassu since the melting point is a few degrees lower). To combat this, use slightly less babassu oil or increase the beeswax a little.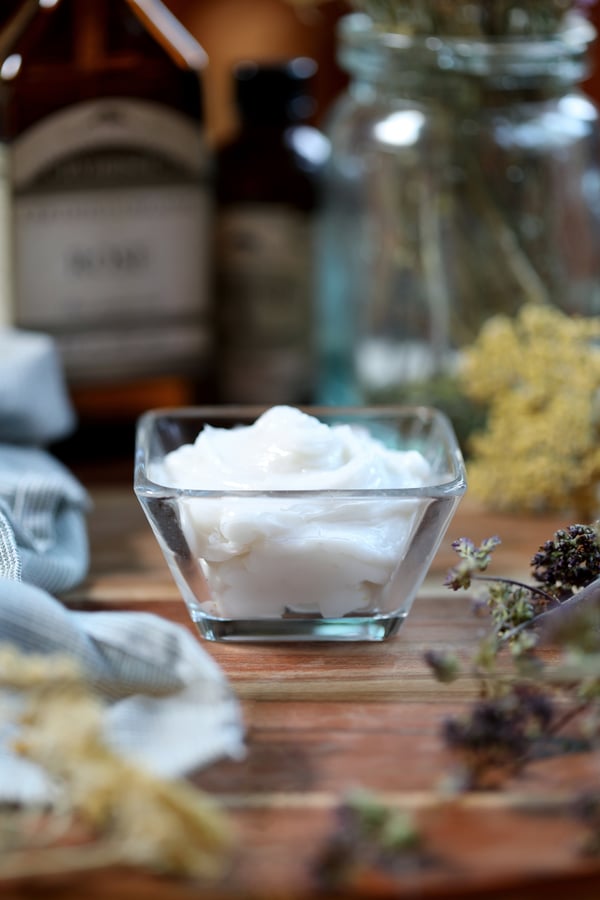 Salve and Balm
Babassu oil is a great substitute for coconut oil in salves and balms, and its soothing qualities make it an excellent ingredient. Substitute in equal amounts.
Body Butter

Many people report that homemade body butter is less greasy when made with babassu oil in place of coconut oil. It can be substituted in equal amounts, but feel free to play with the measurements, adjusting a little at a time to achieve the desired consistency.
Lotion and Cream
Babassu oil can be used in place of coconut oil in homemade lotions. The results will be almost identical. It can be included in the oil phase of lotion and cream formulations and should be used as 3-5% of the overall formula. It is suitable for all skin types.
Hair Treatments
Many hair treatments use coconut oil as a base and are intended to condition and moisturize the hair and scalp. In this case it can be argued that babassu oil may actually be superior to coconut oil in hair treatments, as it is slightly less greasy and washes out easier than coconut oil does. Replace coconut oil with babassu in equal amounts.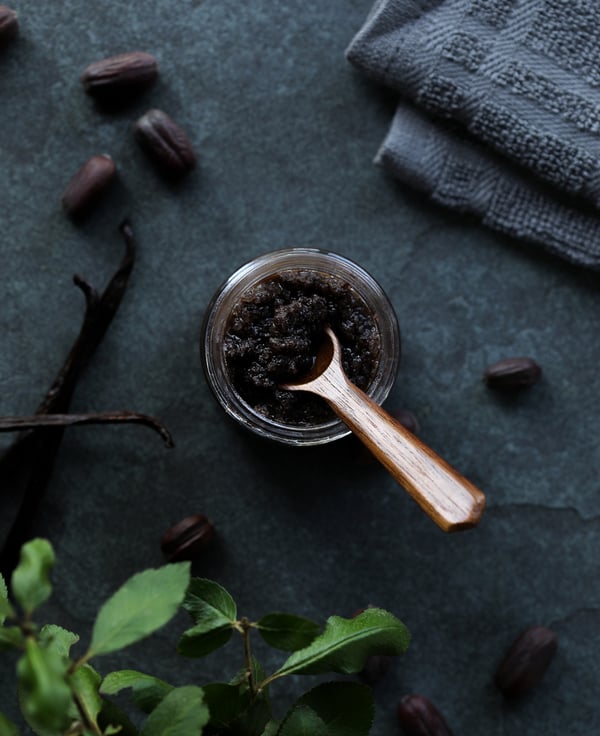 Body Scrubs
Babassu oil adds bulk and richness to body scrubs just as coconut oil does. It can be used to replace coconut oil in any body scrub recipe.
Bath Bombs
Coconut oil is often used in bath bomb recipes to help ingredients stick together and add a moisturizing element. In general, you can substitute coconut oil for babassu in equal amounts.
Soap
Babassu works well as a substitute for coconut oil in cold process soap as it produces similar results in hardness and lather. Babassu helps produce large, fluffy, bubbles, much like coconut oil, and is an excellent option when making coconut-free soap. For cold process soapmaking, the recommended usage rate is between 2-33%. When substituting, start out by replacing coconut oil with the same amount of babassu. If the result is not to your liking, experiment by adding more or less, but keep the recommended ratios in mind and don't go above 33% babassu oil in any cold process soap formulation.
The nourishing properties of babassu oil make it a superior skin care ingredient in its own right. However, its similarities to coconut oil elevates it to superstar status when it comes to replacing coconut oil.
*Since babassu is related to coconut, it is possible that those with coconut allergies may also be allergic to babassu.
REFERENCE
*Glavač, N. K., Janeš, D., Lumpert, M., Stojilkovski, K., Kokalj, M., Benković, E. T., . . . Žmitek, K. (2018). Modern cosmetics: Ingredients of natural origin: A scientific view (Vol. 1). Velenje: Širimo dobro besedo.
Love Stacy's DIY Skincare Products?
You may also enjoy:

.