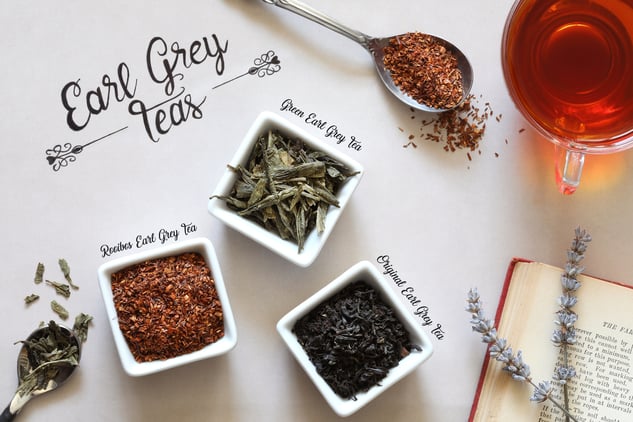 It's that time of year when the days get a bit shorter and the nights a little cooler. One of our favorite things to do at this time of year is to sip on a nice steaming cup of Earl Grey Tea.
What is Earl Grey Tea?
Earl Grey refers to a combination of tea leaves that are delicately flavored with bergamot oil. This crucial flavor addition creates a briskly smooth flavor profile with a delicate orange-flower finish. Classic Earl Grey Tea is traditionally made with black tea, and the variety that we offer uses certified organic, fairly traded tea leaves from India. This popular beverage has been enjoyed in Great Britain since the late 1800s, often with honey or a pinch of sugar.
The Green Earl Grey for a Softer Taste
For those that prefer a less astringent brew, we also offer a Green Earl Grey Tea. This fine tea brews up into a deep amber color. This silky smooth variety is great with the addition of some grass-fed cream or dairy-free milk and a wee bit of local honey.
Decaf Variety: Rooibos Earl Grey
Our Rooibos Earl Grey Tea is perfect for those who wish to avoid caffeine altogether. Made with the finest fair trade and certified organic rooibos leaves from South Africa, this tea shines. The natural sweetness of the rooibos combines with the floral undertones of the bergamot oil. For a real treat, we recommend adding a touch of your favorite milk to make it nice and creamy


Looking for more ways to enjoy Earl Grey?


You may also enjoy: