Who doesn't enjoy sipping a celebratory libation to help ring in the New Year? These delicious herbal cocktail recipes make perfect signature drinks to share with friends during the festivities or at home snuggled by the fire.
Enjoy!
Vanilla Bean Brandy Eggnog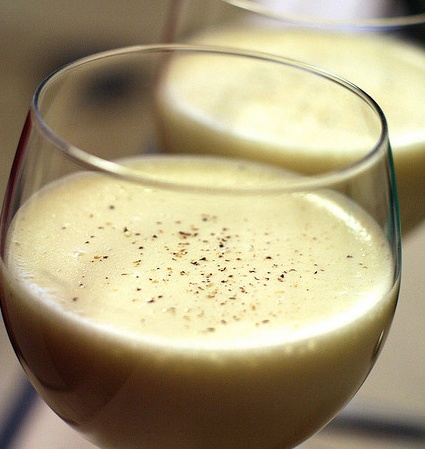 4 large farm fresh eggs
6 oz granulated sugar
1 tsp freshly-grated nutmeg
1 vanilla bean, split lengthwise and scraped
1/4 tsp vanilla extract
4 oz brandy
4 oz spiced rum
12 oz organic whole milk
8 oz organic heavy cream
Beat eggs in a blender for one minute on medium speed. With the blender still running, slowly add the sugar and blend for one additional minute. Next, add the scraped vanilla bean pulp, nutmeg, brandy, rum, vanilla extract, milk, and cream and blend until all ingredients are combined. Chill thoroughly to allow the flavors to develop and serve in frosty glasses with a dust of nutmeg on top immediately before serving. Makes 4 servings.
Cocoa Caliente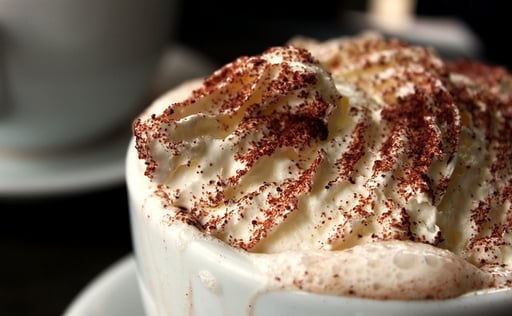 16 oz organic whole milk (or milk alternative of your choice)
3 oz bittersweet 70% cacao chocolate, grated
1 oz Spice Mix (see below)
4 oz coffee liqueur
1 vanilla bean, split lengthwise and scraped
Spice Mix:
2 tsp chili powder
2 tsp ground sweet cinnamon
1 tsp ground cardamom
1 tsp ground ginger
1 tsp ground cloves
1 tsp ground nutmeg
Mix all ingredients together ahead of time and cover tightly.
Simmer the milk, vanilla bean, and vanilla bean pulp in a saucepan over medium heat for about one minute to gently heat. Do not allow your milk to boil! Remove the vanilla bean and reserve for garnish. Whisk in the grated chocolate and spice mix and continue to simmer until melted and smooth. Remove from heat and stir in the coffee liqueur. Pour into a mug and garnish with fresh whipped cream, vanilla bean, and a dust of chili powder. Makes 2 servings.
Tipsy Chai Toddy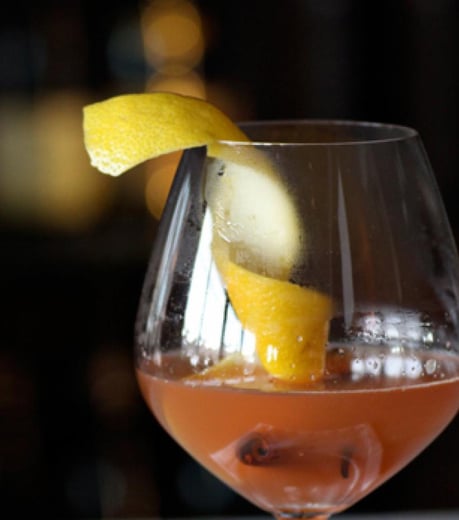 2 cinnamon sticks
2 tsp whole cloves
15 cardamom pods
7 star anise pods
1 tsp black peppercorns
2 Tbsp English Breakfast tea
4 oz aged rum
16 oz water
2 tsp raw local honey
1/2 oz fresh lemon juice
Combine spices with water in a saucepan and bring to a boil for a strong decoction. Once boiling, lower the heat. Using an infuser, add loose-leaf tea to the hot liquid and allow the tea to steep for about 4 minutes. Remove the tea infuser from the liquid and simmer the spices over low heat for another 7 minutes. Strain the spiced decoction into two mugs and stir in 1 1/2 oz rum, 1/4 oz lemon juice, and 1 tsp honey into each mug. Garnish with a cinnamon stick to stir and a twisted lemon peel.
You can substitute 2 Tbsp of loose-leaf Chai for the spice mix, or use Firefly Chai for a caffeine-free version of this recipe.
Makes 2 servings.
Spiced Glogg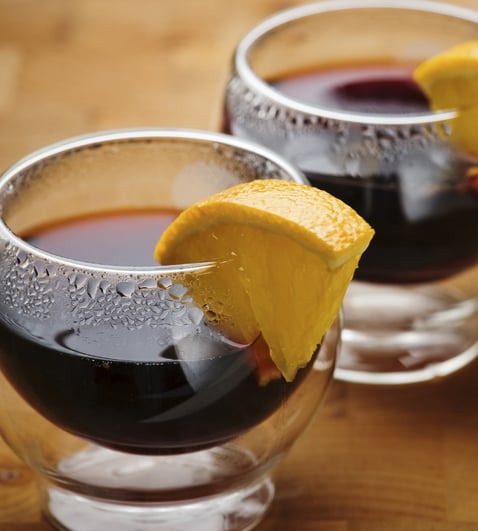 A delicious Scandinavian holiday tradition!
1 gallon dry red wine
2 cups of vodka
1 1/2 cups brown sugar
1 Tbsp. Angostura bitters
6 whole cardamom, crushed
5 whole cloves
1 inch fresh ginger, peeled
1 cinnamon stick

peel of 1 orange
orange slices
2 cups golden raisins
2 cups whole almonds
Mix together wine, sugar, spices and orange peel in a non-reactive container and let stand for a minimum of eight hours. Strain mixture into pot or slow cooker, add 2 cups of vodka, and simmer until warm, stirring often. To serve, add a few raisins and almonds to each mug before ladling in the warm Glögg and garnish with an orange slice.
A very happy New Year to you all!