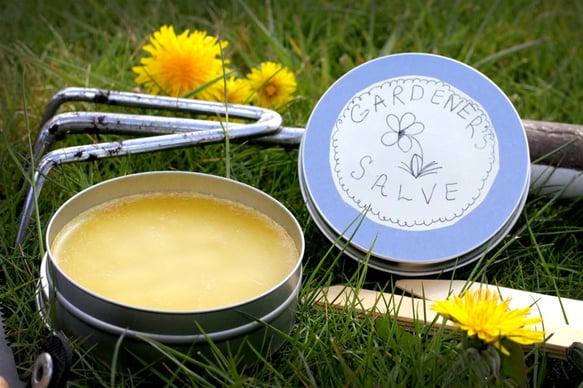 The garden beckons, and we're so thankful for herbal salves! Between the planting, the weeding, and the pruning, my pampered winter hands are getting their typical spring hazing of scratches and soreness. Part of it is surely my own fault, as I tend to toss the gloves aside so I can feel the warm dirt in my hands and touch the rose bushes, lavender plants, and fruit trees.
I love this soothing salve for skin irritations, dryness, and occasional sore muscles. Rubbing it in after a day's gardening starts the relief right away. I've chosen herbs and oils that are well-suited for this: arnica, ginger root, lavender, rosehip seed oil, and vitamin E oil for worn and tired skin.
Feel free to adapt this salve to suit your own needs, choosing oils or essential oils that you love and that work well for you!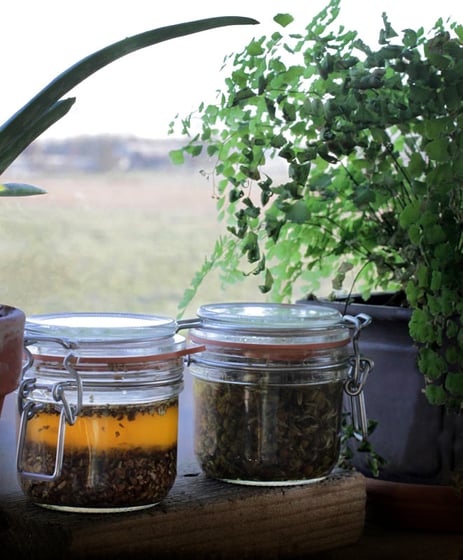 Step 1: Create infused oils

1. Fill one half-pint jar 3/4 full with organic arnica flowers. Cover completely with organic olive oil. Put the lid on and infuse in a sunny spot for 2-4 weeks. You can also find organic arnica oil here.
2. Fill another half-pint jar 1/2 full with organic ginger root and cover completely with organic olive oil. Put the lid on and infuse in a sunny spot for 2-4 weeks.
3. Strain the oils using a strainer or several layers of cheesecloth. Save the oil and compost the flowers and roots.
Step 2: Make the Gardener's Salve

Ingredients:
½ cup organic arnica infused oil
½ cup organic ginger root infused oil
1 ounce beeswax pastilles
1 Tablespoon organic rosehip seed oil
1 Tablespoon vitamin E oil
20 drops each certified organic lavender and ginger essential oils
2 x 4 ounce tins, jars, or other containers
Directions:
Put the infused oils and beeswax pastilles in a Pyrex dish that has been placed over a pot of boiling water (a double boiler). Heat until the beeswax has melted and the mixture is incorporated. Remove from heat and add rosehip seed oil, vitamin E oil and essential oils. Stir quickly with a wooden spoon and pour into prepared and waiting tins. You'll want to work quickly because once you remove the mixture from the heat, the beeswax will start to solidify again. Allow the salve to cool completely and store with the lid on in a cool, dry place. If stored properly, salves can last for 2-3 years.
If you're interested in learning more about crafting salves and creating your own infused oils, check out our other blog posts: