For as long as I can remember, I have had an affinity for anything relating to aromatherapy, be it the lovely scent of a new lotion, the pleasant fragrance warmly wafting from a candle, or the memories evoked by a classic perfume. As a child, I would spend hours carefully selecting flowers and herbs from the garden that, when combined, would produce "the best" aroma I could imagine in the moment.
I would let my blends of herbs and flowers steep in a carafe outside for a few days to produce a floral water, which I would then bottle and call "perfume." While my early methods were simple and not highly effective, I was still always eager to share a new "very nice smell" concoction with others and would excitedly distribute my creations to friends and family members.
Our sense of smell does in fact hold a direct correlation to emotions and memories, which, in turn, can affect our behaviors or moods. Activating the olfactory in a way that is beneficial can be a very powerful experience. For instance, anytime I catch a hint of lavender, I start to feel relaxed and at ease, which I attribute to my memories of the lavender pillows my mother made to soothe occasional head complaints. Not surprisingly, I later learned that these calming and soothing qualities are actually associated with the aromas produced by this wonderful herb. The more that we learn about various botanicals, their aromas, and their associated attributes, the more we can harness their potential in a positive and beneficial way.
As an adult, I have learned that there are many more effective ways to bottle a custom perfumery blend than through those first sun tea methods I practiced as a child. My favorite method is to create essential oil blends tailored to the state of mind I hope to encourage. The following recipes, when bottled in our glass roll top bottles for ease of use, are a few of my favorite blends that incorporate bright and beautiful dried flowers for a visual as well as aromatic treat. I think of them as homage to the gorgeous and fragrant garden that brought me so much happiness and inspiration in my youth.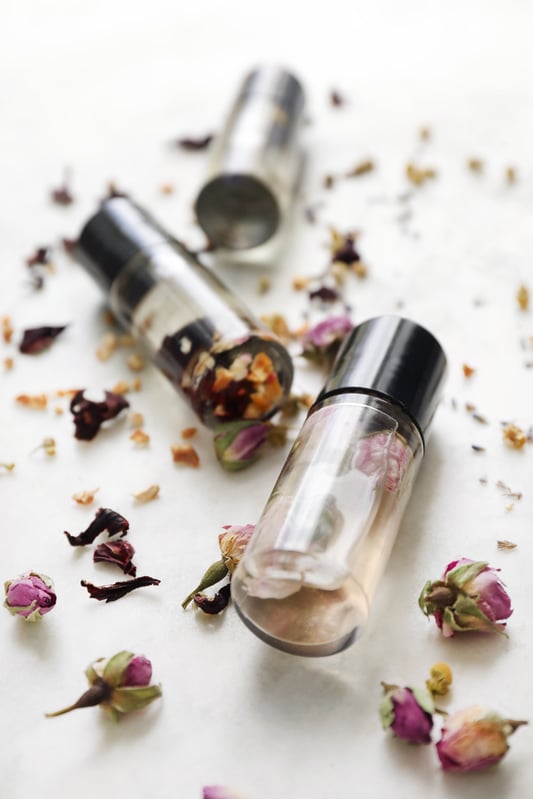 Note About Perfume Dilutions
For most body care recipes, it is recommended that essential oils make up only 0.5 to 2% of your total end product volume. This dilution takes into consideration that creams, lotions, serums, and other products are often applied liberally, frequently, and to large portions of the body, and fragrance is usually a secondary concern to the formula's primary function (moisturizing, smoothing, etc.).
Perfumes containing essential oils are a bit different. Since these formulations are generally applied sparingly and to localized areas, you may choose to use a higher proportion of them to allow your aroma blends to shine! The recipes in this post contain about 5% essential oils to achieve this goal, and we'd recommend using this as a good upper limit for perfume blends. We even offer some handy tools to make your essential oil dilution calculations easier!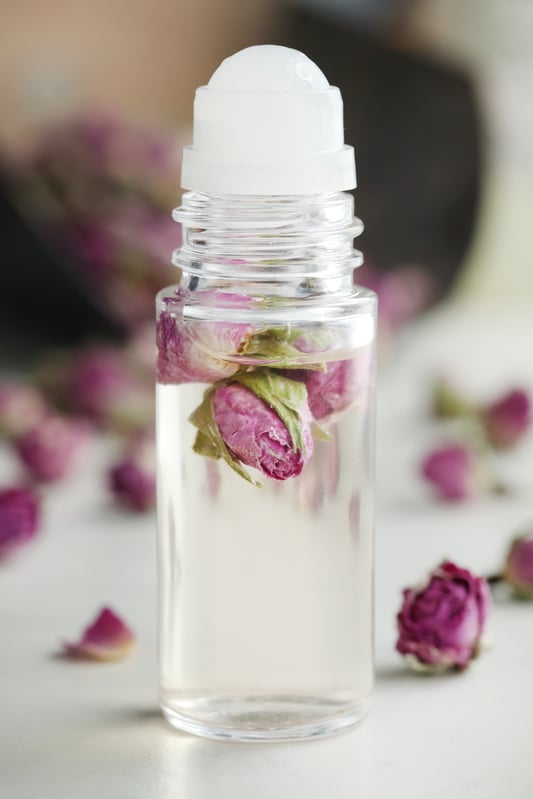 Floral Roll On Perfume Recipes
Comforting Rose Blend
With tender roses as the focus for the blend, this combination is all about soothing the heart and bringing closeness with those we care about most. Grounding yet open, with notes of frankincense, sandalwood, Peru balsam, and geranium, this blend helps me to not only feel fondness and admiration for others and the world around me, but also reminds me to be kind to myself.
Ingredients

Refreshing Tropical Citrus Blend
Bright and invigorating with citrus as its focal point, this combination can brighten any day! It provides sweet and spicy notes of mandarin, fresh ginger, pink pepper, and ylang ylang and reminds me of days spent in the tropics where the sun provides the energy to accomplish endless activities and encourages a perpetual zest for life!
Ingredients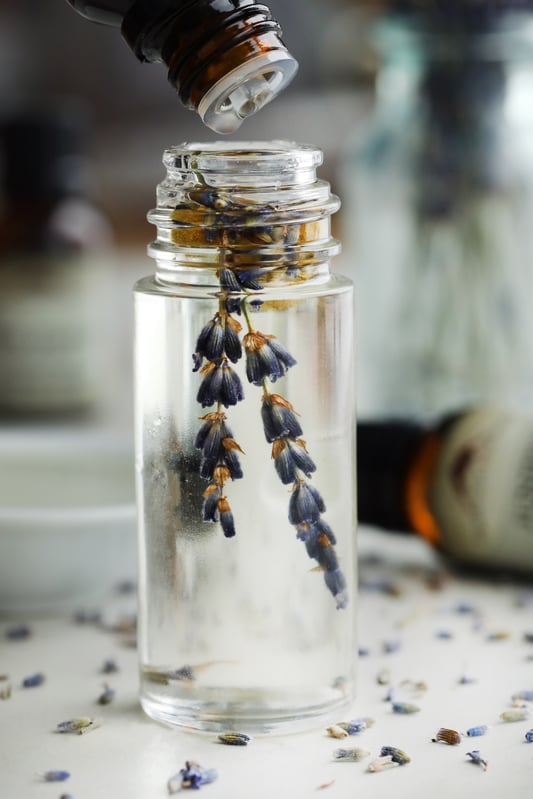 Calming Lavender Blend
Focused but soft, lavender is the key component in this favorite blend which aids in bringing ease to sensations of discontent. Minty and floral, with notes of lavender, peppermint, juniper, and amyris, this blend helps me feel both comfort and inner strength when it is needed most, bringing with it an overall feeling of peace of mind.
Ingredients
Blending & Bottling
Directions
Insert whole flowers and/or other suggested dried botanicals into a 10 mL roll top bottle until it is at least half full.
Using a small funnel, fill the bottle with neutral-scented carrier oil of choice, leaving about 1/4 inch of space at top.
Add desired essential oil blend from choices above.
If space remains, top with carrier oil to fill bottle.
Snap roller ball lid onto bottle. Roll bottle between palms to evenly mix oils.
Pro Tip: If you would like to use a larger glass roll top bottle, choose a 1 oz. bottle and double the listed ingredients, then proceed as normal.
This lovely little bottle is compact and secure enough to carry in your purse or bag, so you can reapply it throughout the day! I have a collection of these little roll on blends conveniently located on my desk, which are not only useful, but also nice to look at!


Want Perfume Recipes for Every Season?
You might also enjoy: