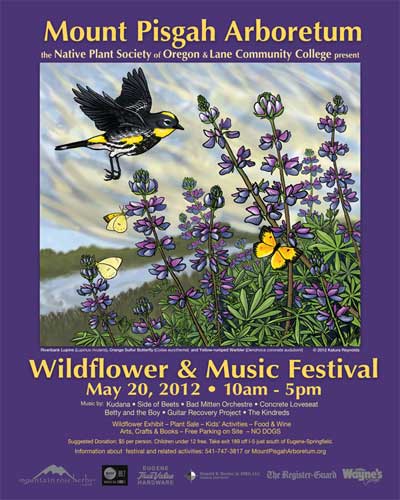 We are excited to sponsor our favorite springtime event in Eugene!
Visit our herb booth for free stickers, catalogs, recycled pens, posters, and more herbal goodies after you browse the amazing flower display and plant sale. And don't forget to enter the raffle for a chance to win our beautiful basket of organic herbal prizes!
Set aside Sunday, May 20th for a day of wildflowers, music, food, crafts, and microscopes! You don't have to be a plant expert to love the upcoming Wildflower & Music Festival. The festival offers fun things to do for everyone in the family. As many as three to four hundred species of wildflowers will be on display, from Anemones to Vancouveria! Collected and organized for attendees to get a close look, top botanists of the region will be on hand to answer questions. For an even closer look, guests can use on-site microscopes. Nectar glands at the base of the petals really glisten at 100X magnification!
Learn more by visiting Mount Pisgah's website.
Hope to see you there!