This week's exciting giveaway is sure to keep you warm throughout the long winter months...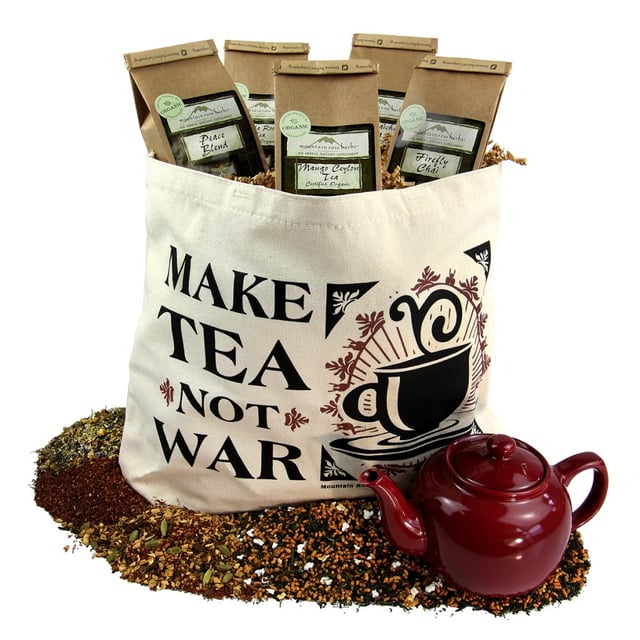 The allure of tea has captivated the world for more than 5,000 years. According to ancient legend, this treasured libation was discovered by a Chinese Emperor as leaves floating on the wind from a nearby tree drifted into a pot of boiling water. The Emperor gazed with wonder as the water took on an intoxicating color and aroma. With one sip, the world became mesmerized by the powerfully restorative and delightfully quenching benefits of herbal infusions.
This week's winners will receive a collection of our favorite organic teas including Mango Ceylon, Genmaicha, Vanilla Rooibos, Firefly Chai, and Peace Tea! We will also send along one of our certified organic cotton Make Tea Not War tote bags, and this elegant 32oz porcelain tea pot. This is the perfect set for tea lovers to sample a beautiful medley of the finest organic loose-leaf black, green, red, and herbal teas from around the world.
How to Enter:
There are several ways to enter and you can submit up to 5 entries for a chance to win this delicious collection of organic teas!
1. Leave a comment telling us about your favorite tea making, sharing, or sipping experience.
2. Become a subscriber to our blog and leave a comment here to let us know that you've subscribed.
3. Post a link to our blog giveaway on your Facebook page and leave a comment here to let us know you've posted.
4. Tweet about our blog giveaway on Twitter using the tag #MRHGiveaway3 and leave a comment here to let us know that you've tweeted.
5. Blog about our giveaway with a link back to this post, and leave a comment here with a link to your blog post.
You have until Sunday, December 19th at 11:59pm PST to enter. We will pick two winners at random on Monday, December 20th!
Good luck to you!