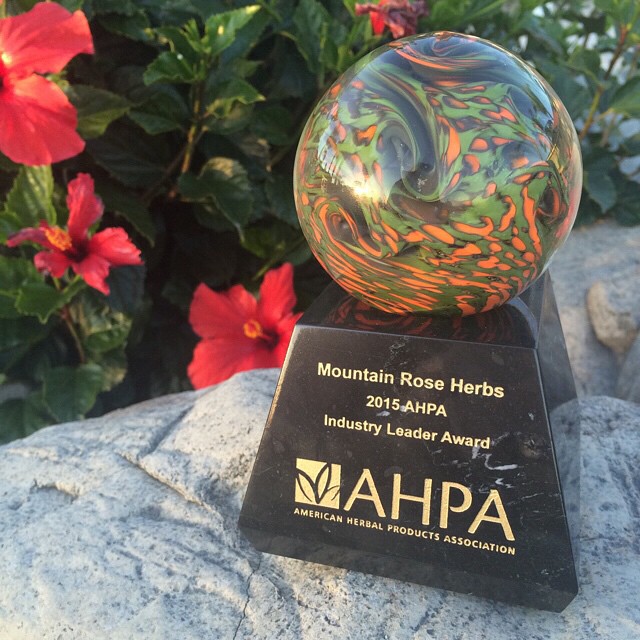 We're back from sunny California with a great honor in hand!
Mountain Rose Herbs was named the 2015 Herbal Industry Leader Award recipient by the American Herbal Products Association at Natural Products Expo West in Anaheim, California last week.
We were thrilled to be recognized by our peers for going beyond normal business practices to advance the herbal industry. The efforts highlighted include our sustainability programs, a strict focus on organic agriculture, ethical sourcing, elevating the quality and identity of our botanical products, support of environmental conservation and organic advocacy groups, and sharing free herbal information through social media and community events. We were also acknowledged for our participation in the Osha Sustainability Study.
"Receiving this recognition from AHPA and the herbal industry is a huge honor for Mountain Rose Herbs. Our goal has always been to lead with our hearts and our values, meaning plants, people, and planet before profit. We work for the herbs that nourish and heal us, and sharing that message has never been more important." - Shawn Donnille, co-owner of Mountain Rose Herbs.
Many thanks again to AHPA for this award. We were in the company of so many inspirational people and felt such a wonderful sense of community, support, and encouragement during the ceremony. Also honored that morning was Tieraona Low Dog, M.D. with the Herbal Insight Award and Dick Griffin as AHPA Hero. Past winners in the Industry Leader Award category include Herb Pharm, Gaia Herbs, Dr. Bronner's Magic Soaps, and Trout Lake Farm.
Beth Lambert, CEO of Herbalist & Alchemist, gave a touching introduction as she presented the award to several of us from Mountain Rose including our co-owner Shawn Donnille, Steven Yeager our QC/QA Laboratory Manager, Jennifer Gerrity our Executive Director of Operations, Irene Wolansky our Customer Experience Director, Christine Guerts our Product Manager, Erin McIntosh our Marketing Director, and Jacob Lauch our Purchasing Officer.