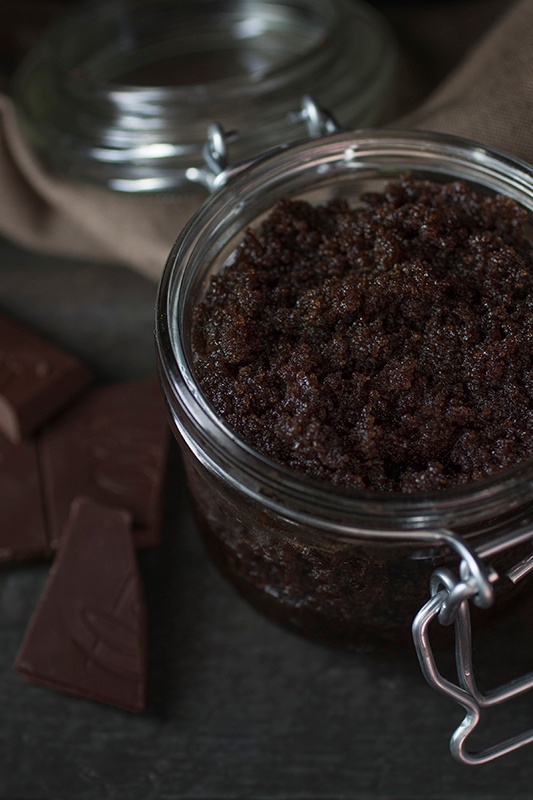 Adoration for cacao can be traced back to ancient cultures in Mesoamerica. Bitter beverages made from the crushed seeds of this voluptuous fruit were enjoyed with a belief that these pods had magical properties. Mildly stimulating with a pronounced twinkle of euphoria, cacao was reserved for sacred rituals and royalty.
With our obsession over herbal baths and Valentine's Day just a few weeks away, now is the perfect time to handcraft this decadent chocolate-infused body polish! This scrub recipe is a favorite from our own Irene Wolansky that smells scrumptious and beautifully exfoliates the skin, making it soft and smooth. It will leave a faint perfume of chocolate and vanilla that's sweet, earthy, and wonderfully provocative...
Cacao & Vanilla Body Polish Recipe
Ingredients
¾ cup organic granulated or brown sugar, or fine sea salt
¼ cup plus 2 Tbsp organic apricot kernel, organic sweet almond, organic sunflower oil or other carrier
1 Tbsp organic + fair trade cacao powder
1 Tbsp organic vegetable glycerine or honey
1-2 tsp organic vanilla extract (Make your own! See recipe in this link) or organic vanilla powder
20-40 drops essential oil of choice (optional): geranium, lavender, mandarin, peppermint, sweet orange, ylang ylang, or other
Directions
Combine all dry ingredients in a bowl and mix well. Drizzle in the oil and vegetable glycerine or honey. Stir until distributed throughout the dry base. Carefully count drops of essential oil and stir. Package in glass jars. To use, gently massage a palmful of scrub into wet skin using a circular motion and rinse. Enjoy!