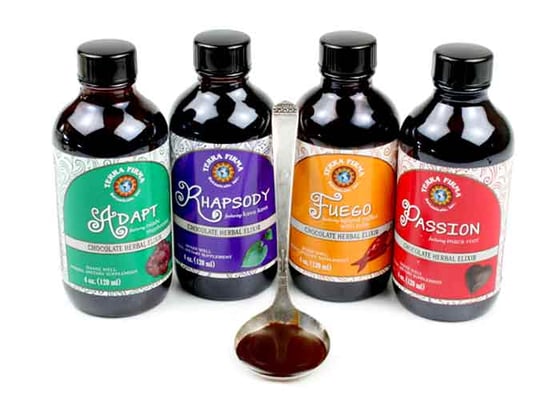 Our friends at Terra Firma Botanicals have expanded their line of yummy chocolate elixirs! Made with unfiltered Pacific Northwest honey, organic fair trade cacao powder, and pure botanicals, these elixirs are a decadent way to bring herbs into your life...
Adapt Chocolate Elixir
A delicious blend formulated to induce harmony and balance amidst life's everyday stressors. A tasty treat made from pure botanicals to strengthen and support the body.
Fuego Chocolate Elixir
Awaken your senses with this spicy yet smooth circulatory elixir. Packed with cayenne and tulsi, this botanical tonic will warm and invigorate the body while supporting mental clarity and cardiovascular health.
Passion Chocolate Elixir
This sensual elixir has been formulated to stimulate vitality. A mixture of pure botanicals including maca root, which is a nourishing herb known to promote hormonal balance and stamina. Share a little with your partner over ice cream or fresh berries.
Rhapsody Chocolate Elixir
Formally known as River's Rhapsody, this delicious chocolate elixir is sure to bring a smile to your face! Created with herbs that promote relaxation and euphoria, while easing you through stressful moments.