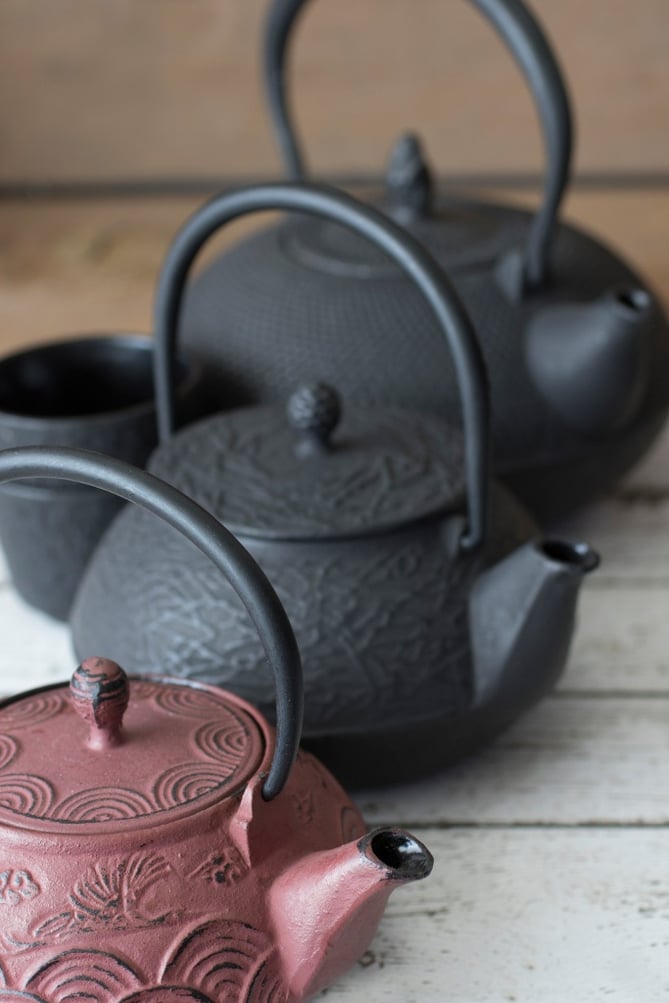 We are happy to introduce three beautiful new additions to our line of cast iron teapots!
Our Black Cast Iron Teapot is the largest size we carry, accomodating up to 40 oz of delicious, soothing tea. This decorative iron teapot is cast with a hobnail design, symbolizing strength and beauty in traditional Japanese culture. In addition to brewing tea, you can also use this teapot directly on the stovetop to heat water.
Our Crane Cast Iron Teapot features a serene crane soaring above the sea. The crane design symbolizes good health and longevity. This particular teapot is more for solo tea-drinking endeavors, as it holds 12 oz of your choice brew. This teapot retains heat well, but should not be used directly on the stovetop to heat water.
The new Cast Iron Teapot Set is sturdy and elegant - perfect for enjoying tea with a loved one. It is adorned with a pine needle design, which symbolizes friendship in Japanese culture. This pot is for infusion only and should not be heated on the stovetop. Each stately set includes a 22 oz teapot along with two cups and a cast iron trivet for convenient resting and display.
All of our Cast Iron Teapots feature enamel coating on the interior to prevent rusting, and also come with a stainless steel tea infuser, which fits snuggly into the pot for infusion of loose leaf teas. These well-built, beautiful tea pots are lead free and are renowned for their durability and sleek yet simple design. Classic and enduring, you will treasure them for years to come!
Click here to explore our entire line of teas and teapots!