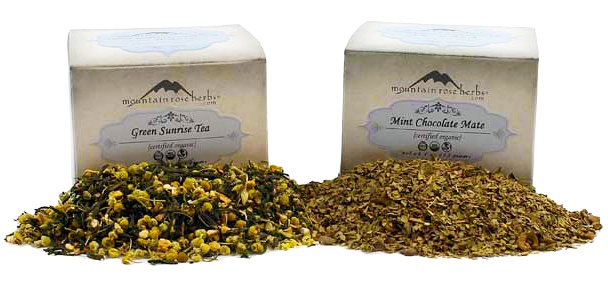 We are so excited to debut two newly created caffeinated tea blends!
This synergistic blend provides a heightened sense of relaxation for mind, body, and spirit. Simply opening the bag will bring a smile to your face. Each golden brewed cup has a full bodied citrus flavor with a smooth floral finish. The Dao Ren tea and chamomile flowers are the perfect complement, making this tea a delicious warming treat that's relaxing yet gently stimulating for morning or afternoon.
Contains: organic Dao Ren tea, organic Chamomile flowers, organic Lemon peel, organic Ginger root, and organic Lemon flavoring. Contains caffeine.
This refreshingly smooth blend is quickly becoming a new favorite here at Mountain Rose, and has just the right amount of kick. Think peppermint patty in a cup! The initial bright minty flavor and aroma transforms into a delightful combination of mate and velvety cacao. A rich cup of tea that could easily be considered a dessert.
Contains: organic Yerba Mate, organic Peppermint leaf, organic roasted Cacao nibs, organic roasted Carob, organic Vanilla beans, and organic roasted Cacao powder. Contains Caffeine.
Click here to view over 60 of our fine organic teas and unique blends!
Sip and Enjoy!