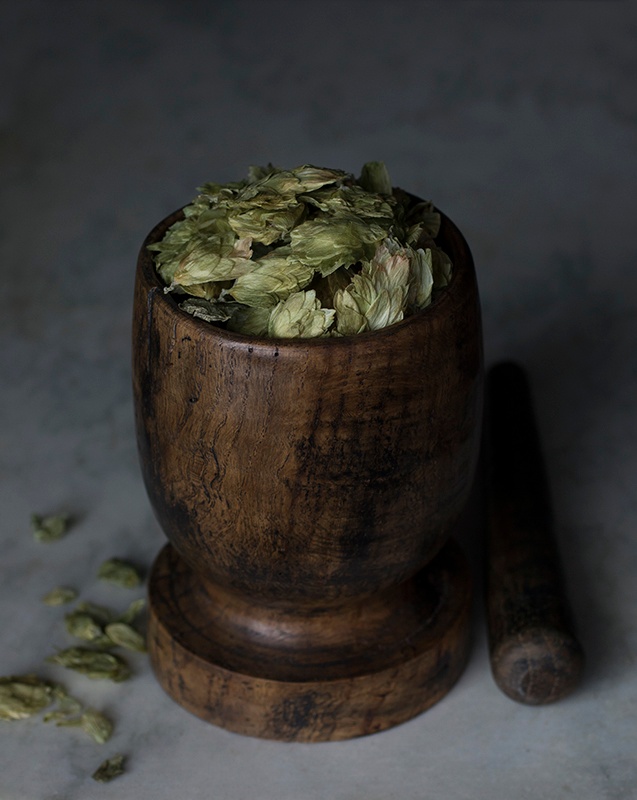 Here in the Willamette Valley, leaves are beginning their autumnal descent from the lofty tops of trees, destined for the inward journey of the composting process. Fall color abounds, and the height of summer seems long ago.
Organic Hops Flowers
are another useful member of the Cannabaceae plant family, and one of our favorite calming herbs for this time of year.
Hops are most famous today as a prominent ingredient in beer. In fact, the first documented use of hops in beer is from the 9th century. Before this period, a wide variety of bitter herbs and flowers, including Dandelion root, Burdock root, Horehound, Mugwort and Heather flowers, were used as bittering agents in the brewing process. Hops eventually separated themselves from the pack due to their flavor balancing the sweetness of the malt with bitterness and contributing a variety of desirable aromas. Hops flowers have an even longer history of usage in herbal medicine as a powerfully sedating herb. Hops have traditionally been used in a way similar to Valerian root. A steaming infusion of Hops flowers is a great beverage right before bedtime, and may even remind you a bit of your favorite hoppy beer!
Our Favorite Recipes with Hops!
Video: Susun Weed - Hops Medicine
Visit our online shop to view our entire collection of bulk herbs and spices.