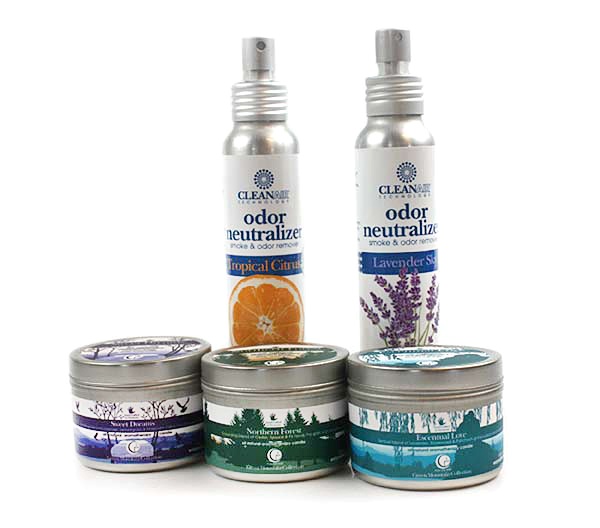 Our friends at Way Out Wax have just launched a new look for all of the amazingly pure and natural candles and sprays they carry. Enjoy the same great aroma blends and formulas you love with striking new labels!
These festive, aromatic candles are blended with the finest grade essential oils and are made with a vegetable base as the wax. You will not find any paraffin, synthetic fragrances, or petroleum products in these candles - just the rich, aromatic experience that we all long for. Each candle comes beautifully packaged in a tin with a natural, lead-free wick and has an approximate burn time of up to 25 hours!
Clean, pure, and natural... just the way burning candles in our home should be. Choose from 5 amazing aroma blends:
Sweet Dreams - Scented with essential oils of Lavender, Lemongrass, and Marjoram.
Escentual Love - Scented with essential oils of Rosewood, Patchouli, and Lavender.
Northern Forest - Scented with essential oils of Spruce, Cedarwood, and Fir Needle.
Cozy Home - Scented with essential oils of Cinnamon, Clove, and Nutmeg.
Citrus Harmony - Scented with essential oils of Orange, Grapefruit, and Clove
Freshen any room with these revolutionary Clean Air odor neutralizing sprays! This powerful mist electrostatically attaches to odor particles and neutralizes them, rather than just covering them up. These all natural odor removing sprays are ideal for the kitchen, bathrooms, and more! Each spray contains a proprietary blend of over 30 natural plant extracts and botanical oils, including lavender, citrus oils, and pine.
Choose from 2 aroma blends:
Lavender Sky - Scented with a little extra lavender and lemon oils.
Tropical Citrus - Scented with some delightful citrus oils.