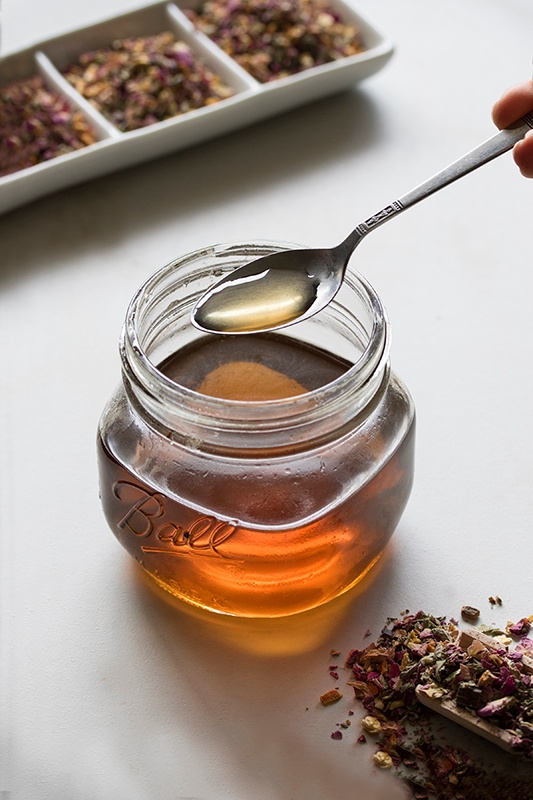 Herbalists say making syrups is one of the tastiest ways to ingest traditional herbal remedies. However, we can use the same techniques to turn our loose-leaf teas (and herbs) from Mountain Rose Herbs into delicious syrups for cocktails too! A couple ideas from our test kitchen:

Ingredients:
1 cup water
1 cup fair trade, organic cane sugar or 1 cup organic local honey* (while we like the health benefits of honey, using sugar has a more neutral taste, which allows the flavor of the delicate tea to really shine)
4 Tbsp organic loose-leaf Lapsang Souchang Tea, 6 Tbsp organic loose-leaf Love Tea, or 3 Tbsp organic Mexican Oregano (these are just a few of our ideas, but this recipe will work with many different herbs and teas)
Directions:
Boil water in a medium saucepan on the stovetop. Then put tea or herbs into a disposable tea filter and set aside. Once water has come to a boil, take the saucepan off the heat and steep tea or herbs in water for about 5 minutes, or until desired strength. The flavor should be much more concentrated than a typical cup of sipping tea to ensure the herbal goodness shines through.
Remove tea filter and compost. Bring your tea/water infusion back to a boil on the stovetop. Once it comes to a boil, remove from heat and add sugar or honey* and stir until dissolved. Set the saucepan aside and let cool for 1 hour before storing in one of our pantry jars or recycled glass storage jars in the refrigerator for up to 1 month.
*If you decide to use honey for your syrup, make sure the temperature of the honey is not raised above 110 degrees Fahrenheit. In other words, you'll want to dissolve the honey into warm water, not boiling water.
You may also be interested in: