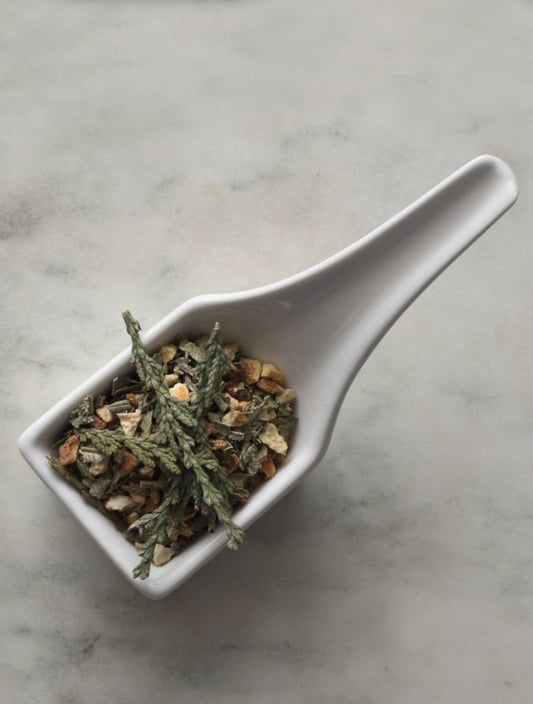 A few weeks ago, I spent some time at my mother's home in the foothills of the coast range in Southern Oregon. While the hillside has changed much since I was growing up, I still love to visit - especially when the seasons change. I enjoy bearing witness to those natural patterns as the years pass. We spent the weekend harvesting hundreds of apples, prunes, and plums from the many trees in the orchard she and my late father planted back in the seventies. I also managed to do a little "wildharvesting" and came home with enough ripe
elderberries
to make about a half-gallon of fresh elderberry cordial!
One of the most bittersweet parts of visiting "home" is to notice how the trees change. My huge beloved White Oak tree has been replaced with a yellow plum, but many of the mammoth creaking cedars that swayed when the wind moved down the mountain in my childhood are still firmly planted. All the fresh green tips are testimony to the new growth this year!
The idea for this tea recipe came from those beautiful old cedars (and all the scrappy young trees that are forever sprouting up.) It is delicious with fresh cedar tips and fresh rosehips, but I think it is just as tasty with the organic dried versions too...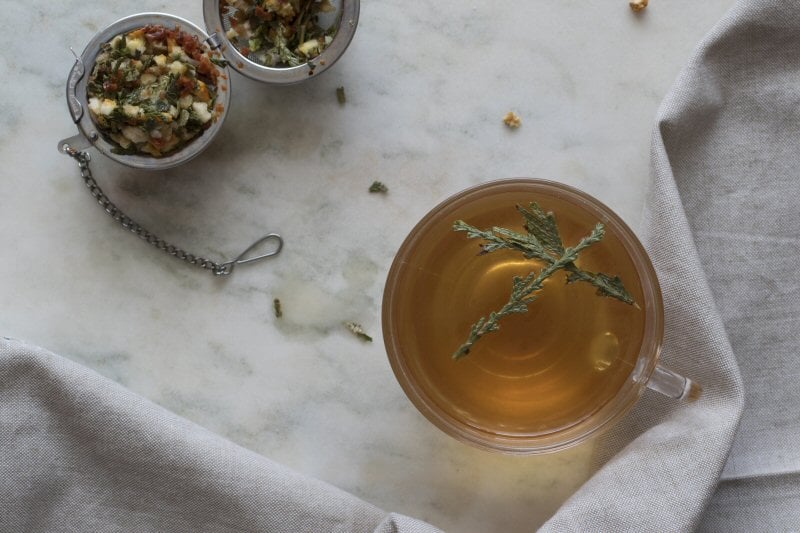 Citrus Cedar Tea
Combine all the herbs (you'll need to crumple or cut up the cedar leaves) in an infuser, nest, bag or strainer. Pour 1 1/2 to 2 cups boiling water over and allow to steep for 4-5 minutes. Strain the herbs and enjoy! Feel free to add a little fresh lemon (or orange) if you'd like and a little raw honey to sweeten.
This post was originally a part of our series called "The Sunday Steep."