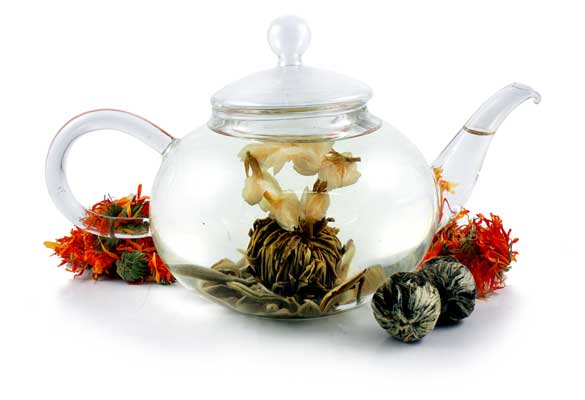 From our weekly series: The Sunday Steep
Who says tea can't be dramatic? Flowering teas are one of life's sweet, sensual pleasures - the sight, the scent, and the gently floral taste all make for a wonderful experience. I admit, sometimes it's about showing off a little and creating a tea ceremony that sings special! Because these "tea flowers" are meant for a whole pot, they can have a subtle, mellow flavor. If you like your tea a little more potent, like I do, feel free to add some additional flavors. I like to infuse another herb or herbs first, and then use the strained infusion as the tea bath for the blooming flower. Since our flowering teas are a combination of green tea leaves and organic flowers, some great herbal additions include:
Tea Blending with Flowering Tea
For one pot of tea, heat 3-4 cups of water to boiling. Add 3-5 Tablespoons of chosen herb (or combination) in an infuser, tea bag, or ball and steep for 2-3 minutes. I use more herb and go for a quick steep so that the water will still be hot for pouring over the Flowering Tea. Place tea flower in a clear glass tea pot or glass pitcher. Quickly strain infusion and pour over flower, allowing to steep until the flower opens. Enjoy!