In the Pacific Northwest, we look forward to summer all year. The warm weather inspires camping trips in the wilderness, swimming in clear cool rivers, hikes to remote mountaintops with breathtaking views, outdoor barbecues with friends, dancing at outdoor music festivals, foraging excursions to pick juicy wild berries, and brings us bountiful harvests of nourishing tomatoes, peppers, and other veggies harvested fresh from our gardens.
When engaging in summertime activities, it's important to remember to take care of our skin and provide it with the moisturizing and love that it needs. I've handpicked this collection of some of my favorite summertime recipes from previous articles on our blog, plus added some new recipes. I think you'll agree that these are the perfect complement to warm summer weather!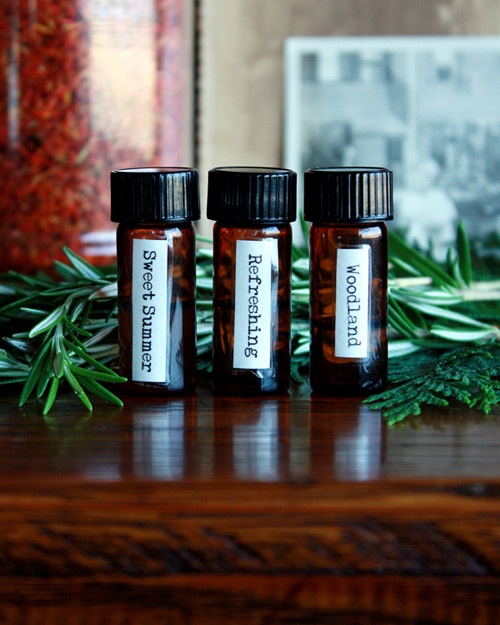 Sweet Summer Perfume
A relaxing and warming blend reminiscent of summer, with a lightly floral aroma complemented by hints of spice and cedar. Especially useful for relaxation and promoting a calm state. A great lift-me-up!
Ingredients:
Drip all essential oils into a glass bottle, and roll between palms to evenly mix the oils. Add Jojoba oil and roll again. Add additional essential oils if you desire a stronger perfume.
Tangerine & Ylang Ylang Body Oil
Refreshingly light with a hint of citrus and sweetness. Pour a little directly into bathwater, massage into the skin after bathing, or apply whenever skin feels a little dry.
Ingredients:
Pour all ingredients into a bottle and roll between palms to distribute the oils evenly.
Refreshing Flower Water & Aloe Spray
This blend is so useful! You'll find that it has an infinite number of applications. Apply liberally to moisturize and relax. It's also appropriate for minor skin irritations. Aloe vera and lavender essential oil are commonly known for their abilities to promote healthful skin. Peppermint is cooling and refreshing.
Ingredients:
Mix all ingredients, pour into a 4 ounce bottle, and apply to the skin as often as desired. Store in the refrigerator - this will provide additional coolness for hot skin.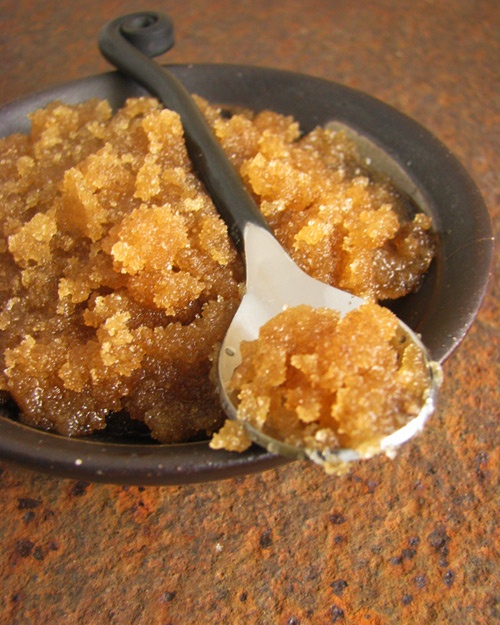 Brown Sugar & Vanilla Body Scrub
A sweet smelling body scrub which will leave your skin feeling silky smooth.
Ingredients:
Blend sugars together in a bowl, add oil and vanilla extract, and mix well. Package in jars, and enjoy! Note: the oil in this recipe will make your tub slippery, so use with caution.
Grapefruit Coconut Cocoa Lip Balm
Crafted from a medley of Grapefruit, Coconut, and Cocoa, this lip balm smells divine and is nourishing for dry, parched lips. If you live in a hot climate, then increase the amount of beeswax so that the lip balm doesn't melt as quickly. And, make sure to keep this out of hot cars or direct sunlight – the lip balm will melt quickly. If it does melt, place it in a fridge, freezer, or in an air conditioned area so that it will re-solidify.
Ingredients:
Coarsely chop the beeswax or use beeswax pastilles. Place beeswax and oils in a small pot or glass Pyrex measuring cup and gently heat in the top of a double boiler until the beeswax has melted. Once melted, remove from the stove top and add essential oils and Vitamin E Oil. Immediately pour the mixture into lip balm containers. You can purchase lip balm tubes and jars, or you can reuse glass or plastic containers. Allow to cool completely before placing caps onto the lip balm containers. Your lip balm is finished! Makes approximately 1.5 oz of lip balm, enough to fill 10 lip balm tubes, 6 of our 1/4 oz plastic jars, or 3 1/2 oz tins or plastic jars.
Note: Like most citrus oils, grapefruit essential oil can cause sun sensitivity and photo-toxicity. This can make the skin more sensitive to UV light which may cause skin to burn or damage more easily. If concerned, feel free to omit the essential oil or substitute with other essential oil(s) of your choice and adjust the quantity accordingly.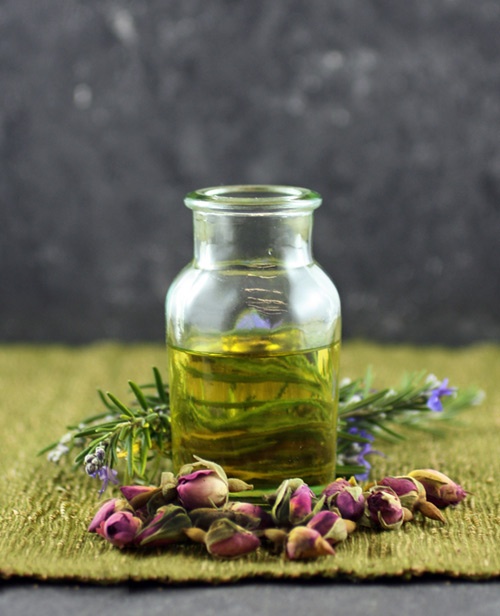 Rejuvenating Facial Serum
Facial Oils nourish the skin at a deep level. The recipe below is for a rich and soothing facial oil ideal for mature, dry, or aged skin. If you are in a pinch, then plain Rosehip Seed or Pomegranate Seed oil are superb when used by themselves. During the summer, I like to use this facial serum before going to bed.
Ingredients:
Drop essential oils, Vitamin E Oil, and Rosehip Seed oil into a 1 oz glass bottle and roll bottle between your palms to evenly mix the oils. Top with other oils and roll again. Use daily for best results.
Soothing Facial Toner
Toners help adjust pH levels, remove any residues left on the skin after cleansing, and moisturize. This recipe will create a hydrating and healthful herbal facial toner. Perfect for skin that is parched from dry, hot weather.
Ingredients:
Boil water, pour over oats and herbs, and steep until cool. Strain, and place in a 2 oz. bottle with fingertip mister. Store in a refrigerator for up to a week to ensure freshness. Shake before each use.
Want to make more sun-inspired goodies?

.