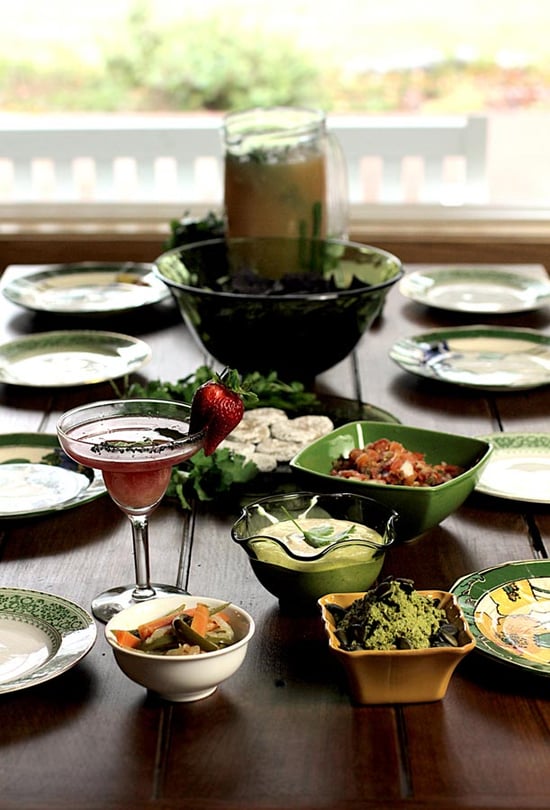 Hosting a spicy celebration to savor the festive flavors of this special Mexican-American holiday has become a tradition across the country. Many people assume that they're sipping margaritas in honor of Mexico's Independence Day, but that actually happens in September. Cinco de Mayo is the anniversary of a victory at the Battle of Puebla which later became a symbol of Mexican resistance against French imperialism. Observed as a smaller holiday in Mexico today, the 5th of May has become a widespread celebration of Mexican culture and heritage in the United States.
This cuisine calls for some of our favorite aromatic and diaphoretic spices for a big boost of heat and flavor. Diaphoretic herbs are often used in traditional dishes from hot parts of the world to help the body sweat and keep cool. Aromatic herbs, beyond being delicious, have been used throughout time to help stimulate healthy digestion. These fun recipes include crowd-pleasing classics for your feast, as well as new herby twists on old favorites. Break out your dancing shoes, Mariachi music, and vamos a la fiesta!


Veggie Escabeche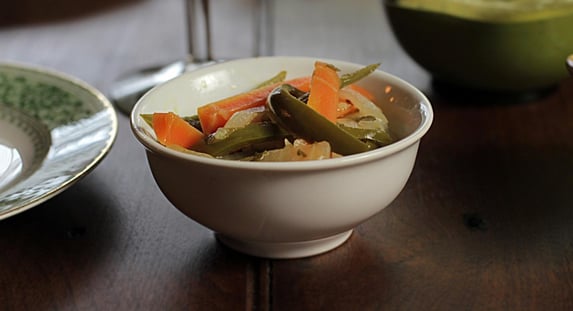 Ingredients
2 tbsp organic virgin olive oil
1 small organic white onion, thinly sliced
2 organic carrots, sliced
1 clove organic garlic, minced
3 cloves organic garlic, halved
5 organic jalapeños, sliced into quarters and de-seeded
1 organic bell pepper, thinly sliced and de-seeded
1 cup organic white vinegar
1 ½ tsp coarse sea salt
1 tsp dried organic oregano
Directions
Heat oil in a saucepan over medium heat. Add the onion and carrot. Stir the veggies while cooking for several minutes or until the carrots just yield to a knife or fork. Stir in the jalapeños, bell pepper, minced garlic and cook for several minutes. Pour in the vinegar, salt, oregano, bay leaf, garlic cloves, and 2 cups of water. Stir well and bring the mixture to a boil then remove from heat and allow to cool to room temperature. Pour the cooled mixture into a sterilized glass quart jar, seal with a lid, and refrigerate. Lasts about 2 weeks.
Spicy Awakened Pepita Spread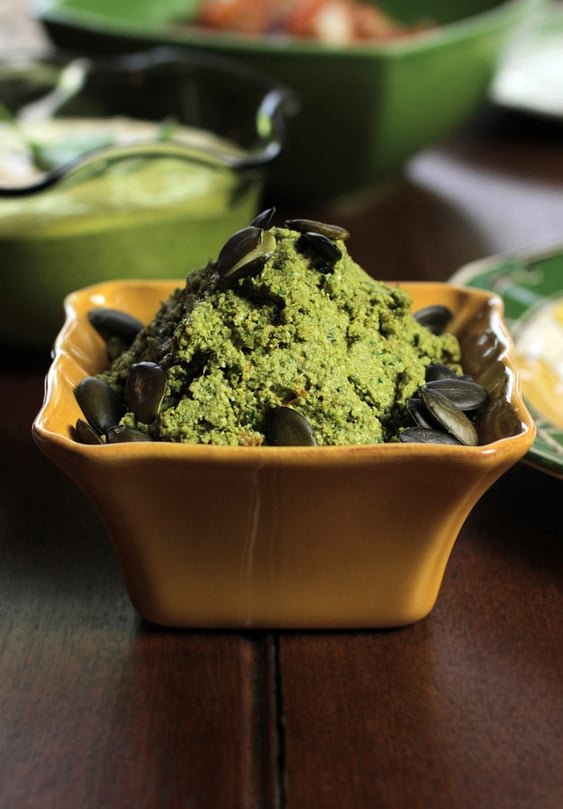 Ingredients
1 ¼ cups raw organic pumpkin seeds, awakened
1 large organic heirloom tomato
1 organic jalapeno pepper, de-stemmed
1 clove organic garlic, minced
3 tbsp finely chopped organic cilantro
3 tbsp finely chopped organic chives
½ tsp organic cumin powder
1 tbsp fresh organic lime juice
Fine sea salt and organic black pepper to taste
Directions
To awaken your pumpkin seeds, soak them in a bowl of water for 1 to 4 hours. This will enliven the enzymes and bring the seeds out of dormancy. Drain, rinse, and then drain again to allow most of the moisture to evaporate. Next, grind the live pumpkin seeds in a food processor until smooth. In a skillet, heat tomato and jalapeno on medium high until the skins begin to char on all sides. Add the tomato and pepper to the pumpkin seed puree along with the cilantro, chives, garlic, and cumin powder. Pulse ingredients together in the food processor until smooth. Transfer to a bowl and season with salt and pepper to taste.
Lime Chili Sour Crema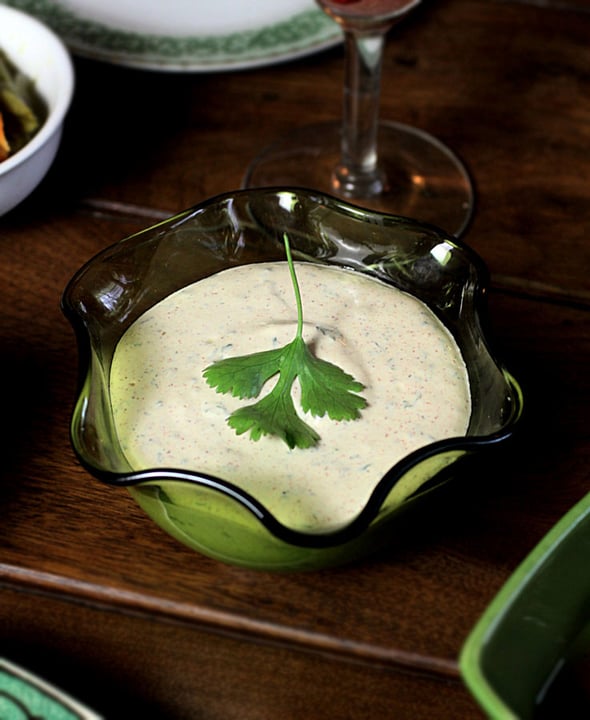 Ingredients
1 cup organic sour cream
1 oz fresh organic lime juice
2 tbsp local honey, warmed to liquefy
1 tsp organic ancho or chipotle chili powder
¼ cup fresh organic cilantro, finely chopped
Directions
Mix all ingredients together in a bowl. Add more or less chili powder to taste. Chill and serve.




Hot Cinnamon Polvorones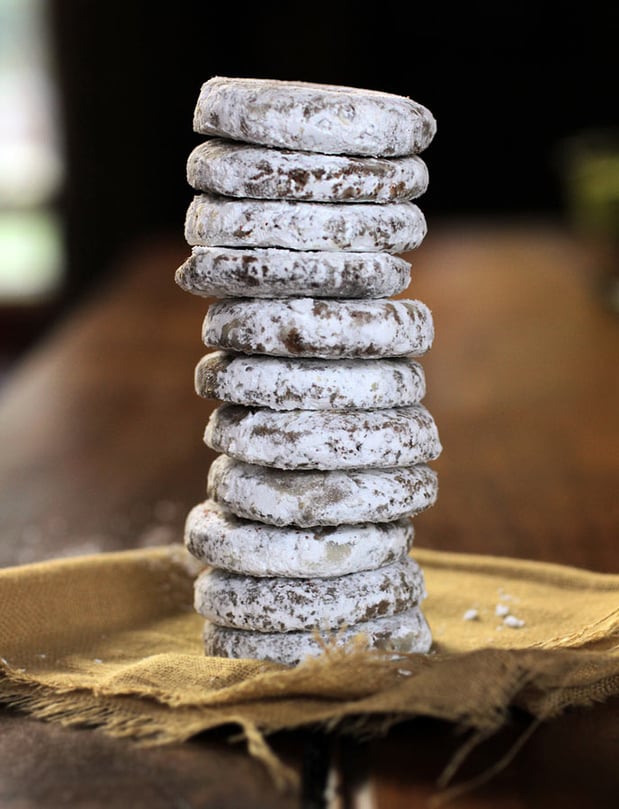 Ingredients
¾ cup organic pecans
¾ cup organic sugar
1 ½ cups organic flour
1 tsp organic cinnamon powder
½ tsp organic roasted chili powder
½ tsp fine sea salt
6 tbsp organic unsalted butter, softened
1 ½ tsp organic homemade vanilla extract
1 cup organic confectioners' sugar
1/8 tsp organic cayenne powder
Directions
In a food processor, pulse pecans and ¼ cup sugar together until very finely ground. Add remaining sugar, flour, cinnamon, roasted chili powder, and salt, and pulse until well mixed. Next, add butter and vanilla to the food processor and mix until the dough just begins to form a moist crumb. On a lightly floured surface, form the dough into a ball and roll into a disk. Wrap in plastic wrap and refrigerate for 1 hour or longer.
Pre-heat oven to 350 degrees. Using a rolling pin, roll out the chilled dough until it is ½" thick. Cut out the cookie dough using a 1 ½" round cutter and transfer to a parchment paper lined baking sheet. Be sure to space them about 2" apart. Chill the cut cookie dough again for 1 hour. Bake and rotate the sheet halfway through until lightly browned and set. This takes about 14 minutes. Allow to cool for 10 minutes. Gently toss the cookies in a bowl of confectioners' sugar mixed with cayenne to coat evenly before serving.


Strawberry Chili Margaritas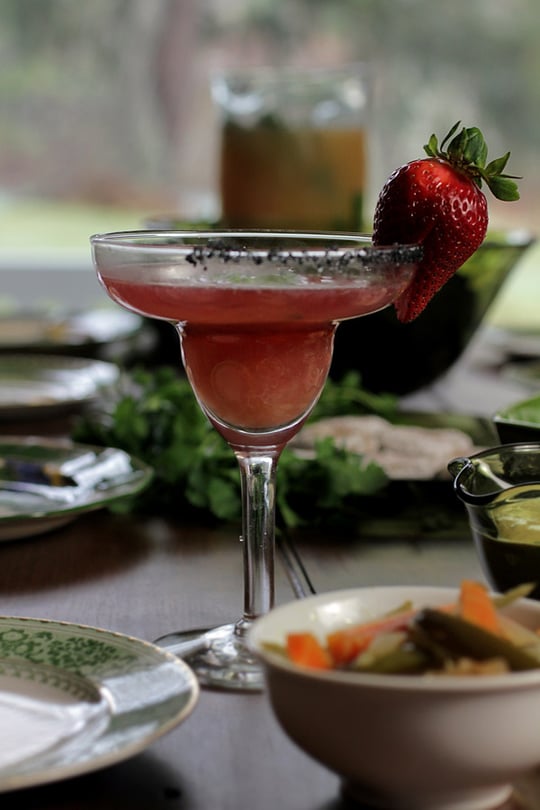 Ingredients
Makes 2 drinks
4 oz tequila
2 oz triple sec
1.5 oz fresh organic lime juice
1.5 oz fresh organic lemon juice
1.5 oz organic strawberry simple syrup
Directions
Salt the rims of your glasses. Shake all ingredients together with broken ice and strain into the salted rim glasses. Garnish with a lime, strawberry, whole chili (plucked out of the shaker) and enjoy!
To make the strawberry simple syrup, bring 1 cup of water to a boil. Add 2 cups of organic sugar and 1 cup of fresh organic strawberries chopped. Bring to a boil again and stir until the sugar has dissolved. Puree in a blender. Strain, bottle, and store in the refrigerator.


Rosemary Palomas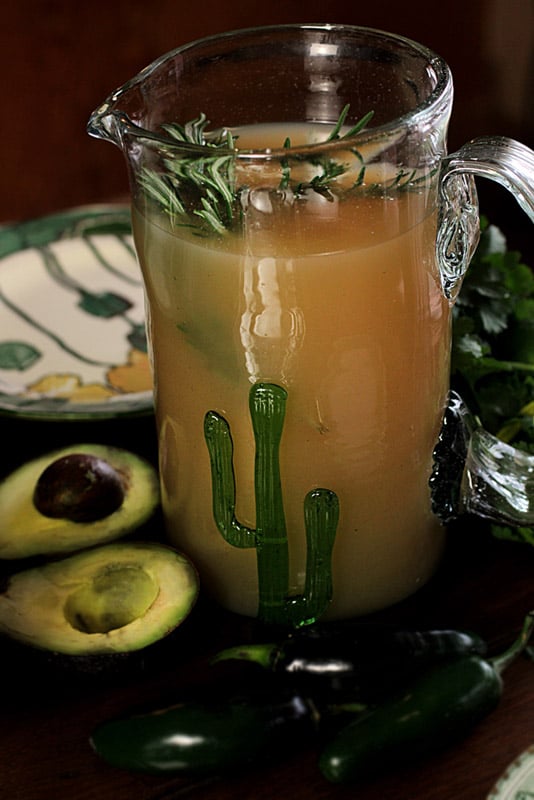 Ingredients
Makes 1 drink
organic grapefruit wedge
red alaea salt for the rim
3 oz fresh organic grapefruit juice
1 oz fresh organic lime juice
1 tsp organic sugar
2 oz rosemary infused tequila blanco
club soda
lime wedge, for garnish
Spring of fresh rosemary for garnish
Directions
To infuse the tequila, fill a pint jar 1/4 full with dried rosemary leaves and top with tequila. Shake well and allow to infuse for 1 to 2 weeks. If you don't have time to do an infusion, simply muddle a sprig of fresh rosemary in the bottom of the cocktail glass.
Rub half of a highball glass rim with a grapefruit wedge. Pour a pile of red Alaea salt on a plate and dip the juice coated rim in salt. Next, fill the glass with ice. In a separate glass, stir fresh grapefruit juice, fresh lime juice, and sugar until dissolved. Stir in tequila. Pour into the salted rim glass and top off with club soda. Garnish with a lime wedge.
More fantastic additions to your fiesta...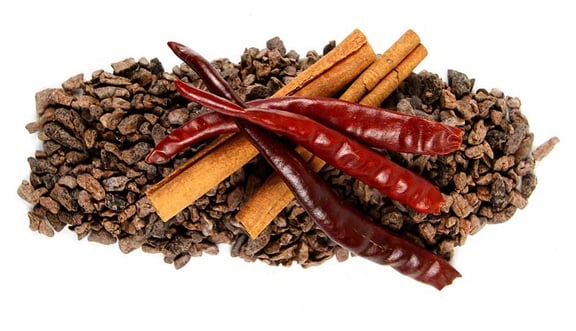 ¡Feliz Cinco de Mayo!