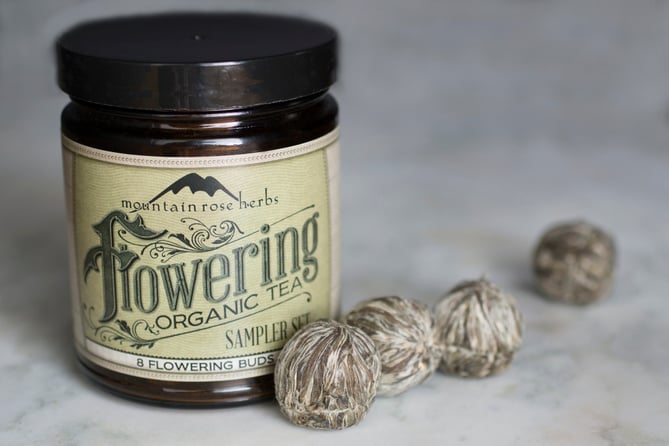 We are delighted to offer a new sampler set of our favorite organic flowering teas! This collection was born out of many hopeful wishes from our tea-adoring customers, since it's really difficult to choose between these delicious, visually-stunning flowering teas. Why not enjoy them all?
Lovingly hand-crafted in the organic tea gardens of China's Yunnan province, each package contains two of each flavor we offer for a total of 8 flowering buds. Dawn's Delight features choice organic green tea buds blissfully combined with fragrant organic jasmine flowers. Evening Star contains the same delightful combination of herbs, but sewn in a more traditional "loop" pattern. Marigold Embrace features organic green tea sewn around a gorgeous organic marigold flower, and our Rosebud Revealed tea has the remarkable trifecta of organic green tea, jasmine, and rose.
Just add hot water to these tightly woven bundles and be dazzled by the display that awaits as the bud unfurls and infuses your pot with its delicious essence. To maximize your flowering tea viewing pleasure, we recommend brewing in a clear glass teapot.
Each sampler set comes packaged in an elegant amber glass jar that's perfect for storing all kinds of herbal goodies when your last bud has blossomed. Want to learn more? Click here to find our organic flowering teas.