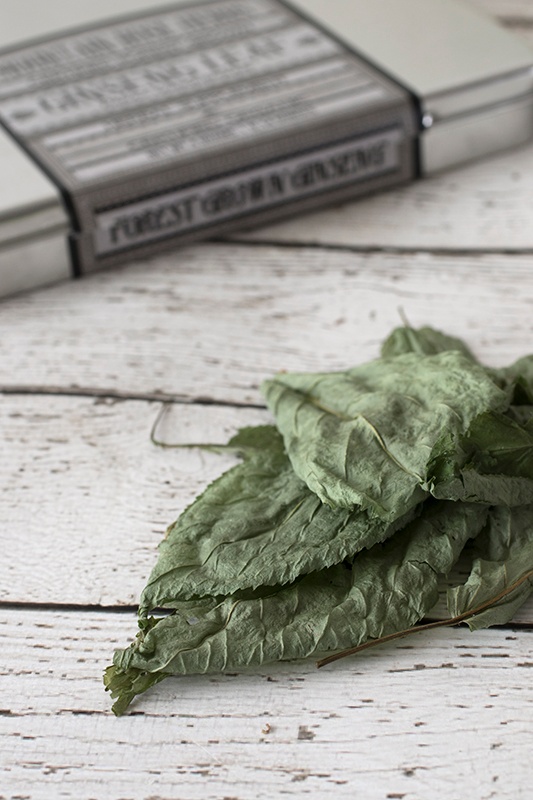 We are so pleased to be able to offer certified organic Forest Grown Ginseng Leaf! This is the first offering of Certified Forest Grown American Ginseng Leaf in partnership with the United Plant Savers available on the market. As part of this new project, ginseng leaves are organically cultivated and sustainably harvested from private forests under the stewardship of farmers dedicated to preserving this important medicinal plant for the future.
American Ginseng leaves were widely used by the indigenous cultures of eastern North America. Modern scientific studies have indicated that the leaves contain the same active constituents as compared to the root, and since there's not a huge demand for the leaves worldwide, we can enjoy the many health benefits of American Ginseng at a fraction of the cost. Each tin we offer is filled with 4 grams of whole leaf that has been collected from 25-30 year old plants. The roots of these plants are not harvested, but are maintained for seed stock, meaning the farmers can take a few leaves from each individual without harming the whole plant.
Mountain Rose Herbs will donate 5% from every sale of this ginseng leaf to the United Plant Savers. We believe that supporting this effort can change the culture of ginseng throughout Appalachia, transforming the epidemic of black market poaching into a stewarded forest crop with sustainability as the guiding force.
We are so grateful for your support of the Forest Grown Verification project.
It is near and dear to our herbalist hearts!