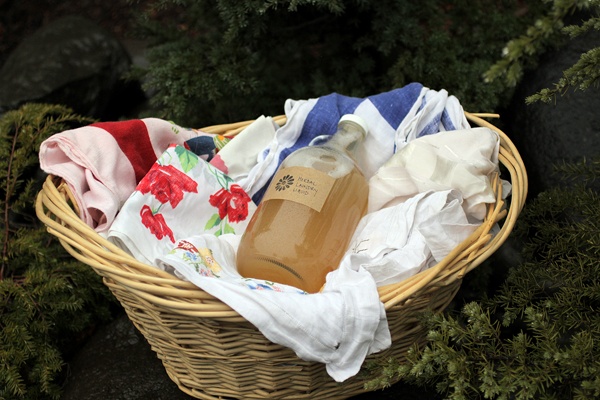 There is nothing like pulling freshly-dried laundry off the clothesline! The days are sunny and the winds are warm and we have a super-easy recipe for natural herbal laundry liquid to share. Break out the clothespins and take advantage of one of Summer's many gifts. Why not sip a nice glass of ice tea while you watch the brightly colored cottons waving in the breeze?
Carol's Herbal Laundry Liquid
Not only is Carol our Human Resources Director, she is also a highly talented crafter and gardener. Aside from making delightful handmade soaps and natural body care products, she also bakes delectable pies and treats and has an incredible garden. Carol has generously shared this wonderful recipe for natural liquid laundry detergent with us.
Pour hot water over the Soap Nuts and steep for at least 30 minutes to an hour. Cover the Soap Nuts and simmer over low heat for 30 minutes. Strain into a bowl and reserve the water. You'll have a generous quart of liquid remaining. Once the solution has cooled, add essential oils (optional). Carol uses 4 Tablespoon Soap Nut liquid plus 2 tablespoons of Borax powder per load (with hard city water). This laundry potion works wonders, as even old towels and sweaty clothing come out smelling line-dried.
__________
About Kori:
This Photo Thursday comes to us from Kori, our Public and Media Relations Coordinator! A West Coast native, Kori is a seasoned nonprofit activist and community organizer. Having launched six adult kids, she spends her free time in her burgeoning organic and very urban "farm"—taming Heritage chickens, building top-bar beehives from reclaimed materials, baking, brewing, and preserving.