You may have noticed the suggestion across the bottom of our website:
"These pages are best viewed while sipping tea!"
If we had our way, most tasks would be done with a comforting cup of organic tea in hand. This is one of the main reasons our tea blend recipes have always been so important to us. Our oldest tea blend recipes actually came from Rosemary Gladstar and were passed along to Julie Bailey when she bought the company which has grown into our Mountain Rose Herbs. Other recipes have been crafted and created along the way by Julie Bailey, Shawn Donnille, and Julie DeBord, and while they have all been expanded and multiplied, they remain at the heart of what we share with the world.
I sat down with Julie DeBord—a Mountain Rose employee who has been with the company almost as long as we've been in Oregon—to chat about the day to day process of keeping our tea boxes and spice jars filled with the recipes and blends our customers love.
You might be surprised to learn that all of our teas and seasoning blends are mixed by just 2 of our herb-crafting staff. These two folks blend teas almost every day (usually at least 2 different teas a day) and before any teas are packaged for selling, a sample is sent to our Quality Control lab for what we call a "brew test"—yup, we actually brew and taste each batch of tea for quality, flavor, and consistency. Once the "okay" comes from QC, the newly blended batch is boxed, bagged, or bottled by individuals who scoop, weigh, and label each container by hand and then send them downstairs for customer orders.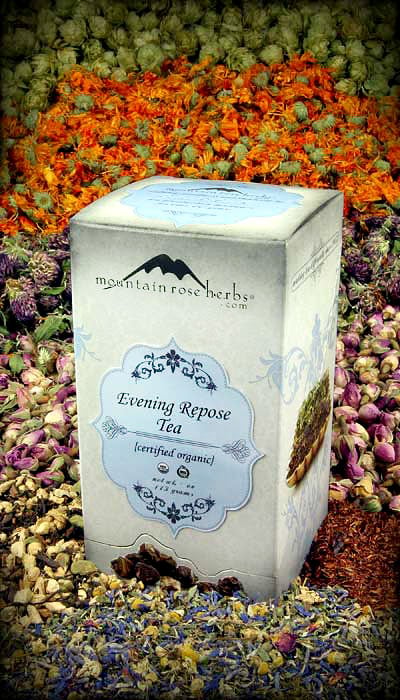 Our beautiful tea boxes—made from 100% recycled newspapers—are filled by hand here onsite too. We measure each ingredient in grams and always keep proportions for our recipes the same. The process hasn't changed much since Julie DeBord was the only tea mixer whipping up teas in 5 pound batches — the batches are just a little larger now.
The herbs for our spice and tea blends are the same organic herbs we sell in bulk. Sometimes, however, we might need to do an extra milling step specifically for our recipes to make sure that a leaf or root is the right size to blend well in a recipe. While we are committed to consistency, there are natural variations in harvests that we must take into account. Each ingredient goes through stringent testing, which can take some time during the busiest season of the year or "Tea Season" as Julie and her crew call the winter months, but we're working hard to keep folks in healing hot beverages!
According to Julie, a favorite part of her job is the creation of new teas and blends. She loves being creative with herbs even as her responsibilities have grown over the years. Her recent inspirations resulted in our two newest teas: Mint Chocolate Mate and Green Sunrise. Through recipe development, brew taste tests, and feedback, she carefully crafted the teas and they have quickly become delicious new favorites around here.
When you settle in for a cup of tea from Mountain Rose Herbs or sprinkle some of our Epicurean Organics Cajun Spice or Mediterranean Seasoning into your dish, imagine the love and care that was taken when our team crafted these special blends just for you!