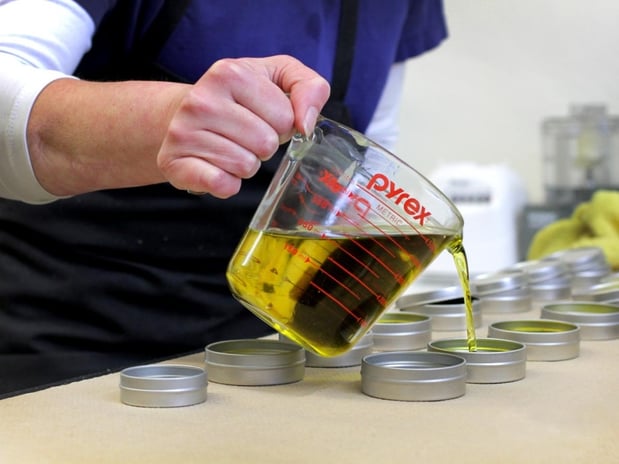 When you think about how we create our skin creams, salves, and massage oils, you might be imagining a large factory kitchen with fancy machinery, but that's not quite how things are done around here. We've kept our production kitchen small by choice so we can continue to make the much loved recipes created by Rosemary Gladstar and Julie Bailey years ago in exactly the same way—in small batches by hand, with care and patience.
Our production kitchen team is involved in every single step—from infusing oils to putting on the labels, and when a jar of cream leaves the kitchen, it is sent out to be carefully wrapped for one of our customer orders. You might be surprised to discover how closely our process resembles the way many home herbalists craft their own creations!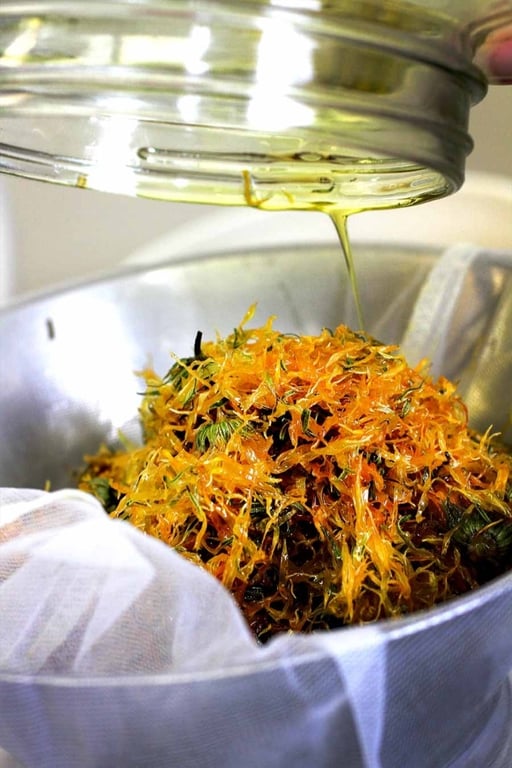 We start by infusing our organic carrier oils with our own high quality organic dried herbs. Using the sun infusion method, the jars are actually placed in a windowsill here at Mountain Rose Herbs where they are infused for 2 weeks before being strained. The herbs are then composted and the infused oils are hand-labeled and organized on a shelf to be used in our recipes. Did you know that the oil used in our Autumn Moon Massage Oil is still infused on the quarter moon and pressed (the herbs strained from the oil) on the 2nd full moon after the infusion? This commitment to our roots is important to us!
The busiest times of the year for crafting these creations are the winter holidays and around Valentine's day, so the crew gears up to make sure we've got plenty of infused oils ready to meet the requests. However, we still don't stockpile finished products, preferring to create them as the need arises.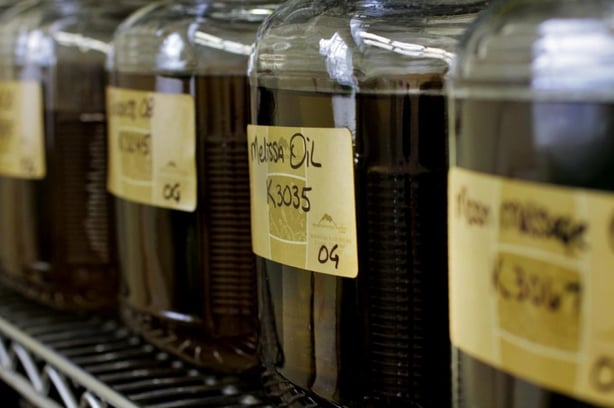 This careful, intentional process lends itself well to our organic and sustainability standards. We use drip pans when pouring oils and cleaning containers so that we can recycle as much as possible—keeping the oils out of the sink and the water supply. These oil drippings are then donated to SeQuential for biofuel production!
While we must meet commercial manufacturing standards, our Quality Control Lab manager has created a special sanitizer so we don't have to use toxic chemicals. Still, our Kitchen Manager, Toni, admits that doing dishes is the least favorite part of her job (sounds familiar!) while the fun of creating skin and body care products with the team is what has kept her coming happily to work at Mountain Rose Herbs since 2005.
When hand pouring salves, lotions and oils, we always create a sample that is sent to our Quality Control lab for each and every batch. This is just one of the ways we ensure quality and as much consistency as possible while working with the variables of organic ingredients grown in nature. Batches are not always exactly the same, despite the fact that we've made these recipes thousands of times—depending on the herbs, oils, butters, and essential oils, there may be slight variations that remind us all of nature's dynamic beauty.
With patience and a steady hand, and guided by a passion for creating truly useful and beautiful body care products, our Kitchen Production team meets the high standards set by our mentors. As they explain, this is a process that can't be rushed and each and every tin, jar, and bottle of botanical goodness is crafted with care and pride.